A Malayan tiger at a Naples, Florida, zoo was shot and killed Wednesday by a sheriff's deputy after the animal attacked a cleaning worker.
The Collier County Sheriff's Office confirmed the man who was attacked by the tiger worked for a third-party cleaning service contracted by Naples Zoo at Caribbean Gardens. The deputy shot the tiger in order to free the man from the tiger's grasp.
The sheriff's office said the man—identified as River Rosenquist, 26, of Naples—was attacked while he was petting or feeding the tiger. Deputies said Rosenquist was not permitted by the zoo to be involved with such contact with the animal. The department also said the man was in an "unauthorized and dangerous area near the tiger enclosure."
On Thursday, the Collier County Sheriff's Office shared bodycam footage of the incident on Facebook, which can be seen below. Please be advised the video contains graphic content.
Police said Rosenquist had reached the outside of the tiger enclosure after climbing a barrier. After sticking his hand inside, an 8-year-old male tiger named Eko pulled his arm into the habitat.
Rosenquist was transported to a local hospital with serious injuries. A spokesperson for nearby Lee Health Systems later confirmed someone was being treated at the facility after being attacked by a tiger.
"Our deputy did everything he could do in that situation, and he ultimately made the only possible decision he could in order to save this man's life," Collier County Sheriff Kevin Rambosk said in a statement. "This was a tragic encounter at our world-class zoo facility. We value our community partnership with the Naples Zoo."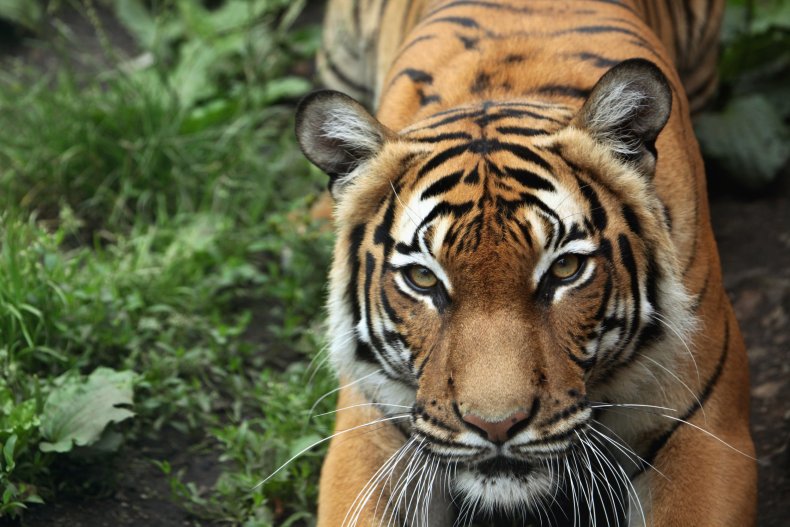 The sheriff's office wrote Eko retreated to the rear of the enclosure after being hit by a single gunshot. The department flew a drone into the enclosure to try to assess the extent of the tiger's injuries, and the video showed the tiger was unresponsive.
A zoo veterinarian tranquilized Eko and then entered the enclosure to check on him. At that time, the veterinarian was able to determine that the tiger had died from his injury.
The sheriff's office said the ongoing investigation will determine whether criminal charges will be filed against Rosenquist.
Malayan tigers are officially listed as "critically endangered" by the International Union for Conservation of Nature (IUCN).
Newsweek contacted the Naples Zoo at Caribbean Gardens for comment and the Collier County Sheriff's Office for updates.