Bodycam Shows Hero Cop Rescue Family During House Fire
Newly released body camera footage shows a heroic cop rescuing children from a burning home in Chautauqua County, New York.
On Monday, the Jamestown Police Department shared a video captured by officer Mark Conklin's bodycam when he responded to a fire on William Street. Officials say he was handling a call for service on Baker Street when he was alerted of a possible house fire.
When Conklin arrived at the scene, he found a house engulfed in flames with children and one adult trapped in the upstairs of the residence. He is seen running towards the house and begins pulling one of the children out, telling them, "Let's go, let's go, let's go."
Then, while requesting the help of the Jamestown Fire Department over his radio, Conklin is heard directing the trapped occupants to jump out of the upstairs window before he proceeds to catch them.
"C'mon, I got you. I got you. Jump. I got you," Conklin is heard telling those trapped inside.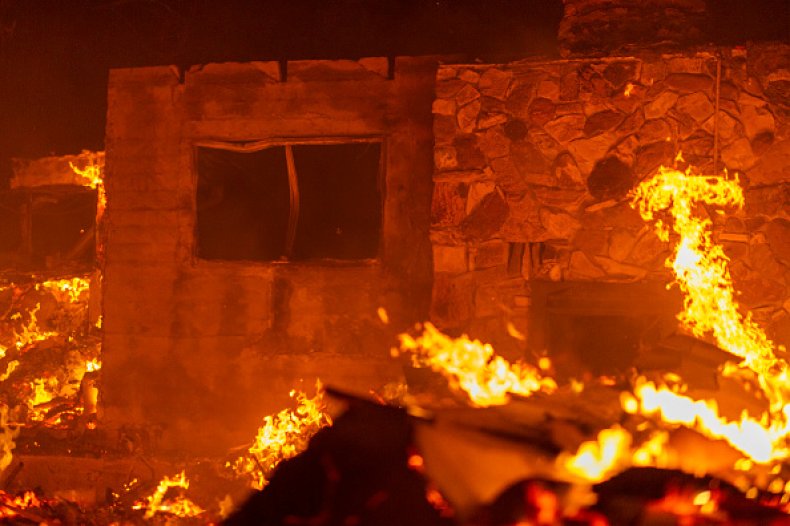 In the Facebook post, Police Chief Tim Jackson applauded the officer for his efforts as one of the "most outstanding examples of bravery" he has witnessed on the police force.
"I can say that I have seen many examples of heroism over the years by officers," Jackson wrote. "After watching the video of this incident and speaking to others involved, I can say that the actions of Officer Conklin were, to say the least, one of the most outstanding examples of bravery, heroism, and exemplary service I have seen."
The police chief added, "We, the Jamestown Police Department, are honored to have officers such as Mark Conklin working in the Jamestown Police Department."
Jackson also thanked the local fire department for their help in fighting the Monday fire.
No injuries were reported and no additional information was provided on the cause or extent of the fire.
In an interview with The Post-Journal, Conklin said his "only objective [was] to make sure everyone gets out."
"I'm just glad I was in the right place at the right time," the 25-year-old officer said.
Conklin has served as an officer at the department for four years.
A GoFundMe page has been launched for the family, who have been identified as Brooke Lucas, Hector Rivera and their four children—aged between 3 and 12—who have allegedly lost all their belongings in the house fire.
"They have been longtime residents of Jamestown and have lost literally everything," the fundraiser reads. "They do not have insurance that I am aware of. 100% of donations will be transferred directly to Brooke and Hector's account to cover future housing, living expenses, and replacement of their belongings to start their lives over."
As of Wednesday afternoon, the page has raised more than $9,000 for the family.