Police Bodycam Shows Black Man Shot With Stun Gun for 'Dirty License Plate'
Bodycam footage has been released of the moment a New Braunfels, Texas police officer pulled over a Black man for having a "dirty license plate." The officer then shot the victim with a stun gun before handcuffing and arresting him.
The bodycam footage of the incident in January was released during a press conference at New Braunfels City Hall on Monday, after a mediation between the city and Crawford's legal team had concluded.
Police officer Kaleb Meyer, who has since resigned from the New Braunfels Police Department, approached the car with his gun pointed at Clarence Crawford.
Crawford was told to put his hands on the wheel and became panicked during the confrontation. "Please don't shoot me officer. I'm black, please don't shoot me. Don't shoot me. Please, please, please," Crawford is heard saying on the body cam footage.
Meyer orders Crawford to get out of the car and get on the ground face down. The officer is then seen stunning him twice behind the knee.
While handcuffing Crawford, Meyer tells him why he was pulled over. "For a dirty licence plate," Meyer is heard saying in the footage.
A female officer is later seen on camera de-escalating the situation at the scene. Crawford was charged with attempting elude a police officer and interfering with the duties of a police officer. The charges against Crawford were later dropped.
City officials said that the actions of the officer involved were "not acceptable" but claimed that this was an "isolated incident" and not representative of the police department as a whole.
Meyer had worked for New Braunfels Police Department for less than two years. His video is now being used as a training example of what not to do.
City Manager Robert Camareno said the actions of Meyer were "in a manner that is not consistent with the way our officers are trained or expected to handle a situation.
"Our officers are trained to be respectful, de-escalate situations, give clear and concise commands, listen to those they interact with, and to only use force when the situation deems it necessary. That training and our expectations were not met by officer Meyer during this traffic stop, and the experience Mr. Crawford had with him is not acceptable."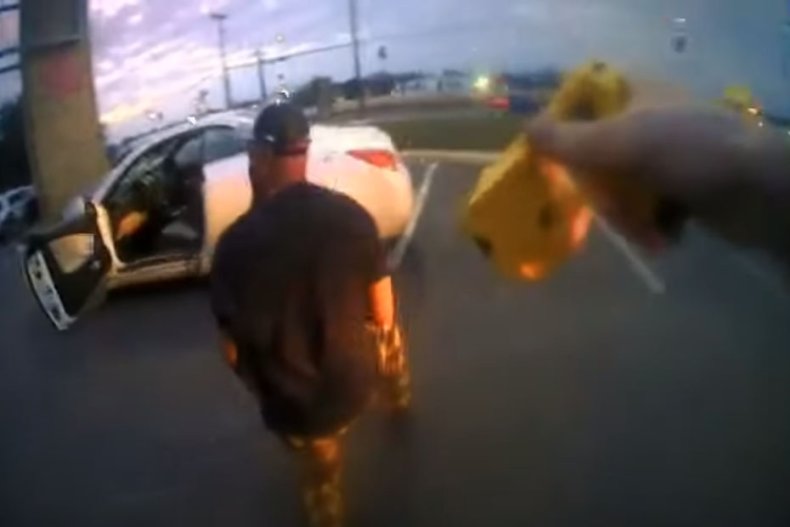 New Braunfels Police Chief Tom Wibert has also since retired, partly as result of the incident.
"He served the department and the community honorably for 10 years," said Camareno. "We appreciate all that he has done for the department. However, he also believed that he probably could have done other things. He took responsibility for the issue and retired."
City officials wanted to make the video public sooner, but kept it private on Crawford's request. Now mediation has concluded, the video has been published in the interest of transparency and to address issues outlines in the footage.
New Braunfels Mayor Rusty Brockman think the city can learn from the incident. "We are working with our local Martin Luther King Jr. association, the New Braunfels Police Officers Association and the city's newly formed Inclusion, Diversity, Equity and Awareness forum to have an open dialogue and to move forward in a positive way."
Newsweek has contacted New Braunfels Police Department for comment.