Following the news of Duke basketball coach Mike Krzyzewski's impending retirement, Syracuse coach Jim Boeheim clearly stated his plans, telling a reporter on Thursday, "I have said it and I'll say it once again: I have no plans to retire."
He made his comments to the Syracuse Post-Standard, letting the paper know that even though at age 76 he's two years older than Krzyzewski, aka Coach K, he's not ready to call it a career yet. Boeheim will instead stay on to coach his two sons this college basketball year when it begins in November. He also noted that his time as coach of the Syracuse Orange will extend beyond the 2021-22 season.
"I want to make sure the recruits that we're recruiting know I'm not retiring," Boeheim said. "I'm going to coach them. And that's the bottom line."
The Hall of Fame coach said he felt Krzyzewski's decision to let it be known he wouldn't be returning after the 2021-22 season was due to new recruits coming into Duke's program.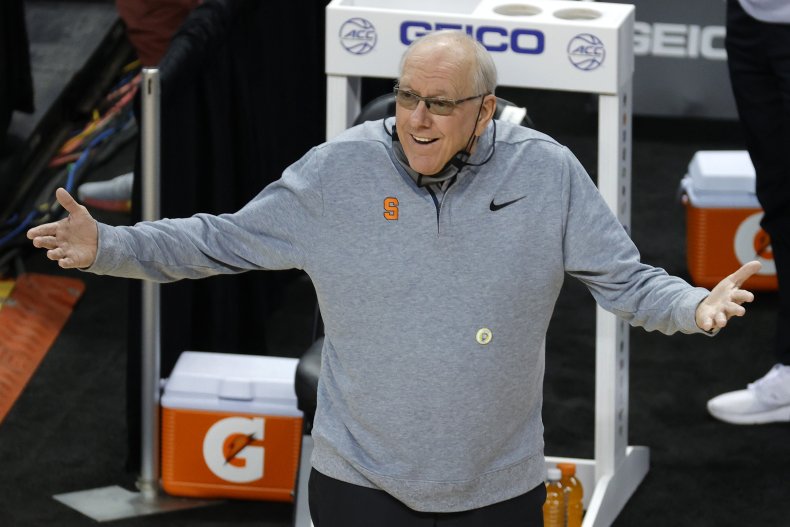 "He wanted to take this [recruiting] class through, which he brought in," Boeheim told Post-Standard reporter Donna Ditota. "And it's different now. Most of these guys are not four-year players. For the most part, they all think they're one-and-done. So he told those guys he would coach them and he is. He didn't want to tell next year's guys that he was going to coach them if he wasn't going to be here. I think that's the main thing."
Boeheim added, "I think originally he might have wanted to wait to get through the year, but I think he had to be able to recruit honestly. Like, if I was going to retire after this year, I'd have to do it now so that recruits could know who the coach was."
Boeheim issued a statement Wednesday night soon after the news broke that Krzyzewski was retiring. In it, he said, "Mike's impact on basketball goes so far beyond the wins his teams have accumulated. He has been a unifying leader for the sport at every level, including college, professional and international. It's impossible to overstate the positive impact he has had for decades."
Boeheim worked as an assistant coach under Krzyzewski through three gold medal-winning Olympic Games. At 982 wins as a head coach, Boeheim is behind only Krzyzewski (1,170) on the NCAA Division I men's basketball all-time wins list.
However, he told the paper he's not focused on overtaking Coach K's record. "I know I've got a lot of wins," he said. "I'm concerned about how many wins we'll get this year."
Newsweek contacted Boeheim for further comment but did not hear back before publication.