Boeing Forced to Park Grounded 737 Max Planes in Employee Parking Lot
After Boeing's 737 Max was involved in multiple fatal crashes, aviation ministries the world over grounded the planes until signal and software issues were adequately addressed.
But Boeing has continued to crank out new 737s. That's meant the massive aircrafts have had to cool their jets on spare runways and tarmacs—or anywhere else they'll fit.
At one Boeing factory in Renton, Washington, the planes are being parked in the employee parking lot: Seattle's KING 5 News shared aerial video this week of the 737s sandwiched next to employees' sedans and minivans.
Newly produced 737s are also being shuttled to Grant County International Airport in Moses Lake, Washington, reports NW News Network. Richard Mueller, Port of Moses Lake operations director, told the site, "the port authority would lease Boeing additional space if the company's own property gets 'maxed out.'"
Other planes are being stored temporarily in San Antonio, Texas, where Boeing has a maintenance base.
It remains unclear when the 500 or so grounded 737 Max planes will return to the air. After two fatal accidents in a five-month period in late 2018, the entire fleet was taken out of service in March 2019.
"We're going to bring a Max back up in the air that will be one of the safest airplanes ever to fly," Boeing CEO Dennis Muilenburg said at the Paris Air Show earlier this month. "But we also know it will take time rebuilding the confidence of our customers and the flying public, and this will be a long-term effort."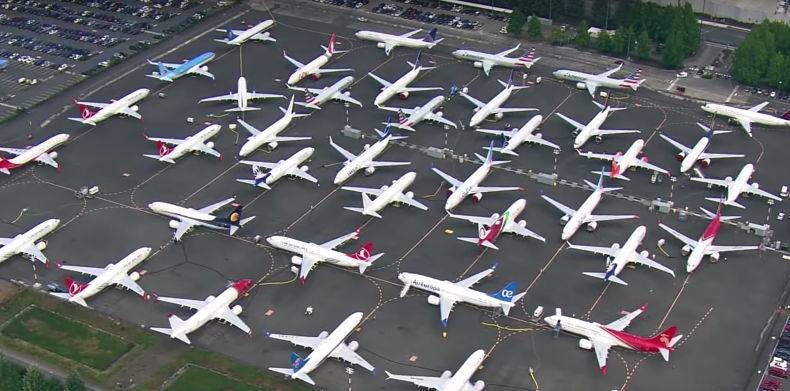 The effect on commercial air travel has been tremendous: American Airlines has had to cancel some 115 scheduled flights per day. A hundred flights daily have been canceled by Southwest Airlines, as have some 2,400 United flights in June and July alone. The situations had led to cancelations and delays of flights using other kinds of jets, which have to be rerouted to cover Max routes.
American Airlines announced it hopes to bring the 737 Max back to its fleet this fall, according to The Points Guy, adding 754 weekly flights on 31 routes. But it remains to be seen if the Federal Aviation Administration will give Boeing the all-clear by then.
"I think as much as anything now it may be politics as much as the true certification ... safety issue," Parker said at company town hall. "I don't think the FAA wants to be alone in doing this."