Texas 0.5K Race For 'Underachievers' Promises Free Participation Trophies, Beer and Donuts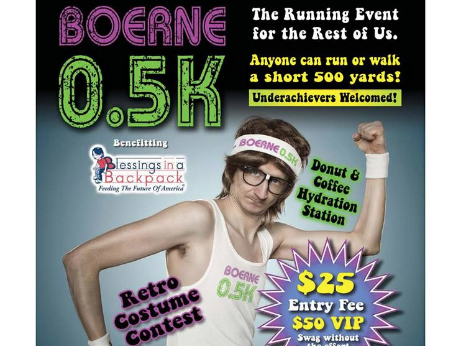 A Texas town about 30 miles outside of San Antonio sold every ticket to a 546-yard charity race for "fellow underachievers" on May 5. The "run" includes free beer, donuts, coffee and participation trophies provided in part by local businesses.
The Boerne 0.5k Race—as opposed to a 5,468-yard 5K race—
was described by organizers as "The Running Event for the Rest of Us!" Jay Milton, a Boerne resident and member of the race's organizational committee, told Newsweek the course is basically a "straight shot" along a creek between two brewpubs, The Dodging Duck and the Cibolo Creek Brewing Company.
All finishers of the race are guaranteed a "pretentious oval Euro-style 0.5k sticker that you can attach to the rear window of your car to show everyone what a cool hipster you are."
The Facebook event page notes that registration for a free race t-shirt ended on April 19 and now all 225 slots have been filled to participate in the brief "run" at River Road Park. Although registration is sold out for the event, Boerne 0.5k organizers said there are still opportunities to sign up on the event website to volunteer.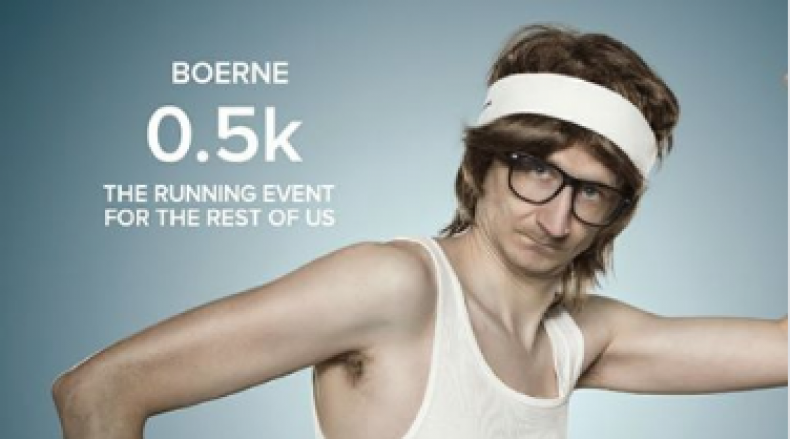 All proceeds from the event, including the $25 registration fee for the race spanning 1,638 feet, will be donated to Blessings in a Backpack, a nonprofit organization helping feed U.S. students currently on the federal Free and Hungry Reduced Meal Program. One of the group's first spokespeople was Texas native and actress Hilary Duff in 2005, Blessings In A Backpack Chief Marketing Officer Nikki Grizzle told Newsweek. The program started working with just two schools but now serves 87,300 students in nearly 1,100 schools in 45 states.
Milton told Newsweek Thursday that the brewpubs are supplying the free beer each participant gets at the start and finish of the race. He added that about 15 sponsors and several in-kind donations helped make the inaugural event possible.
The Society for Lazy and Carefree Runners (SLACR) organizer said they were obliged to halt registrations at 225 runners because the brewpubs weren't sure they could handle a much larger Saturday morning crowd.
For an additional $25 fee, participants can be granted "VIP" status and don't have to run at all. These VIP donors will receive larger medals and have the opportunity to ride in a restored 1963 Volkswagen van Milton described as the race's "official shuttle bus." Prizes for costumes will be awarded as well as complimentary cowboy hats and sunglasses. In addition to free finish line photos under the Main Street Bridge, competitors will receive communal trophies.
"Everyone gets recognized for their achievements at this event, no matter how bad they are, because we are all about positivity and self-worth," the event's Facebook description states. "Coffee and donut station at the halfway point for carb-loading and energy. This will also be where the designated smoking area is located."