Treefort Music Fest: Boise's Ambitious Festival Showcases its Boom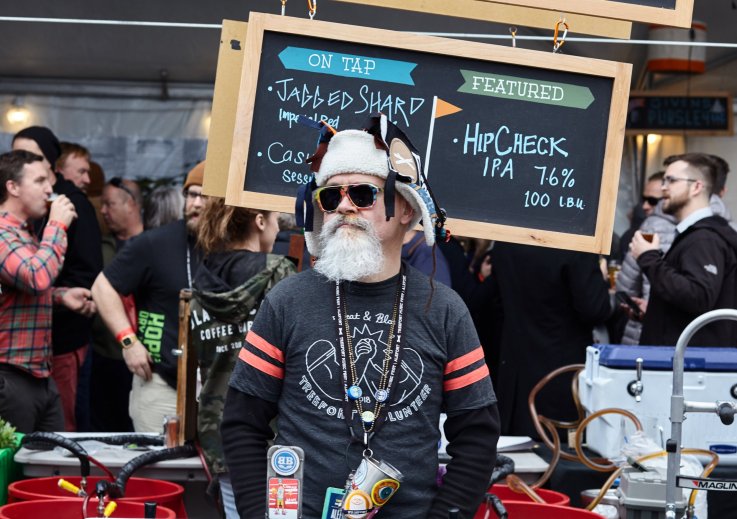 At any given moment, those who traversed a 16-block stretch of downtown Boise over the past five days might have stumbled upon 200 people doing yoga; a child's face wrapped in virtual reality goggles; a dozen bands arranged in a circle, playing in unison under the direction of a conductor in the center; burly dudes lifting massive chains into the air; toddlers building forts out of cardboard; skateboarders hurling towards cement ceilings to a heavy metal soundtrack; George Clinton belting timeless funk; celebrity chefs plating Wagyu beef; saxophone buskers singing "I wanna dance with somebody;" bros shooting baskets at a hoop attached to a graffiti-laden van; Pabst Blue Ribbon jumpsuits and lion onesies. Well, one PBR jumpsuit, and one lion onesie.
The occasion is Boise's 7th annual Treefort Music Fest, a five-day affair that ends today and where the moniker "music" in that heading is woefully incomplete. Treefort is certainly a music festival, featuring an incomprehensible 460 bands, but it's also nine other festivals: Comedyfort, Filmfort, Hackfort, Yogafort, Storyfort, Alefort, Foodfort, Kidfort and Skatefort. The sprawling endeavor scattered across this humble Idaho capital is a surprising showcase of an unpretentious city that is suddenly in hot demand, partly because it doesn't know it's cool — yet. Forbes declared Boise the nation's fastest-growing metro area last month, and after a few days at Treefort, it's not hard to understand the draw.
Even in the middle of Boise's biggest annual event, walking its downtown streets is still a stroll through a friendly, modest city. You wouldn't know the metropolitan area's population grew 3 percent in 2017 — the highest rate of any metro area in the US. Housing prices followed with an 11 percent increase, though residents can still rest easy: home prices are projected to slow to 4 percent this year.
Treefort debuted in downtown Boise in 2012 with four days of music from 137 bands in 13 venues. Only three years later, the festival had grown to 430 artists, 21 venues and eight forts. That same year, Treefort earned its B Corp certification, showcasing its commitment to social and environmental responsibility. Now, the event lineup boasts more than 460 artists from nearly any genre imaginable, and has added an extra day and a ninth fort — Foodfort — which launched last year.