What Happened to 'BoJack Horseman'? Recap of Netflix Series Before Season 6 Premiere
The fifth season of BoJack Horseman may have been the darkest season of the Netflix original series yet.
The problematic pill-popping horse actor—after whom the show is named—endured plenty of hardships during Season 5, most of which he caused himself. His series-long battle with addiction came to a full head after he physically assaulted his girlfriend and co-star Gina. The season ended with BoJack finally taking a step toward self-accountability by checking himself into rehab and saying three words he'd never uttered on the show before: "I need help."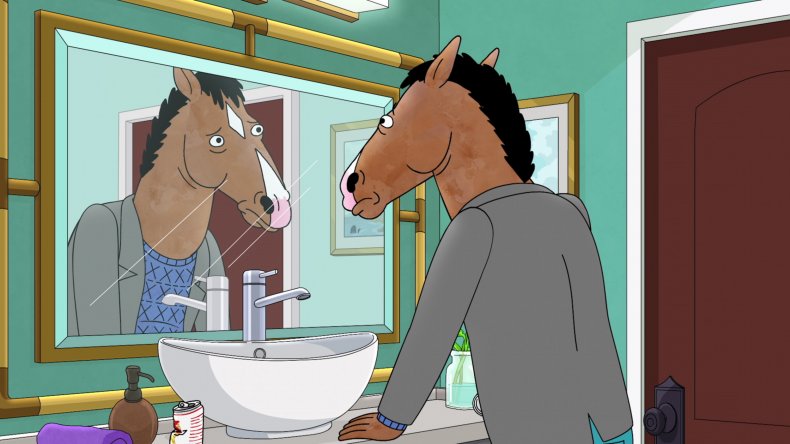 One can only hope brighter days are on the horizon for BoJack following treatment, but if fans have learned anything about the fallen star, it's BoJack's habit of taking two steps back for every one he takes forward. But he seems to be taking rehab at the Malibu-based "Pastiches" center somewhat seriously in the trailer for the sixth and final season of the show, which releases on Netflix on Friday.
Get your unlimited Newsweek trial >
So what led BoJack to finally seek help for his addiction?
He's been a nuisance and an alcoholic from the very beginning, but the full scope of his addiction to painkillers came out during Season 5. Early on in that season, after his sister HollyHock flushed his pills, he deliberately crashed a car so he could be hospitalized and get a new prescription. In the Season 5 finale, BoJack seemed to see himself for the drugged-out monster he's become and decided to do something about it.
BoJack choked his castmate Gina while filming an episode of his dark and depressive detective web series, Philbert, but he was so stoned, he wasn't aware of what he was doing. The problem is that the entire assault was captured on camera, so everybody else knew.
Get your unlimited Newsweek trial >
His agent Princess Carolyn instantly switched to damage-control mode, and set up an interview with Gina and BoJack, in which she instructed them to play the whole ordeal off as though it was just joking around. After having seen the assault video, BoJack wanted to use the interview as an opportunity to come clean. But Gina, who made it clear she had no intentions of ever speaking to him again outside of the show set, decided her image wouldn't be tarnished or overshadowed by bad BoJack. Philbert catapulted her career, and now more acting opportunities are pouring in. She'd much rather continue to relish that than become the next almost-star to be ruined by him, so BoJack obliged.
Unsurprisingly, the show got canceled, and BoJack viewed its end as means to finally tell the truth about the abuse incident. He asked Diane, who also cut the cord on their friendship in Season 5, to write a takedown of him and publish it on gossip site Girl Crush. Although Stefani, her boss, had encouraged her to do more takedowns—preferably live on video—Diane told BoJack she was done writing with him, for him and about him. She went off on BoJack, saying he needs to take responsibility and account for his vile actions in a way that does not include anyone outside of himself.
Her speech seemed to hit the nail on the head, and BoJack finally realized the only way he can move forward positively is if he admits he has a problem, which lead to his decision to go to rehab. Despite their fractured friendship, Diane was there for him and drove BoJack up the Pacific Coast Highway to the treatment center.
Season 6 of BoJack Horseman is expected to pick up not too far from where it left off with BoJack still trying to overcome his demons while at rehab.
What Happened to 'BoJack Horseman'? Recap of Netflix Series Before Season 6 Premiere | Culture