'BoJack Horseman' Series Finale Explained: What Happened at the End of the Netflix Series?
After the trippy death spiral dream sequence of the penultimate episode, which seemed to suggest that the finale of BoJack Horseman Season 6 would see BoJack (voiced by Will Arnett) mourned by his remaining friends, "Nice While It Lasted" gave us a fake-out and delivered a far less definitive ending to the Netflix show.
The start of BoJack Horseman Season 6, Episode 16 revealed that BoJack was saved from death by overdose/drowning just in time and was arrested and sentenced to jail for the breaking-and-entering he committed in Episode 14. The majority of "Nice While It Lasted" then takes place during a furlough from BoJack's prison sentence that he has been granted to go to the wedding of Princess Carolyn (Amy Sedaris), who it is revealed has married her uber-practical assistant Judah (Diedrich Bader).
Carolyn is not the only person to have got married while BoJack is inside, however. After years of depression and drifting aimlessly, Diane Nguyen (Alison Brie) has got remarried, this time to Guy (Lakeith Stanfield), and moved with him to Houston, as she tells BoJack in the rooftop conversation that takes up much of the series finale. She seems happy—or whatever the closest to happy anyone can be on BoJack Horseman is, and admits that she no longer recognizes the person that Hollywoo (or, as it is renamed after a sign error in the finale, Hollywoob) has made her.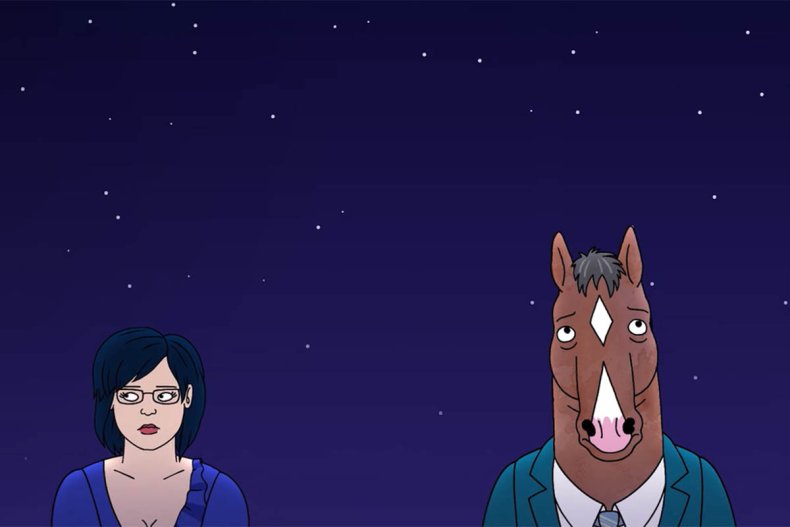 The episode ends with them sitting in silence on the roof while the Catherine Feeny song "Mr. Blue" plays. Though much of the ending is left ambiguous, this scene seems to suggest that Diane has realised what a toxic influence BoJack is on her life, and that this is the last time she is ever going to speak to him.
Things may be over between the pair of them, but elsewhere BoJack has a decision to make. He is about to beat his own sobriety record, but he admits that this is partly due to the lack of control he has over his own life in prison. He tells Carolyn that he wants to be out of Hollywoob for good and use his acting talents for good by volunteering to work with the convicts he is currently putting on a production of Hedda Gabler with. However, when Carolyn tells him there is a lot of buzz around his upcoming movie The Horny Unicorn, he starts to consider a life back in showbusiness, perhaps as a director.
The series also gets one last dig in at a real-life celebrity. As BoJack expresses shock that the industry is prepared to welcome him back after his breakdown, Carolyn says the industry has a very short memory...as a character who looks very like Mel Gibson walks to a buffet table.
The finale does not reveal what choice BoJack makes, but viewers of this set of eight episodes should get a sickening feeling of deja vu—after all, BoJack was content teaching drama at Wesleyan until his taste for fame backfired when he did the two on-air interviews about Sarah Lynn (Kristen Schaal) that directly led to his relapse.
Whether BoJack chooses the right or wrong path is left up to viewers to decide, and what you think happens to BoJack may depend on your own optimism or pessimism, but if we have learned one thing from six seasons of the Netflix show, it is that it almost impossible to truly change yourself as a person.
BoJack Horseman Seasons 1 to 6 are streaming now on Netflix.