Nigerian President Gambles on War Against Boko Haram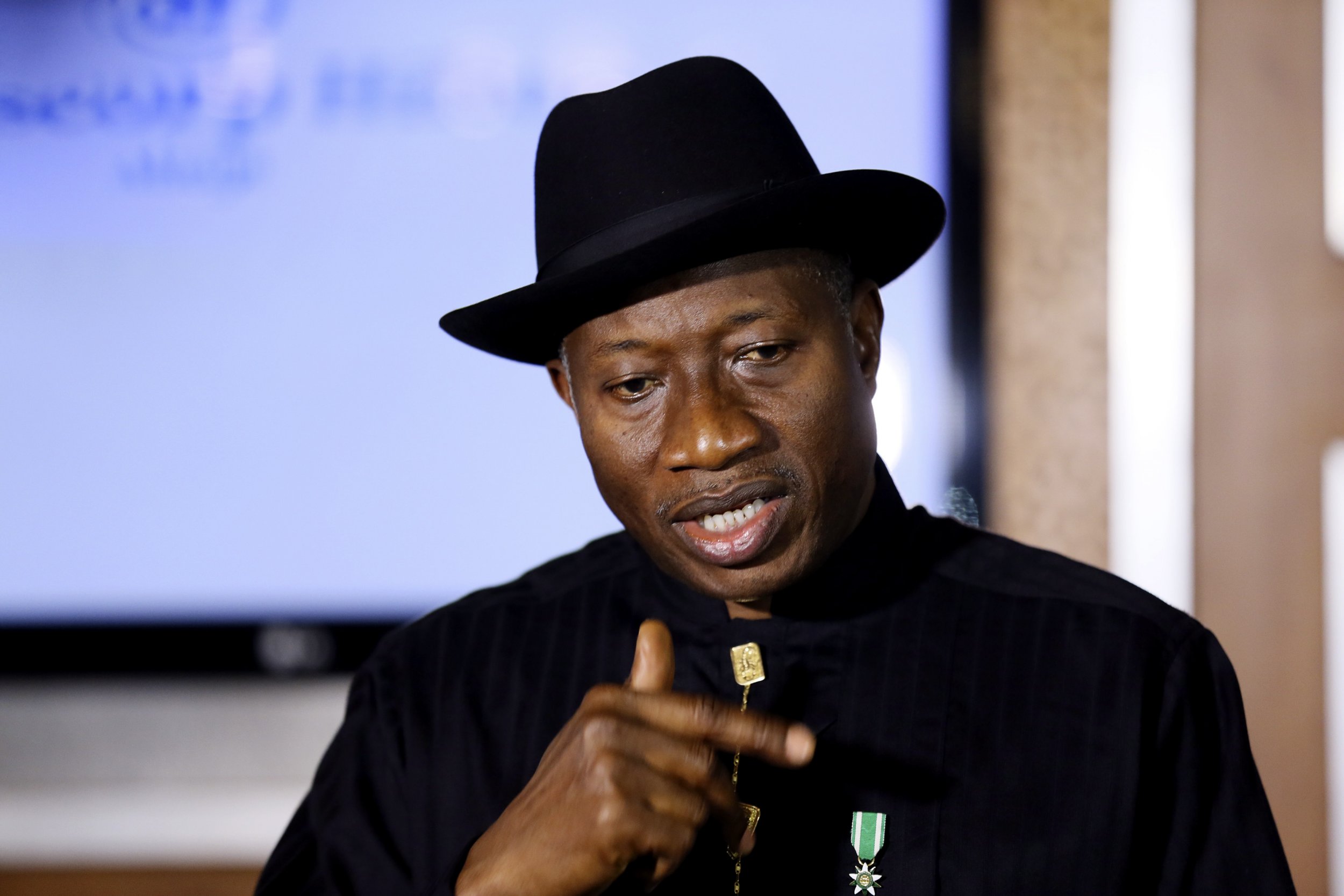 Opponents of Goodluck Jonathan have long said the Nigerian president is neglecting the war against Boko Haram for political reasons. Now, as the country's neighbors step up the fight against the Nigerian militant group, Jonathan's detractors are accusing him of doing just the opposite: using the war on terror to save his own hide.
On Saturday, one week after Nigeria and its neighbors decided on new steps to push back Boko Haram, the election committee in Abuja announced that the presidential polls, originally scheduled to open on Valentine's Day, will now open March 28.
The reason, Nigerian officials say, is security. Voters will be put at risk as the war intensifies, they say, and election workers will have trouble distributing voter cards in the northeast, where the Islamist militants are most active.
Jonathan's national security adviser, Sambo Dasuki, told Agence France-Presse that "all known Boko Haram camps will be taken out" by March. But for months, Jonathan's critics have hammered him on his inability—or unwillingness—to confront the militants. They say that Jonathan fears he's losing ground in the elections and wants to use the military incursion as a way to boost his popularity.
In the meantime, foreign diplomats warned the Nigerian government against playing politics with terrorism. United States Secretary of State John Kerry said he was "very disappointed" by the announcement, adding that the government should not "use security concerns as a pretext for impeding the democratic process."
Those security concerns are real. Boko Haram's actions led to a wide international outcry last spring, when its Islamist fighters kidnapped 276 Christian schoolgirls, turning them into slave "wives." First lady Michelle Obama was famously photographed carrying a sign with the hashtag "BringBackOurGirls." Boko Haram is still holding most of the girls, and the group has continued its reign of terror. The militants have repeatedly assaulted villages in the northeast and recently started infiltrating territories beyond Nigeria's borders.
And while the fight against the Nigerian-based militants has been overshadowed by the American-led war against ISIS, it's certainly on the minds of leaders on the continent. In late January, at a summit in Addis Ababa, Ethiopia, members of the African Union decided to form a multinational force of 7,500 troops. As the Islamist fighters have made incursions into neighboring Cameroon and elsewhere, the African Union has confronted the militants in Nigeria and beyond.
Allowing Nigeria's neighbors to pitch in couldn't have been an easy decision for Jonathan and his government. "Nigeria sees itself as the most successful country in Africa," said a diplomat who closely follows African issues and spoke only on condition of anonymity because the matter is sensitive. "It is certainly an embarrassment for Jonathan that he needs outside help in a fight in his own country."
Critics say that the Nigerian president has long neglected the war against Boko Haram because it doesn't help him politically. Northeast Nigeria has few natural resources, and its largely Muslim population would sooner vote for his opponent, Muhammadu Buhari, than for him.
Adebowale Ibidapo Adefuye, Nigeria's ambassador to the U.S., declined to comment, saying the political situation was too sensitive. But Nigerian officials push back against the charge that the army is playing politics with the war on terror.
As frustration mounts against Boko Haram, many see Buhari, a Muslim and a former military man who once led Nigeria after a military coup, as someone who would take a harder line against the militants. Incumbents have long had an advantage in Nigerian elections. But criticism over Jonathan's war efforts, as well as recent corruption charges, has led many observers to believe that Buhari is closing the gap and may well win.
For its part, the government seems to be betting that dealing a decisive blow to the militants will secure its place in power. But to date, the country's security forces have been unable to score major victories over the Islamist group, whose name often translates to "Western education is forbidden."
The multinational force fighting the militants will consist of troops from Benin, Niger, Chad, Cameroon and Nigeria. These countries, especially Chad, have capable military forces, but if they are going to succeed, analysts say, they'll need outside support, especially when it comes to mission-planning capabilities. They will also require arms and supporting military hardware.
The question of funding the new force has yet to be resolved. Several United Nations officials said that members of the Security Council are preparing a resolution that would provide financial, diplomatic and legal support for the nascent Pan-African army, allowing it to fight in Nigeria and its neighboring countries.
France is expected to bolster the African Union soldiers, and some say it's already conducting air sorties over northeastern Nigeria alongside Chad's air force. The U.S. is prepared to work with the African Union "to determine how best to assist it," a State Department official said.
But as Marie Harf, the State Department spokeswoman, noted just before Nigeria announced it would postpone the election, much will depend on "them going forward with the elections as scheduled, holding them, limiting the violence, having credible and fair elections."
Unless the war against the militants is won before the election takes place, which is highly unlikely, the future of that war could also depend on what happens at the ballot box.
Follow Benny Avni on Twitter: @bennyavni