Boko Haram Release Shocking Images of Child Soldier Training Camp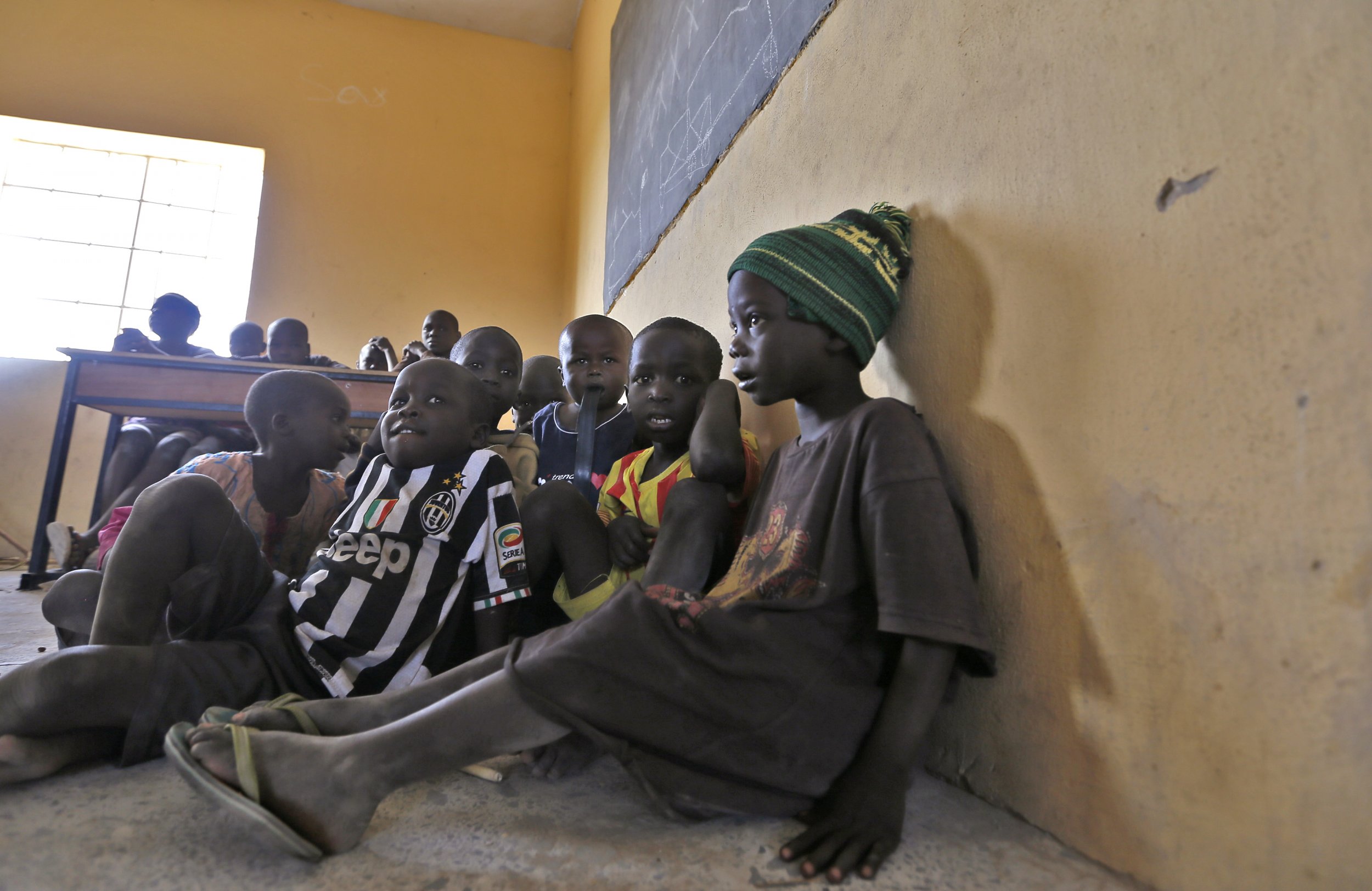 A media group associated with the Nigerian militant group Boko Haram has published two images which reveal a military training camp for children in northeastern Nigeria.
The organisation, al-Urwa al-Wuthaqa, shows the children dressed in dark clothing with their heads covered by garments. In one photo, the children are aiming their guns while in another they are posing with the weapons.
The Long War Journal claims that both young girls and boys are present in the photos, while some are holding AK47 assault rifles, others are holding cutouts of weapons.
According to Max Abrahms, professor of political science at Northeastern University and member at the Council of Foreign Relations, Boko Haram uses child soldiers in order to boost its membership numbers.
"Terrorist organisations have power in numbers. The more members in the group, the greater its capability. There is a correlation between the membership size of a terrorist group and its ability to inflict bloodshed," he said.
"Terrorist groups will often try to amass the most members as possible even if they're young boys or girls."
Andrew Noakes, coordinator of the Nigeria Security Network, says the group are struggling to recruit fighters, having "started alienating local people across northeast Nigeria with their brutal tactics".
"To fill the gap they've turned to recruiting children and recruiting in neighbouring countries," he says. "Boko Haram often uses its child soldiers and other forced recruits to form the first wave of an attack, before sending in the more experienced fighters to finish off operations."
Abrahms also believes that because the group has ambitions of creating an eternal caliphate, in the same vein as ISIS, it indoctrinates children in the hope that its message will be continued by the young soldiers.
"[ISIS] has ambitions in building up a caliphate for eternity. I think Boko Haram shares this aspiration certainly in Nigeria and the indoctrination of youth is important not just for fielding an army against the Nigerian military, but also breeding a future generation of like-minded sympathisers."
A number of other terrorist organisations have resorted to using child soldiers to boost their numbers. ISIS has previously released videos of children training at a combat camp, where they are seen being beaten by their instructor and taught how to use a gun. Uganda's Lord's Resistance Army and al-Qaeda have been known to use child soldiers also.
As the Nigerian presidential election on 14 February inches closer, Boko Haram have continued to wage their insurgency against Nigerian authorities in the regions that remain under a state of emergency - Yobe, Borno and Adamawa - in the country's northeast.
Hundreds of its fighters are battling government forces in Borno state's capital, Maiduguri, while they have captured the town of Monguno, located approximately 85 miles (135km) from the embattled city.
The attacks took place just a day after Nigerian President and leader of the People's Democratic Party, Jonathan Goodluck, paid a visit to the city as he continues his campaign against leader of the opposition All Progressives Congress (APC) party, Muhammadu Buhari.
According to the Council on Foreign Relations, the terror group killed over 10,000 people in 2014 and they have already reportedly killed over 2,000 people in the first month of 2015 following a series of mass killings in the town of Baga, in the state of Borno.
The Hunt for Boko Haram, an in-depth ebook on the terrorists tearing Nigeria apart by Alex Perry, is available now from Newsweek Insights.