Boko Haram's Abubakar Shekau Rejects New Leader, Suggesting Split With ISIS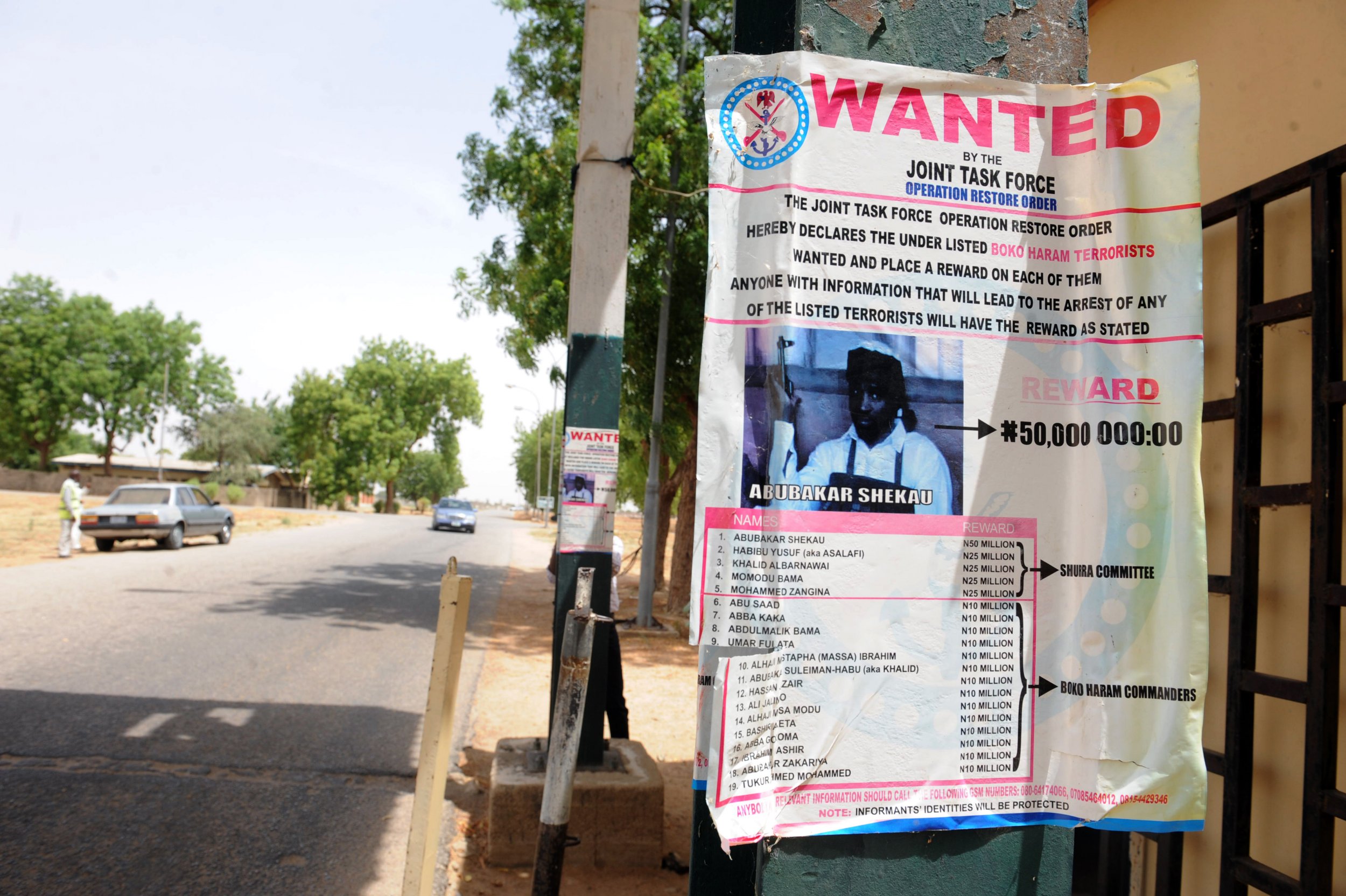 Updated | Boko Haram's disputed leader Abubakar Shekau has rejected the appointment of a new head of the Nigerian extremists by the Islamic State militant group (ISIS).
Shekau spoke about the alleged appointment of Abu Musab al-Barnawi in an audio message, the BBC reported . The message was released a few hours after reports surfaced that al-Barnawi had been designated as the new leader of the so-called Islamic State West Africa Province (ISWAP)—the name Boko Haram took following its pledge of allegiance to ISIS, which was given by Shekau himself, in 2015.
In the ten-minute audio message released in Arabic and Hausa, Shekau said that he had been "deceived" and accused al-Barnawi of trying to stage a coup against him. He referred to the group by its original Arabic name—which translates as Group of the People of Sunnah for Preaching and Jihad—that had been used prior to the pledge of allegiance to ISIS, but still refers to ISIS leader Abu Bakr al-Baghdadi as "caliph," according to Nigerian journalist Ahmad Salkida, an expert on Boko Haram.
Boko Haram launched an armed insurgency against the Nigerian government in 2009 and has killed tens of thousands of people since then, mainly in the country's northeast. The group has been driven back by the Nigerian military and is now holed up in the remote Sambisa Forest, although it retains the capacity to launch suicide bombings and armed attacks in Nigeria and its neighboring countries.
Shekau took over the group's leadership following the death of its founder, Mohammed Yusuf, in Nigerian police custody in 2009. He became the mysterious face of the group, appearing in videos to rejoice over its attacks and, most notably, celebrating the capture of 276 female students from their school in Chibok , northeast Nigeria. More than 200 of the girls remain missing; one escaped from captivity in May, raising hopes that more may be found, but the Nigerian military has so far failed to locate the vast majority of the abductees.
Shekau last appeared in a confirmed audio message in March 2015, although an unverified audio statement attributed to him surfaced in March.
Nigeria's defense spokesman General Rabe Abubakar tells Newsweek that any alleged change in leadership of Boko Haram would not change the military's strategy. "It does not in any way affect us by any means," says Abubakar. He says that Shekau is still a wanted man but that the military is focused on a wide objective. "We are very confident [that we will defeat Boko Haram] and all Nigerians have confidence in us," says Abubakar.
The appointment of al-Barnawi was noted in an interview with him in ISIS magazine Al-Naba, published Tuesday. Al-Barnawi previously appeared in a Boko Haram video in January 2015 and was described as a spokesperson for the group. In the Al-Naba interview, it was stated that al-Barnawi did not condone indiscriminate attacks on venues frequented by Muslims, including mosques and markets, according to The New York Times. In the face of increasing Nigerian military pressure, Boko Haram has resorted to such tactics, launching guerilla suicide attacks against targets including mosques, churches, markets and camps for internally displaced persons (IDPs).
Rumors of division between factions of Boko Haram have been circulating in recent months. General Thomas Waldhauser, the recently-appointed head of U.S. military operations in Africa—known as Africom—said that Boko Haram had split, with a faction distancing itself from Shekau for his failure to heed commands from ISIS.
Shekau reportedly clashed with the Syria-based group over several issues, including the use of child suicide bombers, which ISIS disagreed with. Around a fifth of Boko Haram's suicide bombers are children, and 75 percent of those are girls, according to an April report by UNICEF.
Waldhauser suggested that the pro-ISIS splinter group could "buy into the ISIL-brand of attacking Western interests," while Shekau's focus was more local. ISIL is an alternative acronym for ISIS.
This story has been updated to include comments from General Rabe Abubakar.