What Happened on 'The Bold Type'? Episode 7 Tackles Gun Ownership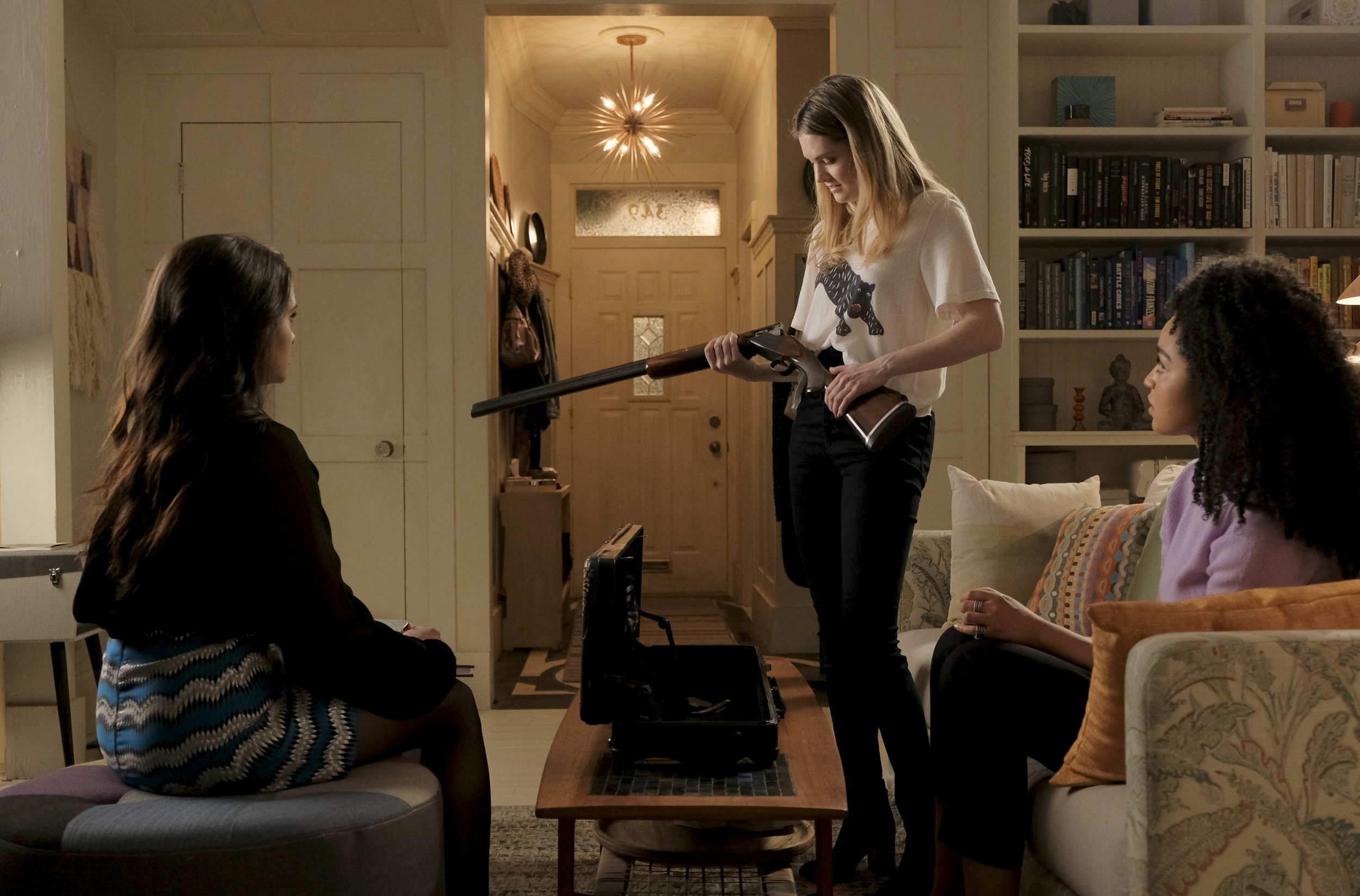 Jane Sloan wasn't happy when she learned her roommate, Sutton Brady, kept a shotgun in their apartment Tuesday in The Bold Type episode, "Betsy."
The Freeform series is based on the life of the former Cosmopolitan magazine editor-in-chief and current chief content officer of Hearst Joanna Coles. It follows the lives of three friends and employees of Scarlet magazine, Jane (Katie Stevens), Sutton (Meghann Fahy) and Kat Edison (Aisha Dee). When the series was renewed for Seasons 2 and 3 in 2017, Amanda Lasher (Sweet/Vicious, Gossip Girl) took over as showrunner and an executive producer from series creator Sarah Watson.
In this episode, Sutton showed Jane she knew how to safely use her firearm, which she named Betsy, and explained guns and shooting were part of her life growing up in central Pennsylvania. Jane still considered "Betsy" too dangerous.
She was in the first grade and only five miles away when the real-life tragedy happened at Columbine High School in Littleton, Colorado. In 1999, two teenagers used shotguns to kill 13 people and wound more than 20 others.
The series has tackled difficult issues in the past, including immigration and the #MeToo movement. "We really try to ground [those issues] in who that character is and where they came from," Lasher told Newsweek on Tuesday. "[Writer] Matt McGuinness really felt strongly that we have an opportunity to talk about the gun issue in a different way with this episode."
When Jane was struggling to see Sutton's point of view about her gun, she called her ex-boyfriend, Pinstripe, aka Ryan Decker, (Dan Jeannotte), for advice. "Pinstripe calls her on her B.S. and holds her accountable for things in a way that Jane is very engaged by, and they have a real friendship," Lasher said. Her current boyfriend, Dr. Ben Chau (Luca James Lee), "is somebody who is from such a different world that that is really appealing and fun for Jane and he brings a different perspective to everything."
Jane's relationships with Pinstripe and Ben will be "challenged" and "grow" as Season 2 continues. "She faces a personal challenge and they both step up in ways that surprise her," Lasher said.
Getting a second season of The Bold Type allowed the series to delve into the characters and their family members. The latest episode, as well as "Trippin," airing July 31, will broaden Sutton's character.
The upcoming episode will explore her relationship with her mother. "It's a very emotional trip back home for Sutton in many ways, and it helps her in her next step of going to Paris for Fashion Week," the executive producer said.
Fashion Week is going to be big for Sutton's career, demonstrating her growth. "She really hones in on what she wants her life to look like moving forward," Lasher teased. Sutton's ex-boyfriend, Richard Hunter (Sam Page), could be part of that future. "Paris is a very romantic city," she said.
Fashion Week is also going to affect Kat's career. While Kat will be staying within the social media department and at Scarlet when she goes to Paris, "she's faced with a challenge that she's never had before and finds a really surprising and fun way to help Scarlet," Lasher said.
Elsewhere in Kat's life, there's the open relationship agreement with her girlfriend, Adena El-Amin (Nikohl Boosheri). That will "change and evolve them in ways that really surprise people," Lasher explained. "At the base of their relationship is a love and a connection … that can't be broken."
The Bold Type Season 2 airs Tuesdays at 8 p.m. ET on Freeform.