'The Bold Type' Season 6: Why Was The Bold Type Cancelled?
The Bold Type is the critically-acclaimed series inspired by the life and career of former editor-in-chief of Cosmopolitan magazine, Joanna Coles.
The final episode of the series airs Wednesday, June 30 on Freeform, but why was The Bold Type cancelled?
Newsweek has everything you need to know.
Why was 'The Bold Type' cancelled?
In January 2021, The Bold Type fans received the most bittersweet news of all.
Season 5 was given the green light by Freeform but sadly, the announcement was accompanied by the news that it would be the last.
Additionally, the show's final outing has just six episodes, a significant cut from the show's 16-episode long fourth season, and the first three seasons' 10-episode run.
An official reason for the show ending after five seasons has not been given, but it is most likely associated with The Bold Type character's journeys coming to a natural end.
For five seasons, audiences have watched Jane Sloan (played by Katie Stevens), Kat Edison (Aisha Dee), and Sutton Brady-Hunter (Meghann Fahy) juggle their careers, romance, friendship, and family whilst keeping their friendship bond unbroken.
The show's final outing has seen the three best friends "defining who they really are and how best to leave their mark on the world" per the show's official synopsis.
At the end of Season 4, Sutton and Richard's (Sam Page) marriage hit a huge roadblock after Sutton ruled out ever having children.
After Richard left her, Sutton returned to her family home where she drunkenly hooked up with her married ex-boyfriend.
Jane was struggling to juggle her personal and professional life with her colleague Scott (Mat Vairo), and Kat calling it quits on her relationship with Conservative activist Ava, who also happened to be the daughter of the conversion therapy-financing board member.
In Season 5 of The Bold Type, fans have been watching as Sutton spirals into despair as her marriage to Richard falls apart.
Hopefully, by the end of the series, Sutton and Richard will be able to fully put back together the pieces of their romance after they were reunited in the penultimate episode.
Elsewhere, Jane's career has been going from strength to strength in Season 5 after she was promoted to editor-in-chief of Scarlett Magazine.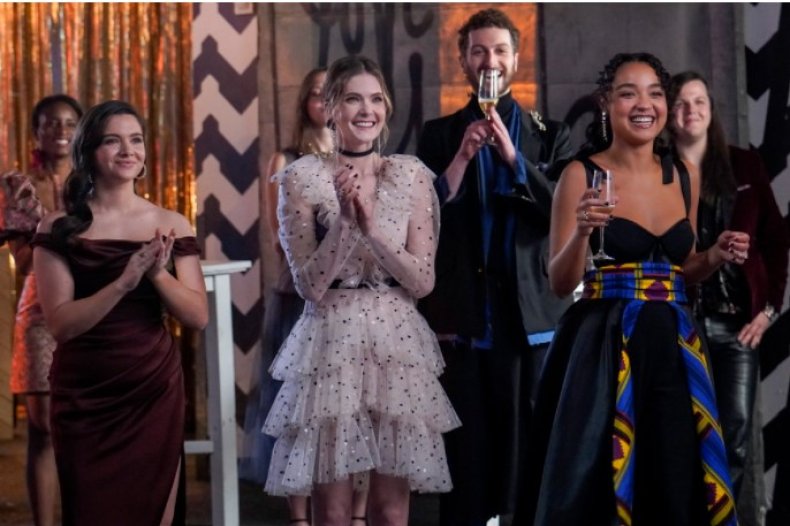 Kat has also been reunited with her on-and-off girlfriend Adena (Nikohl Boosheri).
Ahead of tonight's finale, Stephen Conrad Moore, who plays Oliver Grayson in the series, teased to ABC7 the finale will leave viewers "satisfied."
He said: "You will feel satisfied, but not in that 'Disney fairy tale' kind of way where it's just wrapped up.
"I think it's satisfied in the way of, 'This is how life is.' Life is incomplete at times, life is hopeful."
The show's cancellation may be related to its declining ratings. According to TV Series Finale, the fourth season of The Bold Type saw a 32% decline in viewership compared to Season 3.
On the other hand, The Bold Type has recently attracted a global fan base after all four seasons landed on Netflix, but whether ratings played a role in the show's cancellation remains unknown.
Announcing the cancellation, Freeform president Tara Duncan said in a statement: "The Bold Type is a brand-defining show for Freeform.
"It's been refreshing, relatable, and fun to watch Kat, Jane and Sutton lean on their friendship to navigate the complexities of modern life.
"It's one of my favourite shows, and I am proud that we are giving the series the send off Wendy [Straker Hauser, showrunner], the incredible cast and crew, and the beloved fans all deserve."
Straker Hauser added: "The Bold Type has been a gift that has truly changed my life.
"I spent my 20s in New York City working in magazines, so in many ways, the show feels very personal to my experiences.
"I have truly loved writing this show and living in this world.
"I will miss it terribly, but I am so grateful for the opportunity and glad to know it's been a comfort to so many people out there."
The Bold Type Season 5 airs tonight at 10 p.m. ET on Freeform and will be available to stream on Hulu + Live TV.