Bollywood Icon Aamir Khan on 'Secret Superstar,' Worldwide Success of 'Dangal,' and Empowering Women: Exclusive
Aamir Khan is the most bankable movie star in the world. That's not hyperbole—the proof is in the numbers.
Khan, one of the biggest names in Bollywood, India's movie-making industry, has starred in three of the country's 10 highest-grossing movies of all time. His last film, Dangal, released in his native country in December 2016, holds the record for the highest-grossing Indian film ever—the critically acclaimed wrestling drama has grossed $300 million across the world, including $193 million in China alone. Khan has defied the odds to become one of China's most popular movie stars and is affectionately known there as Uncle Aamir. He's an anomaly in the film industry as it exists today—the last of the true global movie stars.
Here's the thing about Khan though: He doesn't revel in his success. When I speak to him over the phone, the actor modestly downplays his own star power and says his box office wins—Dangal, 2014's PK, 2009's 3 Idiots and 2013's Dhoom 3—are a collective effort. "The way I look at it is that no star can make a film. It's the other way around: It's the film that makes the star," Khan says. "My contribution as a star is limited to the first three days—I can, at best, get you an opening. But the fact of the matter is that it's the film that ultimately succeeds. These are stories I haven't written, I haven't directed these films, so the success belongs to the writer and the director."
For Dangal, however, at least part of the movie's worldwide achievements are attributable to Khan. The actor produced the drama through his own company, Aamir Khan Productions, which he set up in 1999 and which released the Oscar-nominated 2001 film Lagaan as its first feature. Dangal wasn't just a win for the accounting books but also a step forward for progressive thinking in India. The film—which is based on real events—follows Mahavir Singh Phogat, a former wrestler whose dreams of competing for his country on a world stage were dashed, as he passes on his aspirations to his daughters. Dangal challenges what Khan says is still a patriarchal society in India and values gender equality. Yes, Aamir Khan, the burly action star, is a woke feminist.
Khan's next movie, Secret Superstar, doubles down on the female empowerment themes in Dangal and goes a step further by tackling the taboo subject of domestic violence in India. And, yes, it'll probably do big numbers across India—and the world—when it opens Thursday as Bollywood's big Diwali release. (Diwali being the biggest festival on the Hindu calendar.) Secret Superstar is about a young Muslim girl, Insu, played by Zaira Wasim, who played Khan's daughter in Dangal, who defies her parents' conservative traditions by becoming a viral sensation with videos of her singing. Khan, in an unusually flamboyant role, plays a self-centered music producer who takes notice of young Insu.
Here, Khan speaks to Newsweek about effecting social change in India through the power of cinema, the mammoth success of Dangal and whether he might dip a toe in Hollywood.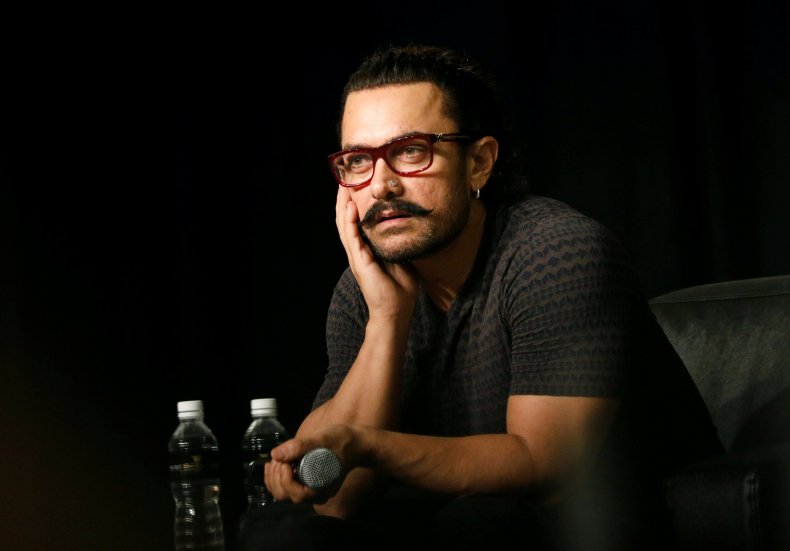 Secret Superstar is another socially conscious movie that drives conversation about female empowerment. Why is that important to you?
I was very fortunate to have two scripts come my way, both talking about similar issues in different ways. Dangal has a strong male protagonist leading the journey, and that's an important voice, because it speaks to the men in Indian society. India is a very patriarchal society. Here, you see a man who is telling other men that this is something I should be doing. He thinks a son was going to fulfill his dreams, but it's a daughter that fulfills his dreams. That's a big message to Indian society. Dangal primarily speaks to parents.
Secret Superstar is about the same issue, but it's through the voice of a 14-year-old girl and is about her dreams and desires. It's a story that speaks to a young teenage audience and tells them they have the right to fight for their own individuality, their desires, their hopes.
The world has responded so warmly to Dangal, both in terms of the message and at the box office. What has that journey been like for you?
We made something with our hearts, something we strongly believed in, and the way the audience reacted was so encouraging and heartwarming. It went on to become the highest-grossing Indian film ever, and that shows to what extent people loved it. That was so heartening to see—a story like that is being loved. I'm hoping we get a similar strong reaction for Secret Superstar, which I believe is an even more important film.
You tweeted recently that your part in Secret Superstar is one of your "toughest roles." Why is that?
I don't find any role that I do easy, and every role has its own challenges. This time, for the first time, I'm playing a character who is so unlike me. He's very arrogant, very full of himself, a very obnoxious person. He's incorrect in almost everything he says and does. He doesn't listen to people—he's only interested in his own voice. Perhaps the only redeeming quality he has is that he makes you laugh at him, because he's so obnoxious you can't take him seriously. The way Advait [Chandan, director] wrote this character, you find it difficult to believe if he's really like this, or is it all an act? It was tricky for me to pitch [the character] correctly...it's so opposite to my type. But it's important for me to get into the head of the character I'm playing. The way I've been brought up is quite contrary. My mom would always tell us, "If you're successful at something, don't talk about it, be humble about it." That is the upbringing a lot of us [in India] had.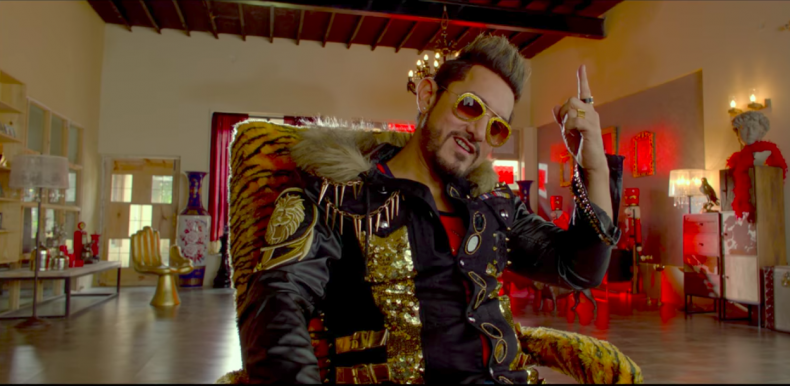 You're reunited with Zaira Wasim in Secret Superstar. She played your daughter, Geeta, age 14, in Dangal. Did you have some influence in her landing this role, too?
We were searching for a girl for Dangal; we tested Zaira for the role of Geeta when she's 14. We were bowled over—she was just right for the part, and we knew we found the girl we wanted. At the same time, Advait was looking for a girl for his film, and I suggested to him, "We found a really great actress for the role of Geeta when she's 14," and that's roughly the age for this part. Advait tested her, and she was bang-on, she was amazing. In fact, Advait was trying to convince Nitesh [Tiwari, Dangal's director] and me, "Don't put her in Dangal, let me use her in Secret Superstar, and I'd like that to be a vehicle for this girl." Fortunately, we did not listen to him, and we were very happy with her in Dangal.
She is so gifted as an actor, she's so talented...in all honesty, from my point of view, she's the best actress we have in the film industry. She's so young, she has a long way to go, so I feel so happy and proud for her.
You have in the past shied away from movie industry awards events. Dangal was so critically lauded and won numerous awards. You, yourself, won best actor at the Filmfare Awards, the Indian equivalent of the Oscars, in January. Has your stance on awards shows changed?
What I'm really happy about, the film that we've made, for the audience that we made it, has resonated so strongly in India and all over the world. That is the most important thing for all of us [involved]. It has won awards at various stages, but the most important thing is that it touched a deep core in people.
In June, you were extended an invite from the Academy of Motion Picture Arts and Sciences (AMPAS) to join its ranks and vote for future Academy Awards. Have you accepted?
I have accepted that invitation. To be invited to join that big group is certainly something I'm happy about.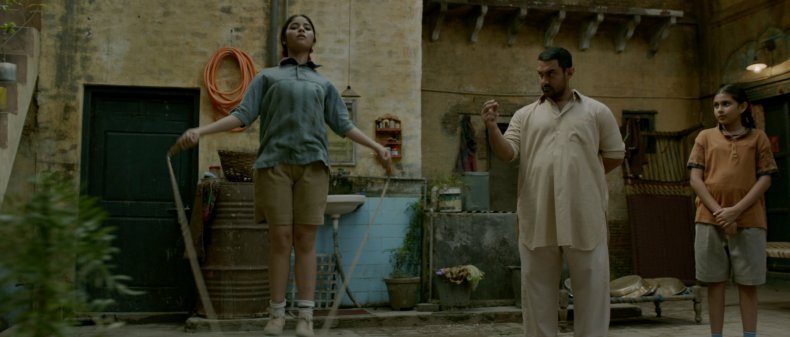 One question that I have to ask is, When will fans get to see you in a movie alongside the other great Khan of Bollywood—Shah Rukh Khan?
Well, I would love to do a movie with Shah Rukh. He's a dear friend. If the right kind of script comes along, both of us would love to do a film together. There have been a couple of offers to come our way. But nothing has ever materialized.
Do you have any ambitions to make a Hollywood film?
I am really happy with the kind of films I do here in India. I would definitely be open to a film in any language, from any part of the world, as long as the script is something that excites me and if the director is someone who I trust. It could be from the U.S., or the U.K., China...anywhere in the world. What the film is saying is important to me.
Secret Superstar is in theaters now globally.