Bollywood Star Rishi Kapoor Dead: Narendra Modi, Aamir Khan and More Pay Tribute to Actor
Tributes have been paid to legendary Bollywood star Rishi Kapoor, who has died aged 67.
Kapoor died Thursday after being admitted to a hospital in Mumbai Wednesday after complaining of breathing difficulties, according to the BBC.
Kapoor has been battling cancer for the past two years. The actor was diagnosed with leukemia in 2018 and spent a lengthy period of time being treated in New York before returning to his native India last September.
"The doctors and medical staff at the hospital said he kept them entertained to the last. He remained jovial and determined to live to the fullest right through two years of treatment across two continents," said Kapoor's family in a statement.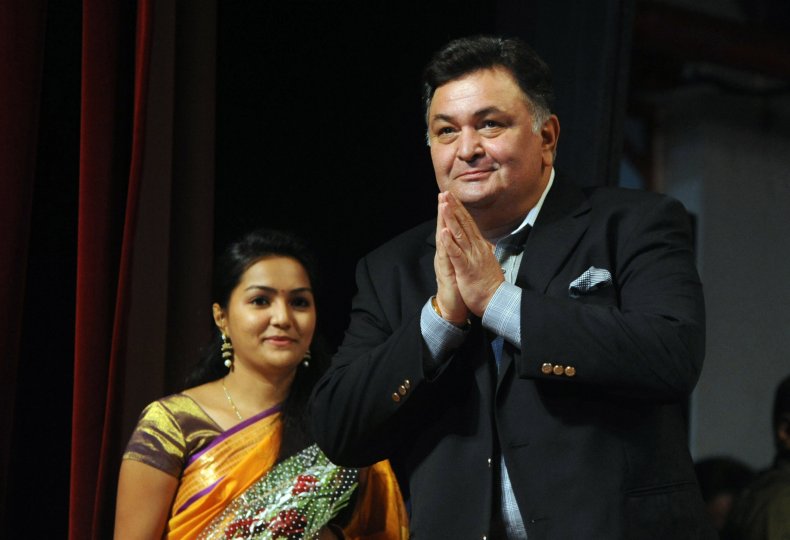 "Family, friends, food and films remained his focus and everyone who met him during this time was amazed at how he did not let his illness get the better of him.
"He was grateful for the love of his fans that poured in from the world over. In his passing, they would all understand that he would like to be remembered with a smile and not with tears."
The actor's passing has been felt across the entertainment and political spectrum in India, where he first gained notoriety after appearing in the 1973 movie Bobby when he was just a teenager.
Indian Prime Minister Narendra Modi wrote on Twitter: "Multifaceted, endearing and lively...this was Rishi Kapoor Ji. He was a powerhouse of talent. I will always recall our interactions, even on social media. He was passionate about films and India's progress. Anguished by his demise. Condolences to his family and fans. Om Shanti."
Aamir Khan, one of Bollywood's biggest box office attractions, mourned Kapoor, writing: "We have lost one of the greats today. An amazing actor, a wonderful human being, and 100% a child of Cinema. Thank you for all the joy you brought to our lives. Thank you for being the actor and human being that you were. You will be badly missed Rishiji."
"Rishi Kapoor's untimely demise is shocking," wrote the official Twitter account for the president of India, Ram Nath Kovind. "An evergreen personality with an always smiling face, he was so full of life that it's difficult to believe that he is no more. A huge loss for the entertainment industry. Let us pray for his soul. Condolences to his family and friends."
Kapoor was part of the famous Kapoor filmmaking dynasty. He is the son of actor-and-director Raj Kapoor, considered one of the forefathers of modern Bollywood.
Kapoor's son Ranbir Kapoor is one of Bollywood's most popular stars today, while his niece Karisma Kapoor was a leading lady in the 1990s.
Kapoor's death comes just a day after Bollywood mourned the loss of Irrfan Khan, who appeared in movies such as Slumdog Millionaire and Life of Pi, and who died aged 53 Wednesday.