Bollywood Star Farhan Akhtar on Being U.N. Women's First Male Ambassador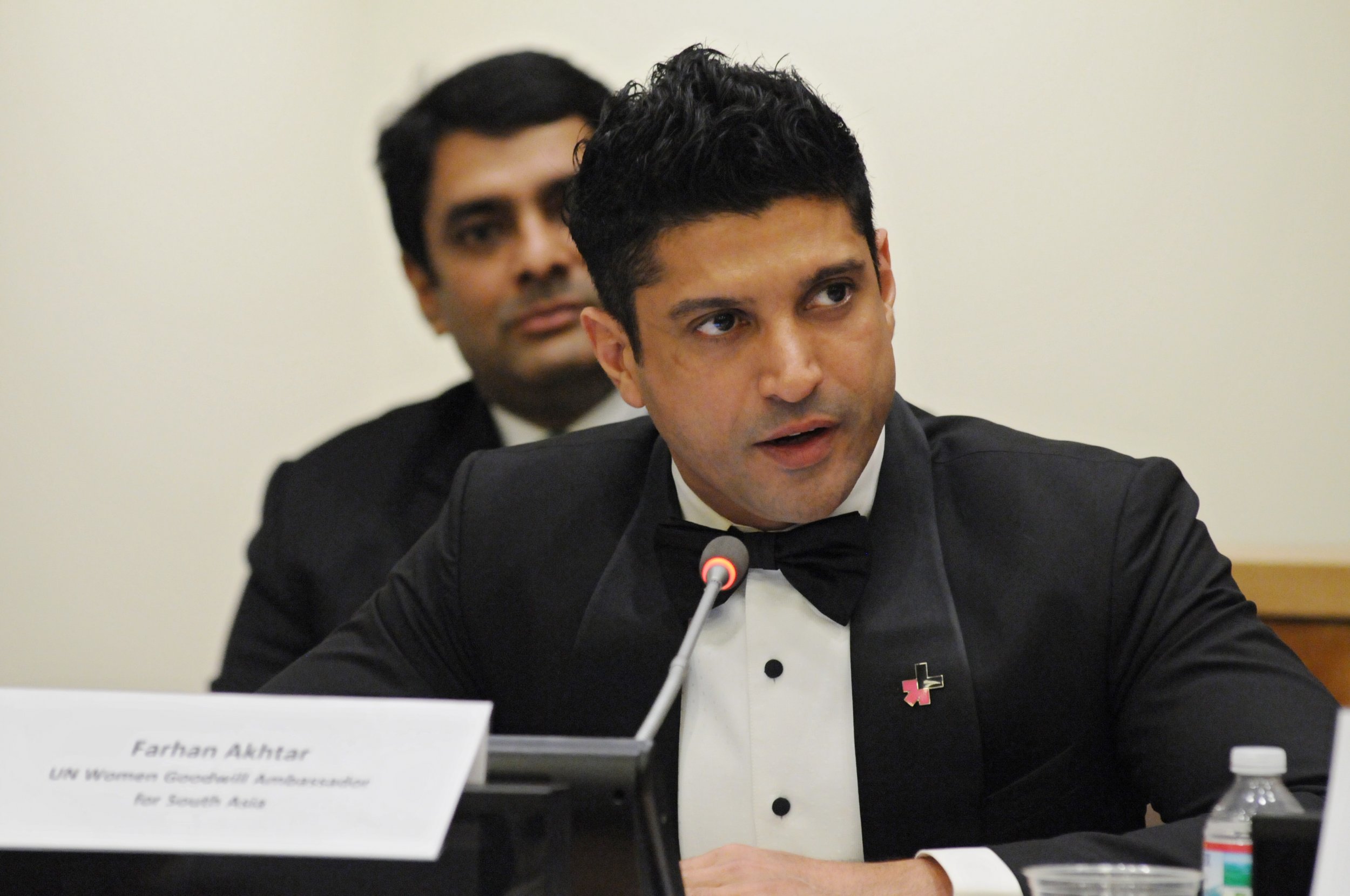 To join the lofty ranks of United Nations women goodwill ambassadors such as actresses Nicole Kidman and Emma Watson, tennis player Sania Mirza and Princess Bajrakitiyabha Mahidol of Thailand, you have to be someone special.
Usually, you first have to be a woman. But not in the case of Farhan Akhtar, a Bollywood superstar--actor, singer and filmmaker--who recently became the first male ambassador for U.N. Women, an agency that focuses on gender equality. He's also an advocate for the U.N.'s HeForShe campaign, designed to encourage men to stand up for gender equality.
Akhtar was appointed a U.N. Women goodwill ambassador to South Asia in November. At the 59th Commission on the Status of Women conference in Manhattan last week week, he spoke during a panel on ending violence against women and sang at an event attended by former secretary of state Hillary Clinton and Academy Award-winning actress Patricia Arquette.
Akhtar, 41, is the star of such movies as Bhaag Milkha Bhaag and Shaadi Ke Side Effects and has an active social media presence, boasting 4.8 million Twitter followers. Backstage at the Manhattan Center in midtown New York, he said he considers the goodwill ambassador role a "serious responsibility" that he hopes he can live up to.
In 2013 Akhtar founded the organization MARD, a Hindi word for man and also an acronym for Men Against Rape and Discrimination. The organization engages young male students in India, usually ages 15 to 16, in conversations about redefining concepts of masculinity in a country where nearly half of girls are married by the time they're 18.
"More often than not, the concept of manhood is a lot more aggressive. Aggressive values of being able to achieve, to go get things, to not take no as an answer," Akhtar said. "[MARD] helps them find the balance [and says] that it's OK to be sensitive, it's OK to cry, it's OK to take no for an answer."
Akhtar has also worked with Magic Bus, a Mumbai-based organization that helps Indian families send their daughters to school. In many cases, families will educate sons rather than daughters if they face financial constraints--and 65 million girls across the world are not in school, according to a report published last Sunday by the World Policy Analysis Center.
Violence facing women in Akhtar's native India has been in the news recently after the broadcast of a BBC documentary, India's Daughter, which documents the rape and death of medical student Jyoti Singh on a New Delhi bus in 2012. The film was banned in India following an outcry over comments made by Singh's convicted rapists and their lawyers. One of the assailants, the driver of the bus in which Singh was raped, is shown in the film saying that he feels no remorse for her death and that women should be blamed for what happens to them.
Akhtar has seen the film and said he doesn't believe it should have been banned. "There are men in India and in the rest of the world who, whether you want to call it traditional, whether you want to call it twisted, whether you want to call it outdated, have ideas of masculinity that need to be changed. By exposing this mindset we can start talking about it," he said.
In his role as goodwill ambassador, Akhtar will support U.N. Women's push for gender equality by encouraging men and boys to advocate for women's empowerment. Akhtar also took part in a Q&A session on Twitter last week during which people could use the hashtag #AskFarhan to ask the actor questions about advancing women's rights in their own countries.
The Commission on the Status of Women in 2015 marks 20 years since 189 countries gathered in Beijing to make a landmark commitment to achieving gender equality. But reports released last week have shown mixed progress, particularly when it comes to eliminating violence against women.