Bolsonaro Says Vaccine Might Create 'Crocodiles' as Brazil Sees Second Most COVID Deaths
Brazilian President Jair Bolsonaro has reportedly warned that the new Pfizer/BioNTech coronavirus vaccine could turn people into "crocodiles," while the country continues to trail only the United States for the largest number of COVID-19 deaths in the world.
Brazil recorded over 1,000 virus-related deaths on Thursday, with over 184,000 deaths since the pandemic began, according to Johns Hopkins University. Bolsonaro announced Brazil's vaccine distribution plans on Wednesday, saying that inoculations would eventually be provided free of charge "for everyone who wants it," while insisting that he would not personally be vaccinated. The president later claimed that the vaccine could cause several bizarre side effects, including the transformation of humans into toothy reptiles.
"In the Pfizer contract it's very clear: 'we're not responsible for any side effects.' If you turn into a crocodile, it's your problem," Bolsonaro said Thursday, according to Agence France-Presse. "If you become superhuman, if a woman starts to grow a beard or if a man starts to speak with an effeminate voice, they will not have anything to do with it."
Newsweek reached out to Pfizer for comment.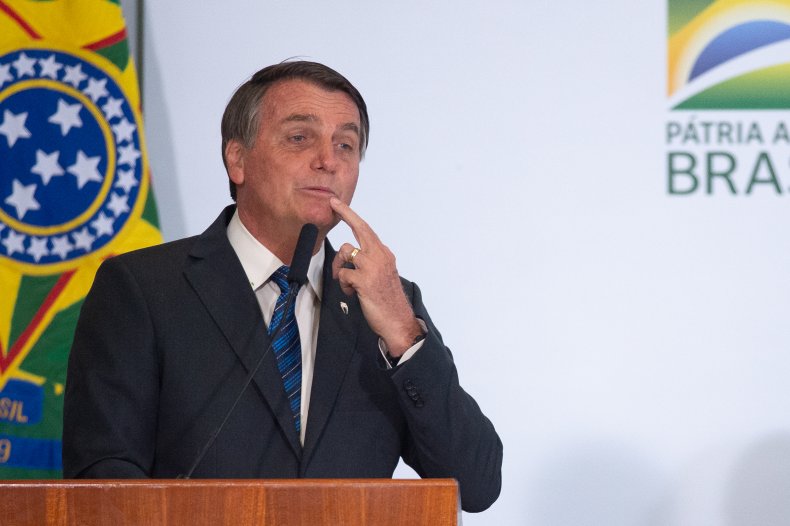 Bolsonaro, a far-right populist who has often been compared to President Donald Trump, has consistently downplayed COVID-19. Early in the pandemic, he compared the virus to a "little flu" despite the pathogen being far more deadly than typical flu viruses. Last month, he reasoned that "we're all going to die someday" while facing mounting criticism over the country's rising death toll.
Bolsonaro has also spoken out against making the vaccine mandatory in Brazil. The country's Supreme Court ruled that the vaccine would not be mandatory but "obligatory" on Thursday, leaving open the possibility that those who refuse it could face fines or being banned from public areas. The president cited his own recovery from the virus, which he contracted in July, as a reason for not personally receiving the vaccine.
"Some people say I'm giving a bad example," said Bolsonaro. "But to the imbeciles, to the idiots that say this, I tell them I've already caught the virus, I have the antibodies, so why get vaccinated?"
Medical experts are not certain that recovering from COVID-19 results in long-lasting immunity to the virus. Antibodies and some level of immunity are likely to be present following recovery, but survivors could be vulnerable to a second bout of the illness within months. Multiple cases of reinfection have been documented.
Bolsonaro's bizarre comments about vaccines causing humans to change species are clearly not based in reality, although many people around the world have expressed more plausible concerns about the safety of multiple vaccines being rapidly approved for use. However, no significant life-threatening reactions have been noted for any of the vaccines that have been approved so far.
A minority of Pfizer/BioNTech vaccine recipients have experienced unpleasant but temporary side effects that posed no risk to their lives, unlike contracting the virus. Serious allergic reactions have also been observed in a very small number of those already vaccinated, leading to recommendations against using the vaccine in people with a history of severe allergic reactions.