Bolt, Phelps, Biles, Ledecky and Van Niekerk Lead Astonishing Run of Gold-Medal Performances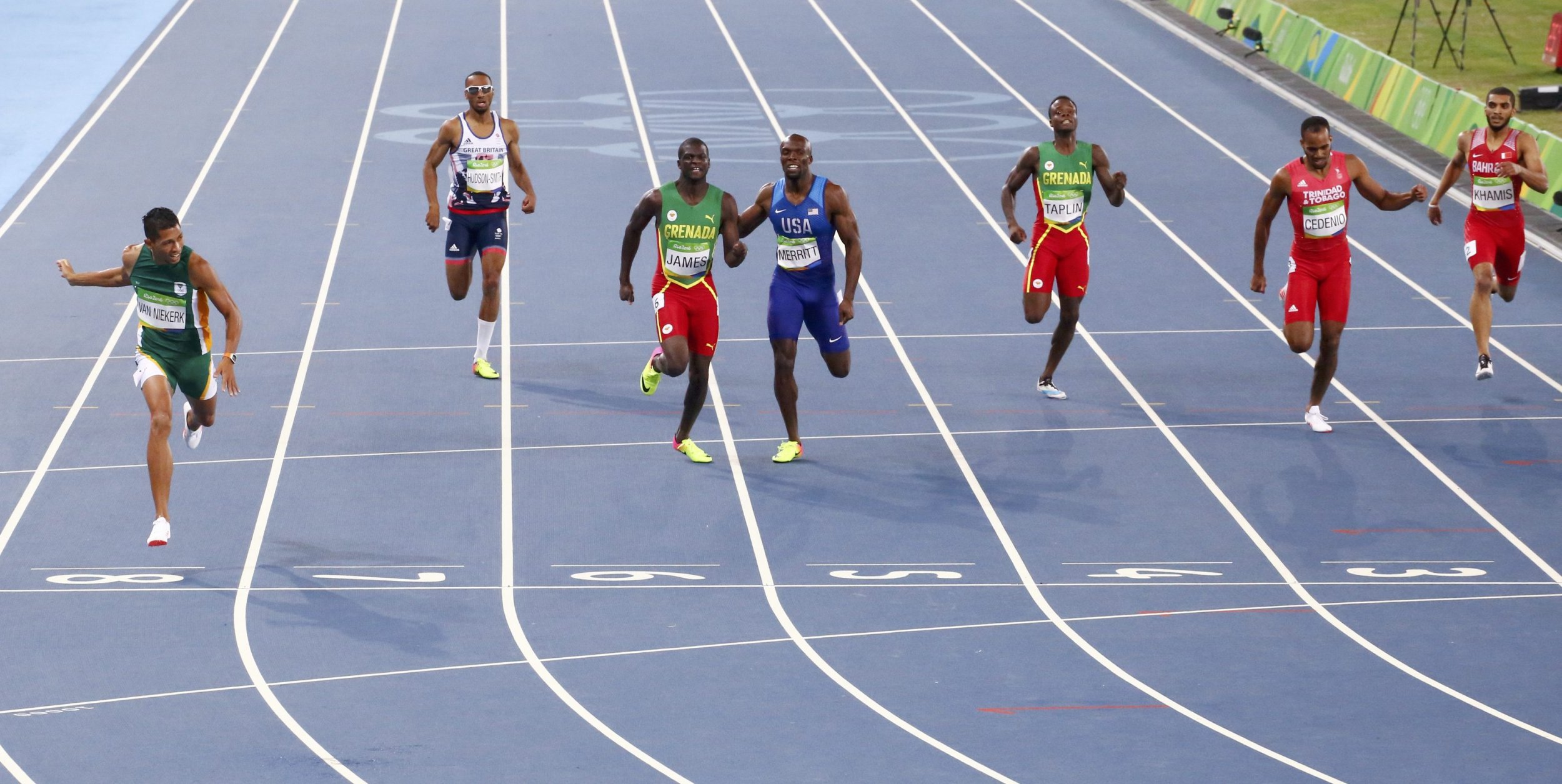 If you just returned from a camping weekend or were otherwise binge-watching Stranger Things since Friday afternoon, you missed one of the more astounding weekends in Olympic history. World records fell both in the pool and on the track, a lightning Bolt struck for a third time, and Katie Ledecky may still be waiting for her fellow competitors to finish in the 800-meter freestyle. It was a five-ring circus of fantastic physical feats, and we are here to recap it for you.
—In his final Olympic swim,* Michael Phelps took gold as part of the men's 4 x 100 individual medley relay team on Friday night. Phelps, swimming the butterfly, entered the pool in second place as the United States' third swimmer and touched the wall in first place, handing the lead to anchor Nathan Adrian. If this was indeed it for Phelps, 31, he retires with 23 gold medals, the most of any athlete and the same number, all-time, as host nation Brazil.
*We'll see. Phelps said he was finished four years ago after London too, and as teammate Anthony Ervin (see below) proved, it is possible to win gold in the pool at age 35.
—Phelps swam in the 2000 Sydney Games as a 15-year-old and failed to win a medal. In those same games, Anthony Ervin, then 19, won gold for the USA in the men's 50-meter freestyle. In the next three Olympics, Phelps won 18 golds while Ervin, now 35, embarked on a personal odyssey that involved depression, the auctioning of his medal (he used the money to help victims of the 2004 tsunami in the Indian Ocean), drug addiction and even a suicide attempt. He quit swimming between 2003 and 2011. On Friday night, Ervin was back on the blocks and won the men's 50 free by a hundredth of a second, becoming the oldest swimmer ever to win a gold and also tying a Summer Olympics record for the longest interregnum—16 years—between gold medals. "Maybe a piece of me wanted to see if I could get that [sold] medal back," said Ervin, who plans to return to swim in Tokyo in 2020.
—The most stunning moment at the Olympic Aquatics Stadium lasted 11.83 seconds. That was the amount of time that elapsed from when Katie Ledecky touched the wall to win the 800-meter freestyle to when silver medalist Jazmin Carlin of Great Britain touched. In winning by nearly half the length of the pool, Ledecky lowered her world-record time by nearly two seconds, to 8:04:79. A Maryland native like Phelps, Ledecky will matriculate at Stanford next month with five gold medals, four of which she earned in Rio.
—In Phelps's final individual race, the 100 butterfly, he finished in a three-way tie for silver. The gold medalist, Joseph Schooling of Singapore, 20, earned his nation's first gold medal in any Olympics. Like Ledecky, who posed for a photograph with Phelps when she was 9 years old, Schooling met and took a picture with Phelps when he was 13, shortly before the Beijing Games.
—On Saturday afternoon, the United States women's eight rowing team continued their dominance, winning a third consecutive gold medal. Although Eleanor Logan is the only rower who has been a member of all three gold-medal-winning eights, the U.S. has not lost a race since 2006, including 11 major international competitions. "There was nothing left in their effort," Logan, 28, told The Washington Post, of her teammates. "It was all over their faces, and I said, 'Wow, what an amazing experience to be a part of this group, where everyone is just giving everything they have every day.'"
—On Saturday evening, inside the Olympic Stadium, defending men's 10,000-meter gold medalist Mo Farah of Great Britain fell, but he did not stumble. With 16 laps remaining in the nearly 25-lap race, Farah was inadvertently tripped by his American training partner, Galen Rupp. The 33-year-old fell on the turn, but immediately sprang back to his feet. "I wasn't going to let it go," Farah said. "I got up quickly. I thought about my family. It made me emotional. I thought, 'Get through, get through.' I believed in myself."
Farah trailed Kenya's Paul Tanui heading into the final straightaway, but overtook him by 0.49 seconds to win in 27:05:17. Rupp, the silver medalist four years ago in London, finished in fifth place.
—Sunday morning's competition opened with the women's marathon. Run under blue skies in temperatures approaching 80 degrees, or roughly 20 degrees above ideal conditions, the 26.2-mile race saw a Kenyan, Jemima Sumgong, break the tape in a respectable 2:24:04. Although Kenyan females dominate the world marathon circuit, Sumgong is the first from her African nation to win Olympic gold in this event. The American women, led by Shalane Flanagan, finished sixth, seventh and 10th, which marked the first time the U.S. had placed three marathoners in the top 10.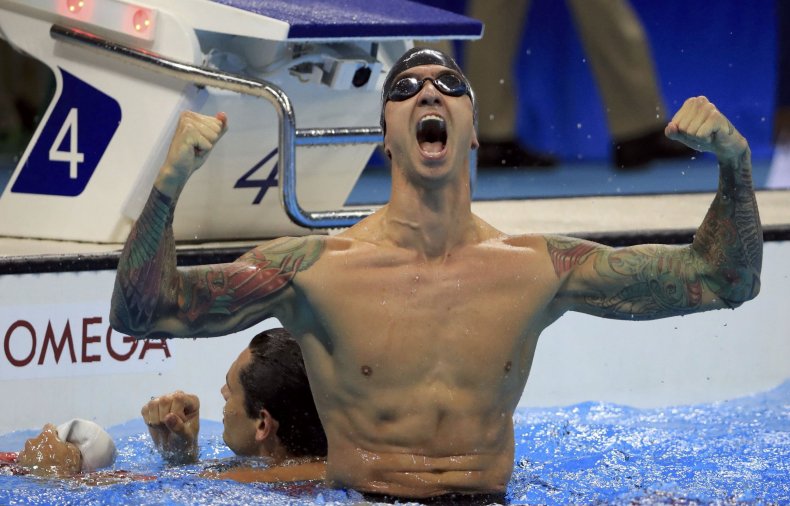 —On Sunday, at Copacabana Beach, the sun had just set and it appeared as if the host nation's top-seeded women's volleyball duo was about to disappear too. Larissa França and Talita Antunes were facing match point in a quarterfinal elimination match against the Swiss duo of Joana Heidrich and Nadine Zumkehr. Buoyed by the raucous home crowd, the resilient Brazilians rallied to win 21-23, 27-25, 15-13. There was no more closely fought match, start to finish, at any Olympic venue this weekend.
—On Sunday evening, at the Rio Olympic Arena, American Simone Biles continued her mastery of gymnastics. Biles won her second individual gold and third overall in Rio by winning the vault. Biles, who earned more gold medals in the past week than any American female in Olympic history, has a shot at becoming the first woman to claim five golds in one games. Next up for her: the balance beam on Monday and the floor exercise on Tuesday.
—The most impressive feat of the weekend, with the exception of Ledecky's 800 swim, belonged to 24-year-old Wayde van Niekerk of South Africa. Making his Olympic debut in the 400 meters, and running out of Lane 8, where no man has ever won the gold medal, van Niekerk ran a world-record time of 43:03 to win. His 74-year-old coach, Ans Botha, a white-haired great-grandmother, was in the stands cheering.
—Van Niekerk had the most impressive time on the track, but no human had a better time than Jamaican legend Usain Bolt. The two-time reigning gold medalist in the men's 100-meter sprint ran away from the competition in the semifinal, taking time over the last 15 meters to look back in both directions and smile. In the final, Bolt, 29, ran down American Justin Gatlin, the 2004 gold medalist, in the final 20 meters to win an unprecedented third gold in this event. He then circled the track in a victory lap that included selfies with fans.
Bolt will go for the triple-triple later this week, seeking to become the first man ever to win three consecutive golds in the 100, the 200 and the 4 x 100. Bolt, who will turn 30 on the day of the closing ceremony next Sunday, is already the greatest sprinter in the history of the Olympics and arguably its greatest track athlete.