Bolton Claims Trump Can't Keep a Secret As He Comes Under Fire for Book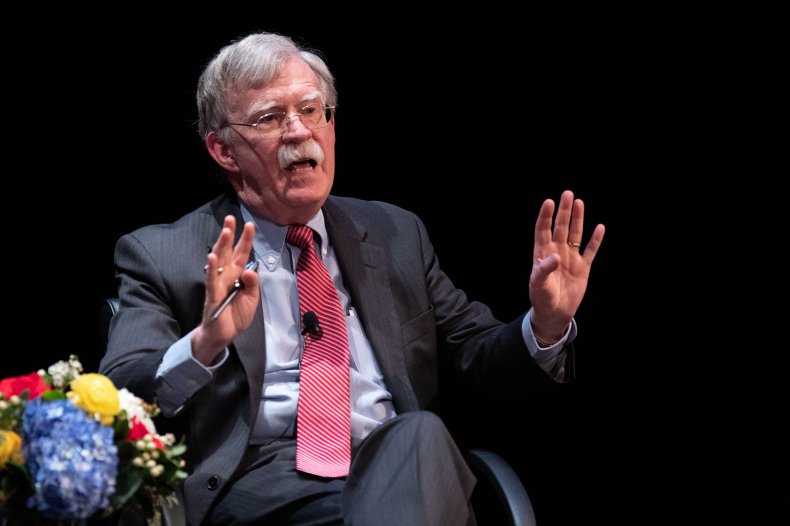 President Donald Trump ignored warnings to keep sensitive national security warnings secret and instead turned to Twitter to spill information, his former national security adviser John Bolton claimed in his explosive new tell-all.
In a segment of the nearly 500-page book, The Room Where It Happened, Bolton recounted briefing Trump on what the United States knew about a developing situation in Hong Kong. Newsweek received an advance copy of the book.
"Our Intelligence has informed us that the Chinese Government is moving troops to the Border with Hong Kong. Everyone should be calm and safe!" Trump tweeted on the afternoon of August 13, 2019, amid escalating protests in Hong Kong.
Bolton claimed the tweet followed their meeting, during which he told the president that if he planned to tweet, it should not be detailed with information from their discussion.
"But as was so often the case, he ignored this warning," Bolton wrote in the book, due to be released Tuesday. "So much for stopping all those leaks from the 'deep state.'"
The Trump administration has repeatedly denied claims in Bolton's book.
White House Press Secretary Kayleigh McEnany told reporters Monday that the book was made up of "ridiculous accusations" and "full of mistruths."
"John Bolton has completely discredited himself," she said.
But a federal court ruling over the weekend suggests that at least some of what Bolton recounts in his book is true and should have been kept private, because Bolton has been accused of leaking classified information in it. Only true information is considered classified.
The court ruled that the book can't be put on hold because it had already been circulated widely but Bolton could be prosecuted or have to return the $2 million-advance he was paid to write it.
"With hundreds of thousands of copies around the globe—many in newsrooms—the damage is done," Judge Royce Lamberth of the federal district Court of D.C. wrote in his opinion. "There is no restoring the status quo."
On Twitter, Trump has called Bolton a "wacko" and said he "broke the law by releasing Classified Information (in massive amounts)."
"He must pay a very big price for this, as others have before him," Trump tweeted.
In his first television interview about the book, Bolton pushed back on suggestions that what he's written is untrue or misleading.
"This is a book of facts," he told ABC News' Martha Raddatz in the interview, which aired Sunday. "It's not a book of theories or accusations or emotional responses. What I've tried to do is write 500 pages of facts, of history, that show how decisions were made in the national security field and the Trump administration."