#BoltonMustTestify Trends After Trump's Former NSA Adviser's Return to Twitter Is Met With Criticism
The hashtag #BoltonMustTestify was trending Friday after President Donald Trump's former National Security Adviser John Bolton tweeted he was "glad to be back on Twitter" after a hiatus since his ouster from the administration.
"Glad to be back on Twitter after more than two months," Bolton tweeted Friday morning. "For the backstory, stay tuned........"
While Bolton seemed pleased to be back on Twitter, many users of the social media platform used it as an opportunity to call on him to testify in Trump's impeachment hearings.
"Backstory? Just testify and uphold your oath to America!" Pennsylvania-based lawyer Scott Cooper tweeted, along with #BoltonMustTestify.
Bolton was a no-show to his testimony that was set for last week. According to other witnesses' testimonies, Bolton opposed Trump's efforts to get Ukraine's president to investigate 2020 Democratic candidate Joe Biden, and even called it a "drug deal" he wanted no role in.
Some Twitter users hoped Bolton's "backstory" remark was not referring to an upcoming book, the route many former Trump administration officials have taken.
"Let's hope for the sake of our country this is stay tuned for his testimony before Congress, not stay tuned to read my book about Trump's lawlessness. #BoltonMustTestify," author Barrett Laurie tweeted.
Last week, Bolton's lawyer Charles Cooper said the former national security adviser has knowledge about "many relevant meetings and conversations" that have not yet come to light.
Even before Bolton announced his return to the Twitterverse, users were using #BoltonMustTestify.
On Thursday, Trump critic Claude Taylor, who served as a White House director of volunteers during the Clinton administration, shared a clip of former National Security Council Director Fiona Hill's impeachment hearings testimony and remarked, "Wherein Bolton says it's a drug deal. #BoltonMustTestify."
The same day, Mother Jones Washington, D.C. bureau chief David Corn used the hashtag in quoting Thursday's testimony from the counselor for political affairs to the U.S. Embassy in Ukraine David Holmes. He was speaking about Bolton in relation to other witnesses.
"Holmes: 'I heard Amb. Bolton express to Amb. [Bill] Taylor &...[Tim]Morrison his frustration about Mr. [Rudy] Giuliani's influence w/ the president, making clear there was nothing he could do about it.' Bolton 'expressed frustration' about [Gordon] Sondland's role," Corn tweeted.
Bolton's last tweet was the day of his ouster, on September 10. Bolton was reportedly against Trump's planned secret peace talks with Taliban leaders at Camp David during the 9/11 anniversary week, and did not see eye-to-eye with Secretary of State Mike Pompeo.
"I offered to resign last night and President Trump said, 'Let's talk about it tomorrow,'" Bolton tweeted at the time.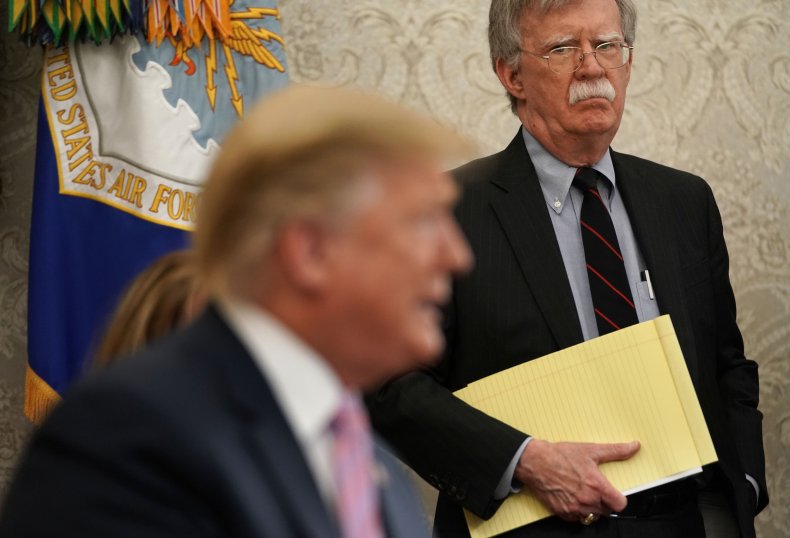 Two-and-a-half hours after his "backstory" tweet Friday, Bolton tweeted: "We have now liberated the Twitter account, previously suppressed unfairly in the aftermath of my resignation as National Security Advisor. More to come....."