Bolton Says U.S. Would Be in 'Worse Shape' Had Trump Nixed NATO
John Bolton, the former national security advisor to President Donald Trump, saysthat the U.S. would be in "worse shape" had Trump withdrawn the U.S. from the North American Treaty Organization (NATO), the Western alliance seeking to limit Russia's military expansion.
Trump repeatedly considered leaving the 30-nation alliance during his presidency, Bolton and The New York Times have reported. Doing so would have emboldened Russian President Vladimir Putin and left the U.S. in a weaker position to oppose him during Russia's recent invasion into Ukraine, Bolton said. The administration of current President Joe Biden believes that NATO's unity has deterred Russia from further aggression.
"Where would we be right now...if the U.S. had followed through with former President Trump's idea of withdrawing from NATO?" SiriusXM's Julie Mason asked Bolton in a Wednesday interview.
"I think we'd be in a lot worse shape, that's for sure," Bolton replied. "I think one of the reasons that Putin did not move during Trump's term in office was [that] he saw the president's hostility with NATO...and to Putin's mind, it's a binary proposition: A weaker NATO is stronger Russia."
"So I think Putin saw Trump doing a lot of his work for him and thought, maybe in a second term, Trump would make good on his desire to get out of NATO, and then it would just ease Putin's path just that much more," Bolton added.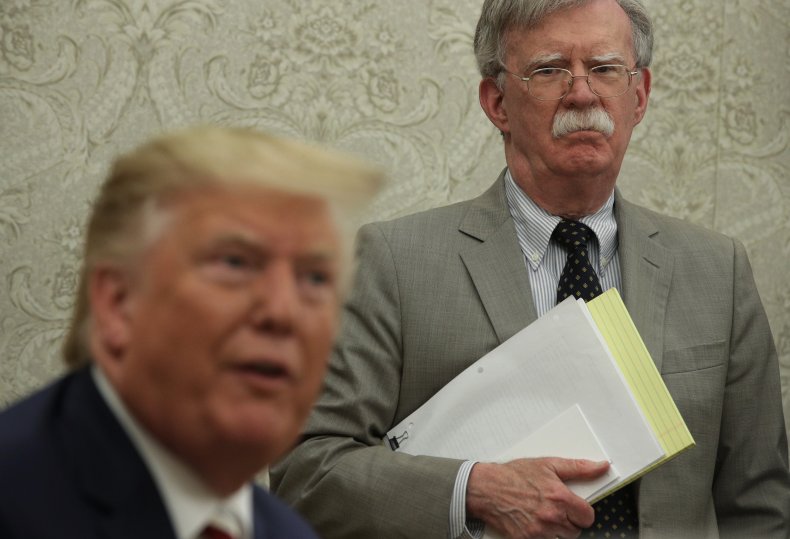 Trump opposed U.S. involvement in NATO during his presidency as he reportedly didn't see the point of the alliance and thought the country put far more money into NATO than its other member nations. In Bolton's 2020 memoir, The Room Where It Happened, he details how he had to convince Trump not to quit NATO in the middle of a 2018 international summit.
While it's true that member nations are required to invest a percentage of their gross national income toward NATO's military-related operations, maintenance and headquarters activity, as one of the world's largest economies, the U.S. has made the largest financial contribution of NATO's members.
However, the U.S. ostensibly benefits from its NATO alliance because it deters nonmember nations from attacking the U.S. or NATO's other European members. NATO depends on the concept of collective defense, and considers an attack on one of its member states as an attack on all of them.
NATO has said that it won't send any troops to Ukraine. However, it has said it will increase military presence along the eastern border of its member states closest to Russia in case Putin attempts to expand his conquest, something analysts say is unlikely, The Washington Post reported.
Putin has been vocal about his opposition to NATO. He has said that the U.S. is using NATO to "contain Russia" and complained that Ukraine's possible entry into NATO would "undermine Russia's security" by installing NATO's military at Russia's borders.
This week, Ukrainian President Volodymyr Zelensky said he is no longer pressing for his country to join NATO. His comment could be a way of trying to placate Russia, as Putin has repeatedly demanded Ukraine's nonmembership as a precondition of peace.
However, opinion polls released last week showed that in light of Russia's invasion, citizens of Finland and Sweden wanted their historically neutral nations to become NATO members. Russia's defense minister has previously said such moves would be met with military consequences.
The actual process of joining NATO membership can take years. To be considered, potential members must follow NATO's required democratic values and contributions to Euro-Atlantic security. These criteria are then evaluated over time as other diplomatic and governmental preparations begin for new countries to fully enter the alliance.
White House press secretary Jen Psaki last Friday reiterated President Biden's support of NATO.
"Another reason the American people are grateful—the majority of the American people—that President Biden has not taken a page out of his predecessor's playbook as it relates to global engagement and global leadership, because certainly we could be in a different place," Psaki said.
"I mean, there's no question that the strength and unity of NATO has been a powerful force in this moment," she added.
Newsweek contacted NATO for comment.