Bolton Slams Trump's Foreign Policy at Private Lunch, Says Inviting Taliban to Camp David 'Disrespectful' to 9/11 Victims: Report
Former National Security Adviser John Bolton harshly slammed President Donald Trump's foreign policy during a private lunch on Wednesday, two attendees told Politico.
Bolton, who Trump ousted from his administration last week, criticized the president for inviting the Taliban to Camp David, a move he said was not only "disrespectful" to 9/11 victims, but also sent a "terrible signal," the attendees recounted. The former National Security Adviser also reportedly asserted that Trump's negotiations with Iran and North Korea are "doomed to failure" because all they want is to secure relief from economic sanctions.
Politico did not name the two sources who witnessed Bolton's speech in front of roughly 60 guests during the Gatestone Institute — a conservative think tank that the former National Security Adviser once served as a chairman for — event held at Le Bernardin, an exclusive restaurant in Manhattan. The publication characterized the sources as "two attendees."
"He ripped Trump, without using his name, several times," one of the attendees said. Other attendees at the event included attorney Alan Dershowitz, Newsmax CEO Christopher Ruddy, former attorney general Michael Mukasey and First Amendment lawyer Floyd Abrams.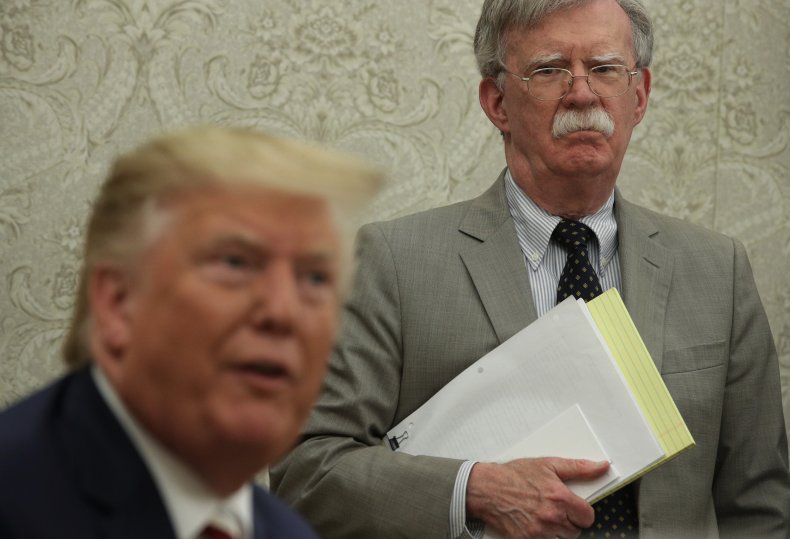 Bolton also criticized the president for failing to take stronger measures after Iran attacked an American drone earlier this year. He reportedly suggested that the U.S. may have stopped Iran from damaging Saudi oil fields if they had retaliated to the incident.
Newsweek reached out to the White House for comment about Bolton's reported remarks but did not receive a response in time for publication.
Trump ousted Bolton last week in a tweet, where he implied that the former National Security Adviser had been let go from his administration. The president made clear that the two did not see eye to eye on foreign policy matters.
"I disagreed strongly with many of his suggestions, as did others in the Administration, and therefore," the president tweeted, "I asked John for his resignation, which was given to me this morning."
Roughly 10 minutes after the president's tweet, Bolton insisted that he resigned from his White House position.
"I offered to resign last night and President Trump said, 'Let's talk about it tomorrow,'" Bolton tweeted.
Trump announced hostage negotiator Robert O'Brien as Bolton's successor earlier today at an airport in Los Angeles. The president called his new aide "highly respected" and touted their "good chemistry."
When Bolton was introduced to speak at the event, billionaire Rebekah Mercer called him "the best national security adviser our country could have hoped for." According to Politico, Bolton's appearance at the event was scheduled prior to his termination from the Trump administration.