Bolton Torpedoes Trump China Election Strategy as Lawyers Try to Stop Him
Former National Security Adviser John Bolton wrote an op-ed Wednesday, torching Trump's credentials as a China hawk as the White House sued to block a tell-all book that would undermine his party's re-election strategy.
Trump has touted his China policy as a cornerstone of his presidency. "Nobody has been tougher on China than I have," Trump said in a Wednesday interview with Sean Hannity on Fox News.
Incidents recorded in Bolton's book allege a different story.
According to an essay adapted from Bolton's book published Wednesday in The Wall Street Journal, Trump's 2019 conversations with Chinese President Xi Jinping "reflected not only the incoherence in his trade policy but also the confluence in Trump's mind of his own political interests and U.S. national interests. Trump commingled the personal and the national not just on trade questions but across the whole field of national security."
"I am hard-pressed to identify any significant Trump decision during my White House tenure that wasn't driven by re-election calculations," Bolton continued.
Xi also allegedly told Trump that he wanted to continue working with Trump despite presidential term limits, saying the U.S. had "too many elections" and Xi did not want to work with another president. According to Bolton's account, Trump "nodded approvingly."
Bolton also alleged that Trump asked Xi for help in winning the 2020 election, citing China's "economic capability to affect the ongoing campaigns." That claim was denied Wednesday by U.S. Trade Representative Robert Lighthizer during a Senate Finance Committee hearing.
Lighthizer told the Committee he was present at the meeting in question and that Trump never made the comment. "I don't believe it ever happened," Lighthizer said of Trump's alleged request.
An April 17 memo advised GOP candidates to "attack China" over the coronavirus pandemic, rather than "defend Trump, other than the China Travel Ban." The memo includes a number of talking points that Republicans can use, including blaming China for covering up the coronavirus and lying about the extent of it, causing U.S. public health officials to act later than they would otherwise. In addition, the memo suggests candidates say that the Democrats and Biden have had weak responses to China, with Biden criticizing Trump's ban on foreign nationals who has recently been to China.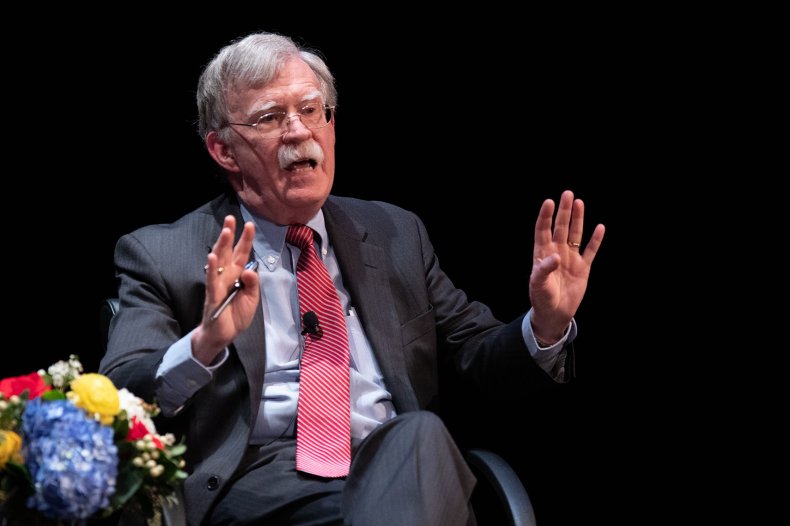 Bolton's book has caused a firestorm of controversy with the Trump Administration. Tuesday, the Department of Justice filed suit to block the release of the book, although it has already been printed and sent to warehouses.
According to the lawsuit, the DOJ alleges that Bolton's book contains information regarded as highly classified and that its release would cause a threat to national security.
Bolton's attorney Charles Cooper said in an op-ed for The Wall Street Journal in June that Bolton had made every effort to edit the manuscript to remove any classified information.
A temporary restraining order against the release of Bolton's book was filed by the Department of Justice on Wednesday night. "To be clear: Defendant's manuscript still contains classified information, as confirmed by some of the Government's most senior national-security and intelligence officials," the filing read in part.
Bolton's U.S. publisher said the order was "frivolous" in a statement sent to Newsweek Wednesday.
"Tonight's filing by the government is a frivolous, politically motivated exercise in futility," said Bolton's publishing house, Simon & Schuster. Since "hundreds and thousands of copies" have already been distributed worldwide, the "injunction as requested by the government would accomplish nothing."
Newsweek reached out to the Department of Justice for comment. This story will be updated with any response.
Trump leveled criticism at Bolton during his Wednesday interview with Hannity, saying that Bolton did not have clearance to put certain information into his memoir.
"He broke the law," Trump said. "He was a washed-up guy, I gave him a chance. He couldn't get Senate confirmed so I gave him a non-Senate confirmed position where I could just put him there, see how he worked. I wasn't very enamored."
"This is highly classified, and that's the highest stage. It's highly classified information and [Bolton] did not have approval," Trump added. "That's come out now very loud and very strong."