Bomb Cyclone Live Updates: Travel Delays Expected in New York City
The first major storm of the season is expected to hit Southern California Monday.
The National Weather Service estimates up to two inches of rain could hit areas Los Angeles, Ventura, San Louis Obispo and Santa Barbara counties, bringing flood and debris advisories in recent burn areas.
This type of storm is called a "bomb cycle" or "atmospheric river" ad is caused by a long and wide band of moisture pulled in from the Pacific Ocean.
The storm has already brought record-breaking rainfall to the northern part of the state.
San Francisco received a record-breaking 5.5 inches of rain over a 24-hour period. The rainfall led to traffic accidents in the Bay area, according to local reports.
There are over 100,000 people without power across California as of Monday afternoon, according to Poweroutage.us.
The rain comes after long spells of droughts and wildfires in the area.
The live updates for this blog have ended.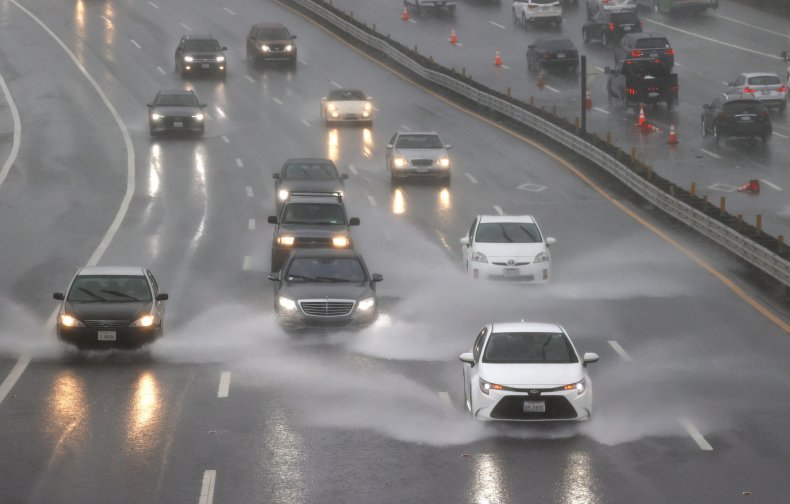 New York City expecting heavy rainfall Tuesday
New York City is bracing for two to four inches of rain Tuesday, according to the National Weather Services.
Rainfall rates may exceed one inch per hour at times.
"This event may cause flooding in the city, including on highways, streets, underpasses, as well as other poor drainage or low-lying spots," NYC Emergency Management Incoming Acting Commissioner Andrew D'Amora said in a statement. "New Yorkers should give themselves additional travel time and take the appropriate precautions if they must move about the city during the storm."
Flooding, mud flows expected in LA County
The National Weather Service issued a flood advisory for Los Angeles County through 4 p.m. PT.
The NWS said roadways are likely to flood and there is a threat of minor mud and debris flows in recent burn areas.
Over the past 12 hours, several cities in the area experienced wind gusts above 60 mph.
U.S. may break the record for tornadoes in October
The U.S. is set to break the record for tornadoes in October, according to AccuWeather.
The current record stands at 123 and was set in 2018. So far, there have been 119 tornadoes this month. But with possible tornadoes Monday and Tuesday, AccuWeather predicts a new record will be set.
The Storm Prediction Center (SPC) already reported at least 15 tornadoes on Sunday, mostly from Missouri.
Areas stretching from southern Pennsylvania to Maryland and into northern Georgia and South Carolina could be affected by tornado warnings this week.
Meanwhile, the Northeast and mid-Atlantic will face nor'easter conditions into Tuesday.
Local reporter shares rainy conditions on California highway
KCLA9 reporter Rick Montanez shares a video of the conditions on Interstate 15 through the Inland Empire.
The heavy rainfall has made visibility difficult on the road.
Fire departments distribute sandbags ahead of storm
Several cities in Southern California are bracing for continued rainfall as the bomb cyclone moves south.
Long Beach has set up several locations where residents can pick up sandbags.
The Los Angeles County Fire Department also shared where people can pick up sandbags.
"Not all fire stations have sand," the department said on Twitter. "However, they can direct you to a public works yard where sand is available."
Meteorologist explains bomb cyclone
Sioux City, Iowa meteorologist Katie Nickolaou explains the "bomb cyclone" that is hitting the west coast.
Flash flood warning in burn area expires
The flash flood warning for the Alisal burn area expired, according to the National Weather Service Los Angeles Office.
"There is no longer an immediate threat of significant damaging debris flows," NWS Los Angeles said. Scattered showers will continue.
Alisal Fire burn areas brace for possible flooding, debris flows
Santa Barbara County has issued a shelter in place order for the Alisal Fire burn area.
There is a flash flooding warning in place as "flooding and debris flows are imminent or happening now," Santa Barbara County tweeted.