'Bomb Cyclone' Approaches as U.S. Readies For 'Strongest Storm in Northwest History'
A powerful storm system is set to arrive from the Pacific on Friday, which one weather expert predicts could be the precursor to "the strongest storm in Northwest history."
Meteorologist Cliff Mass, a professor in the University of Washington's Department of Atmospheric Sciences, described the weather system approaching the U.S. as an "extraordinary event."
Mass, who Newsweek has contacted for an update, wrote in a blog post on Thursday: "There are still uncertainties with its track...as well as its impacts on the region. But there is now little doubt that an extraordinary event is in store, as unusual as the June heatwave.
"The offshore storm today was one of the strongest on record, with the sea level pressure in its center dropping to around 951 hPa [hectopascal]—in the range of a category three hurricane.
"I have studied such intense mid-latitude cyclones (low-pressure areas) for years, and the lowest central pressure in the historical record off our coast is 950 hPa.
"The satellite image this morning shows an impressive storm, with clouds swirling into the low center. And a front is about to make landfall on our coast, resulting in substantial precipitation over land."
Weather site Accuweather describes Friday's event as the first of a "parade of storms to hit western U.S." as well as dubbing it "a beast of a bomb cyclone."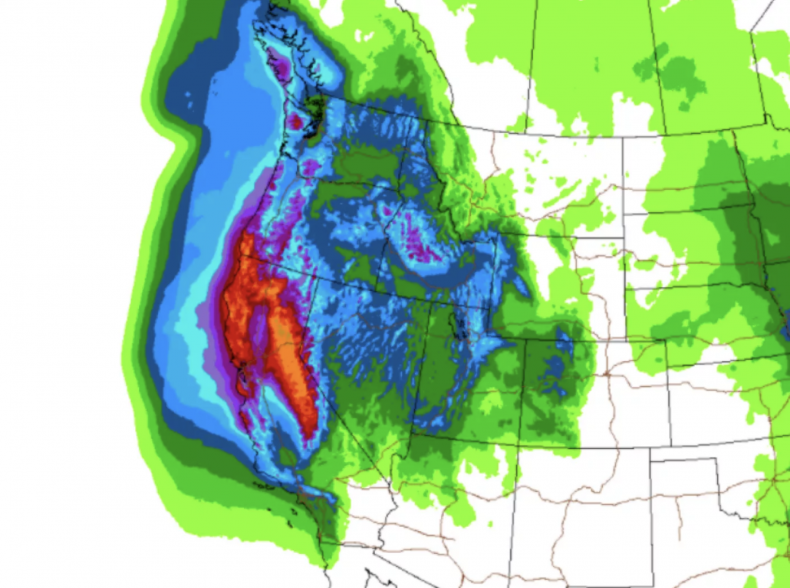 AccuWeather Meteorologist Mary Gilbert forecasts the giant weather engines fuelled by water vapor will bring rain, winds and even snow to parts of the U.S.
She told Newsweek: "Following stormy conditions to end this week, the bomb cyclone that strikes the West late this weekend will unleash significant adverse weather concerns.
"This storm will bring very heavy rainfall, strong winds and heavy snowfall to portions of the West, mainly from Sunday through Monday night.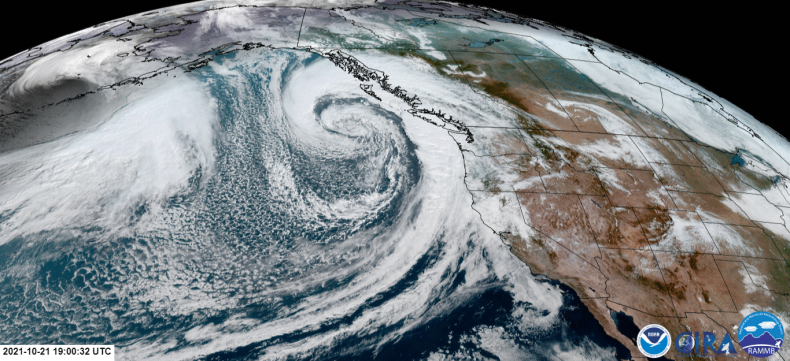 "The heaviest rain can target portions of Central and Northern California. While any rainfall will ultimately help reduce drought concerns, there is such a thing as 'too much of a good thing'.
"Too much rain falling too quickly can lead to flash flooding and mudslides, especially for fresh burn scars."
"The heaviest snowfall will likely be confined to the highest elevations of the Sierra Nevada, but snowfall may approach pass levels at times and can lead to disruptions in travel."
AccuWeather's Alex Sosnowski and Meghan Mussoline added in a co-authored article how the approaching storm could "knock temperatures down and may also effectively shut down the wildfire season in much of California."
They noted other storms earlier this fall and late in the summer did the same in the coastal Northwest.
Gilbert added the extreme weather's strange name is because the storm system is undergoing "bombogenesis," a meteorological term meaning it is rapidly strengthening.
She told Newsweek: "Bombogenesis is when an area of low pressure strengthens significantly in a short amount of time. The technical rule of thumb is a storm's central pressure must drop at least 24 millibars (0.71 of an inch of mercury) in 24 hours for it to be considered a 'bomb'."