Bomb Hits Nigerian Market, Girls' Abduction Suspect Held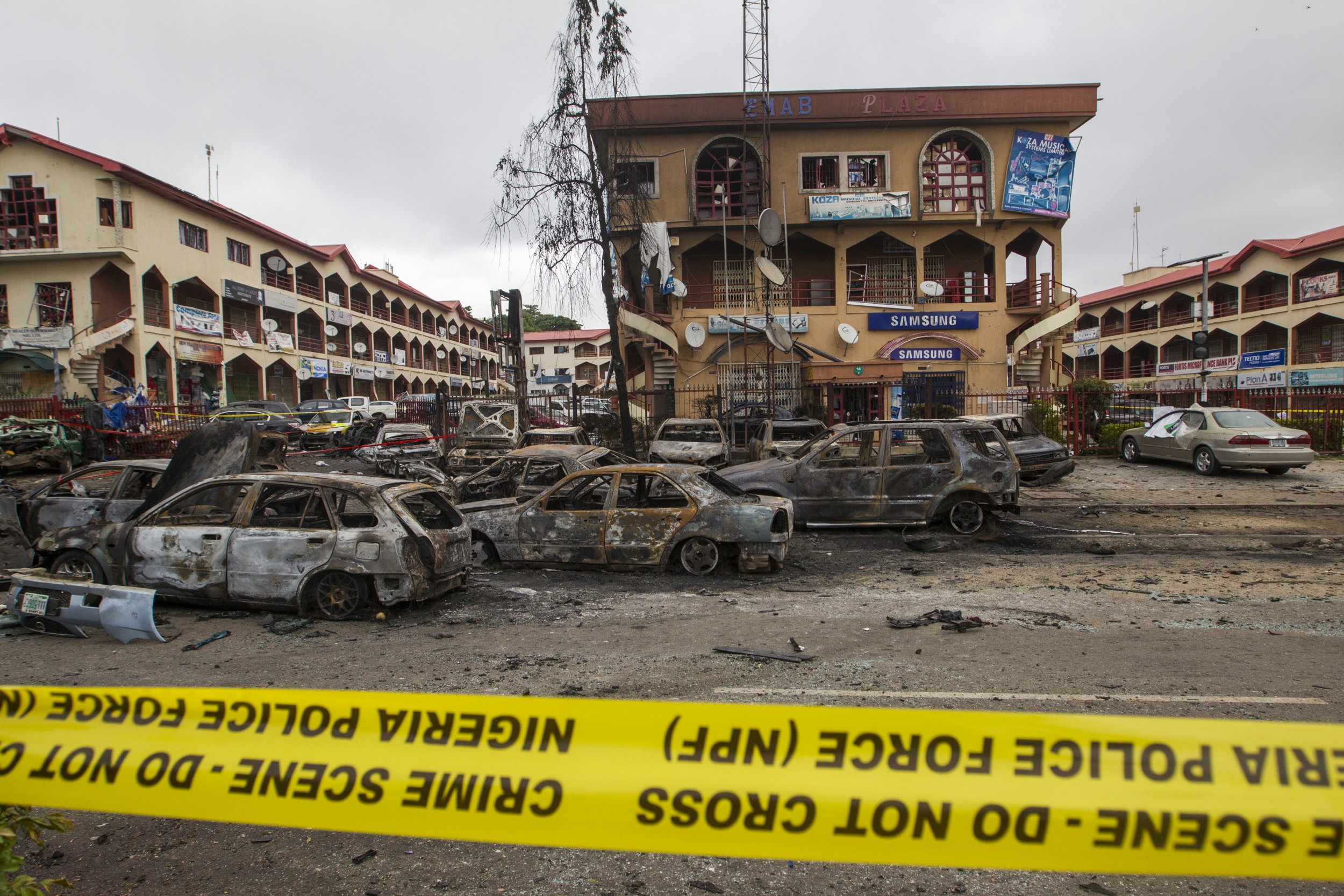 MAIDUGURI Nigeria (Reuters) - A bomb blast hit a busy market in northeast Nigeria on Tuesday, killing at least eight people, and troops announced the arrest of a businessman suspected of helping Islamist militants to carry out attacks including the kidnap of over 200 schoolgirls.
Witnesses said the explosion of a suspected vehicle bomb on a road adjoining the market in the Borno state capital of Maiduguri wrecked cars and taxis which were unloading passengers and wares. They said a suicide bomber carried out the attack.
"I saw police and troops picking out victims," said Alakija Olatunde, a student who rushed to the scene.
An attendant at Maiduguri General Hospital said eight bodies had been brought in by civilian volunteers.
There was no immediate claim of responsibility, but the Boko Haram group, which says it is fighting to establish an Islamist state in Africa's biggest economy, has claimed past bombings and shootings in Maiduguri and acrossnorthern Nigeria.
A year-old government military operation against Boko Haram has so far failed to crush the rebels, whose insurgency has killed thousands since 2009, destabilizing much of the northeast of Africa's top oil producer.
Before the news of the bomb blast, Nigeria's military said it arrested a businessman suspected of being at the head of a Boko Haram intelligence network that helped plan the abduction of more than 200 schoolgirls in the northeast in mid-April.
The man had helped the Islamist militant group plan several attacks, including the killing of traditional ruler the Emir of Gwoza, the military said in a statement.
Two women were also arrested as part of the investigation, one of whom was accused of coordinating payments to other "operatives".
The April abduction of 276 school girls from Chibok, 219 of whom remain in captivity, has become a symbol of the powerlessness of President Goodluck Jonathan's government to protect its civilians. Defense spokesman Major-General Chris Olukolade said in a statement that the arrested man used his membership of a pro-government vigilante group "as a cover, while remaining an active terrorist".
Olukolade said the man had coordinated several deadly attacks in Maiduguri since 2011, including on customs and military locations as well as planting improvised bombs.
Violence has been relentless in northeast Nigeria in particular, with hundreds killed in the past two months. There have also been bombings blamed on the militant group in the capital Abuja.
On Sunday, the Chibok community was attacked again in three places. Militants opened fire on churches and homes, killing dozens and burning houses to the ground.