Bombing in Bulgaria: Turning the Tide on Hezbollah | Opinion
At 5:23 p.m. on July 18, 2012, a deadly explosion rocked Bulgaria's Sarafavo airport near the Black Sea town of Burgas, killing five Jewish Israeli tourists and their Muslim Bulgarian bus driver. Dozens of other Israelis and Bulgarians were wounded as body parts and blood flew across the airport. After eight years, a modicum of justice for the victims may be in sight. On Monday, the country's Specialized Criminal Court, following a trial in absentia, will likely find two Hezbollah operatives—Meliad Farah and Hassan El Hajj Hassan, for whom Interpol has wanted notices—culpable for the attack.
But justice can't be fully served unless Hezbollah itself, which masterminded the bombing, is held accountable by Bulgaria, the European Union and the global community.
The Bulgarian government's own exhaustive investigation, conducted in coordination with Europol, the United States, Canada, Australia and Israel after the attack, found decisive evidence that Hezbollah's external security unit provided both logistical and financial backing for the bombing.
Bulgaria's then-interior minister Tsvetan Tsvetanov said at the time, "There is data showing the financing and connection between Hezbollah and the two suspects." Rob Wainwright, then-executive director of Europol, said he backed the Bulgarians' conclusion that Hezbollah was involved.
According to investigators, the explosives used in the attack were linked to a bomb ingredient stored by Hezbollah in Cyprus: ammonium nitrate. Ammonium nitrate is the same chemical compound that produced the devastating explosion at the port of Beirut in early August. Investigations are underway in Lebanon to see if Hezbollah was connected to or sought to exploit the dangerous stockpile.
And it's the same explosive material used by Hezbollah in the 1994 bombing of Argentina's AMIA Jewish community center, which killed 85 Argentinians.
Ambassador Nathan Sales, U.S. coordinator for counterterrorism at the Department of State, announced on Thursday that since 2012, Hezbollah has moved and stored caches of ammonium nitrate throughout Europe, including in France, Greece, Italy, Spain and Switzerland.
"Why would Hezbollah stockpile ammonium nitrate on European soil?" Sales asked in an online event with German state secretary at the federal ministry of the interior Hans-Georg Engelke and former U.K. home secretary Sajid Javid. "The answer is clear. Hezbollah put these weapons in place so it could conduct major terrorist attacks whenever it—or its masters in Tehran—deemed necessary."
Engelke, confirming the seizure of "ammonium nitrate, in substantial amounts, in southern Germany," said the amount "really worried" authorities. This evidence follows the discovery of over three metric tons of ammonium nitrate in London and over eight tons in Cyprus in 2015 alone.
Bulgaria has established that Iran-backed Hezbollah bankrolled and provided logistical support for the 2012 Burgas bombing. Initially, notwithstanding evidence of Hezbollah's role, the public defender assigned to the accused asserted, inexplicably, that no evidence of Hezbollah's role was presented by the prosecution. But on August 31 of this year, the nation's prosecutor general, Ivan Geshev, told the press, "It's no secret that behind this terrorist act stands as logistics and funding, according to the supervising prosecutors and the evidence gathered by them, the Hezbollah organization." Geshev said, however, that Bulgarian law does not permit legal entities or organizations to be indicted.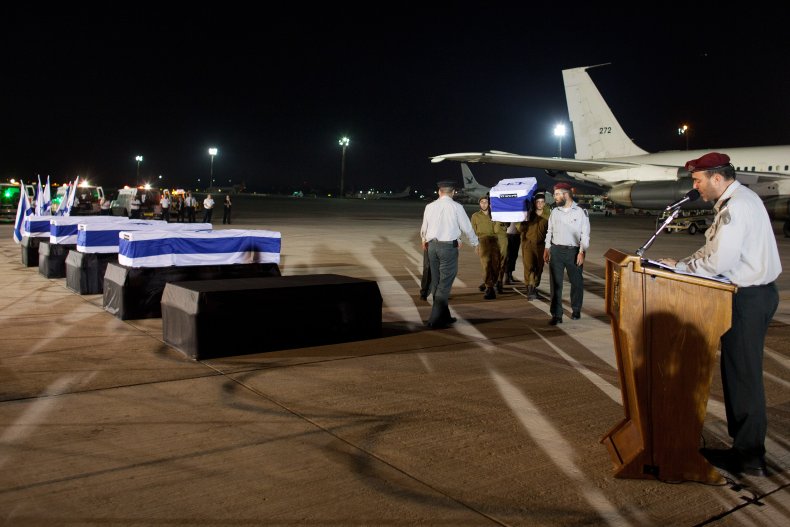 With the Bulgarian government affirming Hezbollah's role, how will it ensure the Iranian proxy is held accountable for the terrorist attack on its soil? Will Bulgaria and the EU now join the many countries that have formally designated Hezbollah as a terrorist organization—a measure that can freeze funds and assets, end fundraising, shutter front companies, and impose severe travel restrictions?
Bulgaria already has a mechanism in place to do so. Bulgaria can add Hezbollah to a list of individuals and entities subject to the Measures Against the Financing of Terrorism Act, a law adopted in 2003. Included on the country's terrorism list are Al-Qaeda, affiliates of the Taliban, Hamas, the Izz Al-Din Al-Qassem Brigade and Palestinian Islamic Jihad among others. In 2016, Bulgaria added Farah and El Hajj Hassan to the list, even before their trial was completed.
In some ways, the Burgas case is similar to the Special Tribunal for Lebanon, which prosecuted in absentia a handful of Hezbollah operatives for the assassination of former prime minister Rafik Hariri, but did not hold Hezbollah itself accountable.
The case also resembles the downplaying of Hezbollah's role in Operation Cedar, in which U.S.-sanctioned Mohamad Noureddine laundered money that generated criminal proceeds to fund Hezbollah's terrorism. When Noureddine and his accomplices were tried in France, even while his illicit cash bankrolled Hezbollah's terrorism, the court regarded it as a money-laundering case and Hezbollah evaded accountability.
Reportedly, European authorities declined to have a joint press conference with the Drug Enforcement Administration mentioning Hezbollah's role in Operation Cedar for fear it would "offend Iran."
These three cases raise the question of whether other governments will merely prosecute individual Hezbollah operatives but not the organization itself, allowing them to appear tough on terrorism while permitting Hezbollah's masters to act with impunity.
Some countries in Europe, most notably France, argue that banning all of Hezbollah would destabilize Lebanon and undermine diplomatic engagement with the Lebanese government.
Governments that have designated Hezbollah as a terrorist organization refute this argument. Even in the aftermath of the U.K.'s designation, contrary to what critics argued, the British government had "no problems dealing with the Lebanese government today," said Javid. "Hezbollah is not an organization that exists to help Lebanon.... It is there to carry out the objectives of a foreign, hostile state [Iran]."
"Hezbollah is a force for instability in Lebanon. You don't have to choose between stability and opposing Hezbollah," Sales added.
Momentum for designating the Lebanon-based Hezbollah is building. To date, Canada, the U.K., Germany, the United States, the Netherlands, Kosovo, Israel, Bahrain, Saudi Arabia, the UAE, the Gulf Cooperation Council, the Arab League, Argentina, Paraguay, Honduras and Colombia have formally designated Hezbollah a terrorist entity. More recently, Lithuania has banned Hezbollah, and Serbia has announced its intent to do so.
In 2013, when it became clear Hezbollah was the mastermind behind the Burgas attack, the European Union designated what it called the "military wing" of Hezbollah. According to Sales, this "limited designation" approach has failed to dissuade Hezbollah from preparing future attacks. Even Hezbollah itself does not bifurcate the organization into "military" and "political" wings.
Whatever the verdict on Monday, Hezbollah itself must not be absolved of responsibility. It's time to set aside politics, fear, and intimidation. Bulgarian and EU policy should reflect the reality that Hezbollah is a unitary terrorist entity and should be formally and legally designated as such with full implementation of this status. This would not only bring justice to Hezbollah's victims. It may begin to turn the tide so that the organization is denied the funding, operational security, and legitimacy to continue its deadly actions.
Toby Dershowitz is senior vice president for government relations and strategy at the Foundation for Defense of Democracies, where Dylan Gresik is a government relations analyst. FDD is a non-partisan think tank focusing on national security and foreign policy. Follow them on Twitter @tobydersh and @DylanGresik.