What Is Bombogenesis? Will It Happen With This Weekend's Storm?
Winter weather is headed across the United States and might bring snow to the already cold conditions in the Plains and the Northeast this weekend.
The Weather Prediction Center with the National Weather Center has kept a close eye on the storm as it developed in the Plains and will update the forecast as the weekend gets closer. As of Tuesday, the storm was expected to bring heavy snow to the Plains Friday before heading to the Midwest and then the Northeast through the weekend.
Sometimes with a large storm, forecasters predict something called "bombogenesis," which means the storm could intensify. This is also why some storms are called "bomb cyclones."
What Is Bombogenesis?
Bombogenesis is a meteorological term that is used to explain a significant drop in central pressure in a 24-hour period. This means the storm intensifies significantly in that short amount of time, according to the National Oceanic and Atmospheric Administration. The pressure has to drop at least 24 millibars in that one day period for bombogenesis to occur. But the occurrence of bombogenesis doesn't mean anything for the actual impacts that the weather could bring, which is why it's important for those in the area to keep close tabs on the storm whether bombogenesis is expected or not.
The National Weather Service is operating through the partial government shutdown but many of the National Oceanic and Atmospheric Administration pages usually available to anyone were unavailable on Tuesday due to the partial government shutdown. Ahead of the expected precipitation later in the week, a drop in temperature was expected in the Dakotas and in the Upper Midwest, according to the National Weather Service..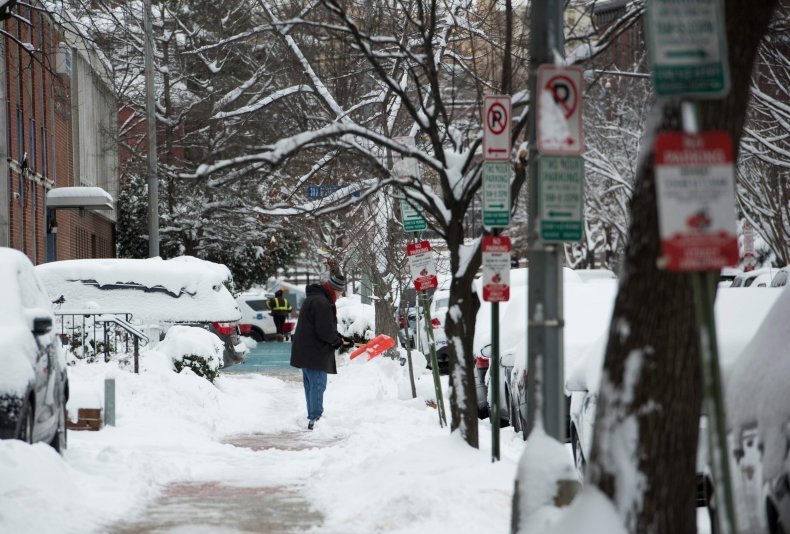 In the Northeast, the forecasts keep changing between predicting heavy snow and heavy rain, which will come down to the actual temperature going into and lasting through the weekend. Last weekend, inches of snow fell across Pennsylvania, Virginia and Maryland, bringing some of the first winter weather of the year to those areas.
More snow was predicted in some areas Thursday, and then into the weekend as well, though the forecasts were still not finalized or certain. The National Weather Service in Baltimore was predicting up to 3 inches of snow Friday and into Saturday. Other areas were under hazardous weather outlooks. "There is the potential for a significant winter weather event this weekend, however there is still relatively low certainty regarding the details of precipitation types and potential impacts," the outlook from the National Weather Service New York office said.