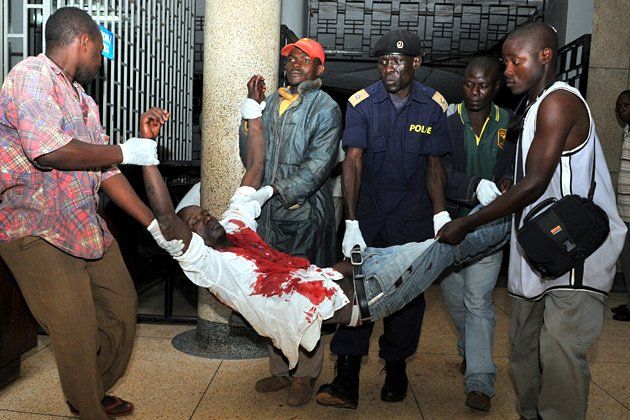 Twin bomb blasts ripped through crowds watching the World Cup final in Kampala on Sunday, killing at least 74 people. More than 70 others were hospitalized for their injuries. Ugandan police said the attacks may be the work of Al-Shabab, the hardline Somali Islamist militant group, which is believed to have links to Al Qaeda. If true, it would be the group's first attack to be carried out beyond the borders of war-torn Somalia.
The first bomb exploded at an Ethiopian restaurant in a neighborhood with popular bars and restaurants. Minutes later, there were more explosions at a rugby club, where fans were watching the game on a large screen. Both venues tend to attract expatriates, and many of the dead were foreign nationals, including at least one American. According to the U.S. Embassy, he is Nate Henn, a Californian who worked with a youth charity.
Al-Shabab has issued repeated threats against Uganda and Burundi, which together have 5,000 troops in the African Union peacekeeping force in Somalia. Uganda also serves as a training ground for Somali soldiers in U.S.- and European-backed programs.
Two days before the blasts, an Al-Shabab commander reiterated the threat during Friday prayers. The group also harbors deep-seated resentment of Ethiopia, which invaded Somalia in 2006 in an American-backed attempt to bolster the country's transitional government.
In Mogadishu, a militant commander expressed support for the attacks. "Uganda is one of our enemies," he told the Associated Press. "Whatever makes them cry makes us happy. May Allah's anger be upon those who are against us." He did not confirm or deny responsibility for the attacks.
Later, a Qaeda-affiliated Web site posted a statement in Arabic from Sheik Abu Al Zubeir, identified as "the Emir of Al-Shabab in Somalia," appearing to claim responsibility: "My message to the Ugandan and Burundian nations is that you will be the target for our retribution to the massacres perpetrated against the Somali men, women and children in Mogadishu by your forces." The site featured a new page on Monday set up to "receive congratulations" for the "blessed operations" in Uganda.
U.S. officials have long worried that Somalia could develop into an Afghanistan-like haven for internationally minded militants. Despite the Ethiopian invasion and millions of dollars in U.S. support, the transitional Somali government is able to govern only a few city blocks in Mogadishu, and must fiercely battle even for those.