Bond Fire Evacuation Map: Hundreds in California Told to Leave as Wind-Fueled Fire Spreads
A fast-moving wildfire in Southern California that grew to more than 2,000 acres in a matter of hours is forcing people from their homes.
Orange County, California, was under a red flag warning when the Bond Fire broke out late Wednesday night. Shortly after the fire started, homes in Williams County were evacuated, and hundreds of people are now under mandatory and voluntary evacuation orders.
The fire began as a structure fire in Silverado Canyon but extended into nearby vegetation. A red flag warning indicates that weather conditions are ripe for fires spreading, and dry vegetation acts as fuel for the flames. With the wind driving the Bond Fire, the Orange County Fire Authority warned area residents early Thursday morning that they should be prepared to leave quickly.
Just three hours after it started, the fire "exploded" to 1,500 acres, and more than 240 firefighters were working to save property and lives.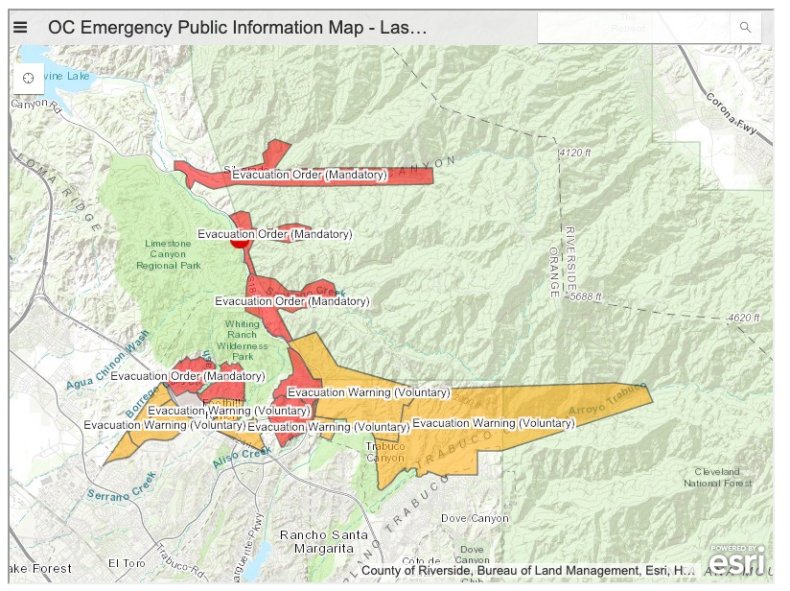 Silverado Canyon, Williams Canyon, Modjeska Canyon, Foothill Ranch and Portola Hills west of El Toro and north of 241 Toll Road were under a mandatory evacuation order. The rest of Portola Hills, Borrego Canyon, Baker Ranch, Live Oak Canyon, Trabuco Canyon, Rose Canyon, Valley Vista Way, Meadow Ridge Drive, Lake Forest from the 241 Toll Road along Bake Parkway to Musick north to the Irvine Border—and from 241 Toll Road North to Bake to Foothill Ranch Community Park—were under a voluntary evacuation warning.
"Please prepare now to leave," the Orange County Fire Authority said.
Compounding the problem for people in the fire's path is the coronavirus crisis. Normally, communities open up shelters and temporary lodging for people who are displaced because of a wildfire, but Orange County wasn't offering congregate shelters because of the pandemic. Instead, the Orange County Fire Authority "strongly encouraged" residents leaving their homes to "seek safety with family/friends or in a hotel."
A Red Cross evacuation point was set up at 8405 East Chapman Avenue, and restrooms were available, according to the Orange County Fire Authority.
Along with those who were forced from their homes, tens of thousands of Southern California homes were without power on Thursday morning. Southern California Edison cut power to nearly 35,000 customers to reduce the risk of the fire spreading, and San Diego Gas & Electric cut power to another 24,000 customers.
The wildfire was zero percent contained on Thursday morning. The National Weather Service warned that Santa Ana winds could exacerbate fires into the weekend.