The Golden State Killer's Ex-Fiance Bonnie Colwell Says She 'Refuses to Wear the Blame'
When Bonnie Colwell became engaged to Joseph James DeAngelo in the spring of 1970 she certainly didn't expect that the man she agreed to marry would turn out to be a confessed murderer. Nor did she imagine that she would become a key to locking DeAngelo up forever.
Appearing in the season finale episode of the HBO docuseries I'll Be Gone in the Dark on Sunday—based on true crime author's Michelle McNamara's best-selling book of the same name investigating DeAngelo—Colwell explained that she "had no idea how much I would be involved" in the aftermath of DeAngelo's arrest. But Colwell was critical to the investigation: It was the 2018 testimony of one of DeAngelo's surviving victims, who claimed he yelled, "I hate you, Bonnie" while sexually assaulting her, that helped lead authorities to DeAngelo.
"I refuse to wear the blame for a crazy man. I do not have guilt for that but empathy for the women that were attacked and I can't turn that off," Colwell said about her feelings after DeAngelo was apprehended for some 13 known murders and nearly 50 known rapes.
Colwell, who formerly authored the blog OldBroadAbroad, first met DeAngelo while they were students at Sierra College in Rocklin, California. The ex-couple's engagement made the announcement section of Colwell's hometown newspaper Auburn Journal in May 1970. She was 18 at the time and a self-proclaimed "good girl" and when she fell for DeAngelo.
"He was studying law enforcement and I was in nursing. He was very gregarious, outgoing with all my friends. We had been together close to a year. He gave me a solitaire engagement ring and told me that we were going to be married," Colwell said in the docuseries, adding that DeAngelo often persuaded her to engage in activities that went against her typical "rule follower" behavior.
"The rules were never for him. He took me hunting without a license. Illegal spearfishing. We crossed into no trespassing territory at night. So many of the things that we did together, he pushed me toward fear," she added.
Despite red flags including violent behavior, Colwell said it was DeAngelo's attempt to force her to help him cheat on a college exam that led her to call off their engagement.
According to Colwell, two weeks later the situation escalated dramatically when DeAngelo showed up at her window in the middle of the night threatening her with a gun.
"There was a tapping of glass on my window. I pulled the curtain back and he was pointing the gun at me and said, 'Get dressed we're going to Reno tonight. We're going to be married,'" Colwell recalled. "At that time I still lived in my parents' home. I ran to go wake up my father to help me. He put me in the bathroom and told me, 'Don't you come out till I come and get you.'"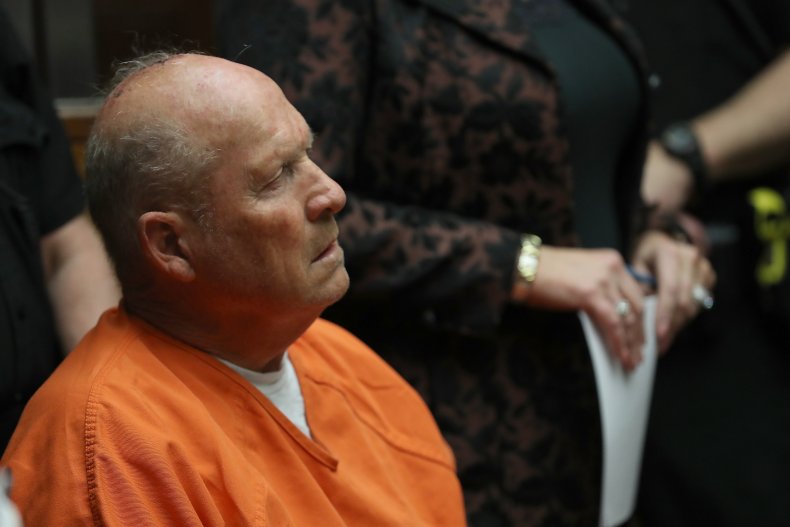 Colwell, who now lives in Sacramento, never learned exactly what transpired between DeAngelo and her father, but she said she never saw her ex-fiancé again. She went on to marry an accountant and now goes by the name Bonnie Ueltzen.
Known as the East Area Rapist, the Original Night Stalker, the Visalia Ransacker and—most infamously—the Golden State Killer, DeAngelo confessed to a string of murders and rapes in June of this year, and pleaded guilty to 13 counts of first-degree murder that he committed across California in the 1970s and 1980s. As a part of his plea deal, the 74-year-old will avoid the death penalty, however, he is expected to serve 11 consecutive life sentences.