Bonnie Morrison: Fashion's Surprising New Face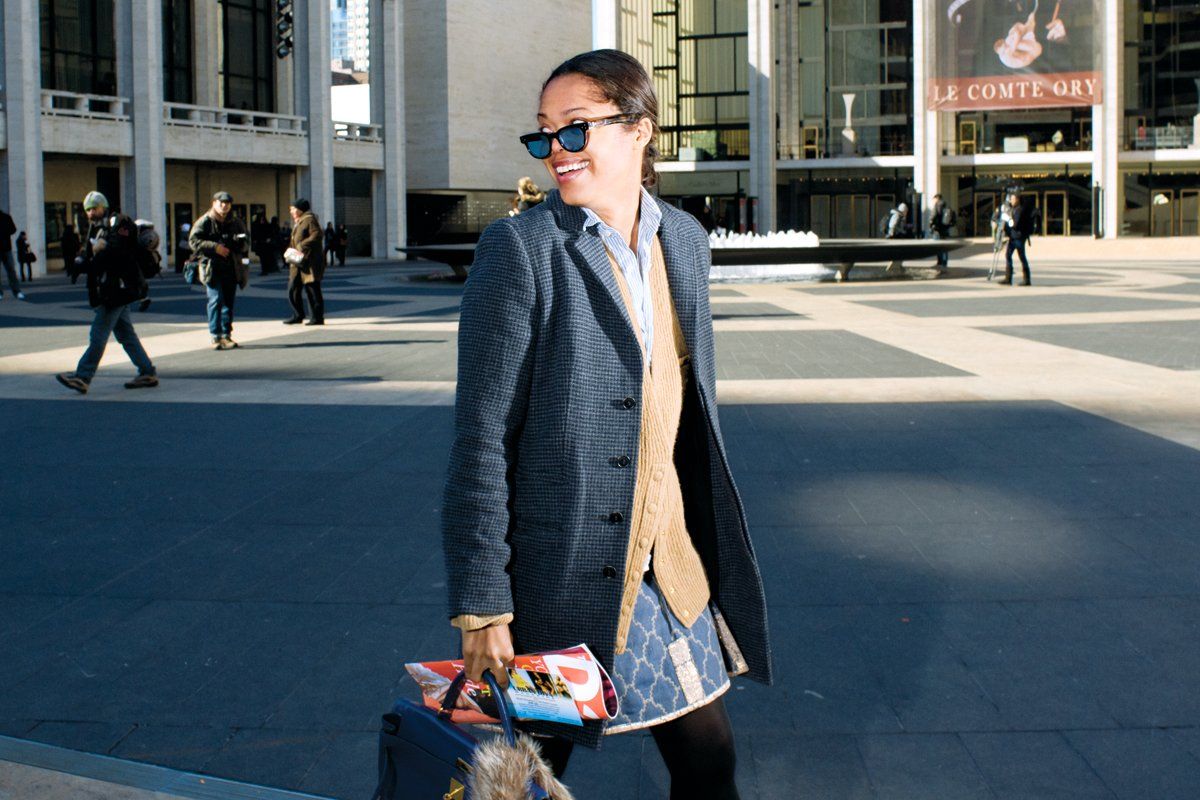 Bonnie Morrison is a celebrated social schmoozer. She can shift from an entertaining riff on the merits of The Real Housewives to an astute monologue on the social mores of WASP privilege and then to the complexities of navigating a fashion industry that can at times feel impenetrable—particularly to a person of color or someone without means.
As New York slips into the throes of the fall 2011 Fashion Week, the city will see plenty of Morrison. She is the gracious freelance flack who prevents the backstage area of a runway show from turning into a free-for-all of half-naked models, roving photographers, and air-kissing notables. She sits shoulder-to-shoulder with the denizens of fashion's front rows in her off-duty hours and is friendly with all the golden-haired young women of notable lineage. She is a party girl—the cool black chick in all the society pictures.
Morrison, 35, is fashion's unlikeliest "it" girl. Her rise has surprised no one more than Morrison herself, who has spent most of her time in the fashion industry working behind the scenes. But in the last few years, the culture has shifted, the industry has changed, and now Morrison, a middle-class black woman from San Francisco, breathes the rarefied air once reserved for the daughters of power brokers.
Morrison enjoys the attention, the invitations, and the free clothes. But life at the top of the fashion heap is not without peril. In an industry where appearance is paramount, Morrison fights personal demons about hers. Friends are effusive about her charm and style, but Morrison wonders if a black woman can ever really meet fashion's unforgiving demands. Or is her paranoia all in her head?
Newsweek subscription offers >
"I've internalized race to a degree that I sort of believe that the ideal beauty, when we're casting for things is—I've let myself believe that it's a white person," Morrison says.
An "it" girl is that rarefied creature who inspires designers, shows off their wares, and always seems to be having the time of her life. In the past, that woman was typically in her 20s (think Paris Hilton without the police record). She was pretty and rich—and if her money was not coming in the form of dividends, then she had married well or gotten herself a boyfriend with bucks. If she worked, it was a choice, not a necessity. If she was not a society girl, then she was a starlet, a Blake Lively type, better known for her sense of style than her acting chops. And generally she was white.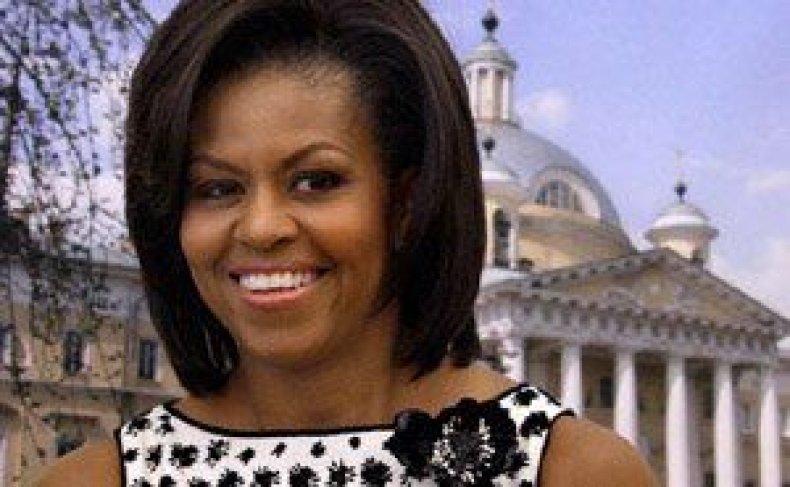 But we now live in the era of Michelle Obama, a time when the fashion industry is enthralled by this sophisticated black woman who dresses with flair. Obama is not unique in her love for clothes, but her high profile has hammered home all that she symbolizes. A sluggish economy has forced designers to sober up and think about all working women, not just the ones who travel by private jet. And in today's political climate, inherited wealth and status have been maligned as character flaws.
Newsweek subscription offers >
Given such shifts, it's only natural the fashion industry would have grown less comfortable with the usual show ponies and clotheshorses. And, frankly, having a front row filled with CW starlets and reality-show gadflies was becoming a cliché.
"It's cooler to be a working girl, to have great style and credibility, rather than showing up at every fashion show in a different gown," says Amanda Brooks, socialite, former Tuleh muse, and the recently named women's fashion director at Barneys New York. "I think most girls would be covetous of Bonnie's ability to have such an inside role in fashion ... Bonnie has a role wherever she goes. She's not there preening."
"It's a quieter role," Brooks adds. "It's more honorable, interesting and sophisticated."
If anything, Morrison is a throwback to the "it" girls of the 1950s and '60s, women who, even in middle age, were still in their social heyday. Back then, being dazzling meant being a conversationalist. Fashion folks aren't attracted to Morrison because she is a tall, lanky hanger, but because she has something to say. "I think there used to be a lot more personality in the social world with people like Diana Vreeland and Slim Keith. They were filled with style and personality, and now you don't really have that," says Samantha Gregory, fashion consultant for Tory Burch, a socialite and daughter of Jamee Gregory, super-duper socialite. Morrison "is a personality."
That Morrison should find herself at center stage is by both intent and circumstances. Like many young women, she grew up obsessed with fashion. She put profound thought into her wardrobe as a child, pondering something as minor as a $10 dress. "It was sort of a chemise with an embroidered front. I can see it. I can feel it. It was pink," she says.
Today, Morrison is a brown-skinned woman, of medium height and slender build, with a scattering of freckles across her face. She is a fan of tailored skirts, flouncy dresses, Bohemian prints, and a strong jacket—none of it with the obvious stamp of a designer. She can sport the offhanded tatters of the old-money set: well-worn sweaters, subversively informal footwear, vintage Adolfo, some anonymous eBay discovery. She doesn't kowtow to urban style. And she is not a fashion victim. Like a lot of folks in fashion, she consciously plays with the stereotypes we all harbor about appearance: race and class inform her style.
"She, to me, epitomizes someone who can dress classic in the least boring way," Brooks says. When Brooks was working on her book I Love Your Style: How to Define and Refine Your Fashion Style, Morrison was the exemplar of classic chic. "I would much rather see pearls on a black girl than on myself. I am very WASPy; I am a WASP ... There's nothing more boring on me than pearls."
Morrison learned to navigate the nuances of race and class as a teenager, when her parents divorced and she went first to live with a wealthy Jewish couple, and then off to Brown University. Amid these socially complicated circumstances, she became a close observer of human behavior, developing a keen understanding of how attire defines us and connects us to a social tribe. Race was something she negotiated—downplaying it, ignoring it, analyzing it. Fitting in was paramount.
"My immersion in clothes—clothes as identity—had to do with having this unstable family life," she says. "How I looked and what it said about me and who I was and who I belonged to—that was all part of my clothes."
As a newcomer to New York, during stints at Condé Nast, big-league public-relations agencies, and then Men's Vogue, she harbored a secret aspiration to become the first black editor in chief of Vogue. But she also wondered: "Will I ever be Vogue material?" Not because she lacked the skills, but did she have the right look?
"I was really aware, in 1998, 1999, of this one cover. It was in blue and red and it said ALL-AMERICAN. And I couldn't imagine a moment in my lifetime when 'all-American' wouldn't be someone who looked like Elaine Irwin," the white, blonde model, Morrison says. "One thing I struggled with my whole life is really not fitting in, in the world I wanted to be in."
Until now, perhaps.
All the froth and swag bestowed on an "it" girl add up to social capital. Such currency has helped women like Brooks move into the top ranks at Barneys. It opens doors at public-relations firms and glossy magazines for countless young women. It fuels the world of philanthropy. It transforms hordes of minor actresses into celebrities.
But for years, the genteel and influential designation of "socialite" was out of reach for women of color and remains so, for most of them.
"In spite of Barack Obama, African-Americans are still filtered through the collective lenses of poverty, crime, and the inner city," says Alexia Hudson, who runs theblacksocialite.blogspot.com, a photographic record of black women on the social scene. In today's marketplace, "it's important to have an image that transcends work or employment … There's economic capital that can come from being a socialite."
There are still only a handful of black women regularly pictured in New York's society pages. They include the well-to-do doyennes of the city's charity scene, such as author Susan Fales-Hill, philanthropist Gayle Perkins Atkins, and entrepreneur Judith Byrd. Former White House social secretary Desirée Rogers has been spending significant time in New York, using her social capital to rebrand Ebony magazine as CEO of Johnson Publishing. And there are the young swans, like Maggie Betts, who was born into money, and Genevieve Jones, who catapulted herself to prominence on a gilded wing and a prayer. But none of them capture this moment in the culture—when racial identity, class conflict, and beauty standards all collide—quite like Morrison.
"I think the world has changed," Morrison says. "You still have to observe particular standards, but the provenance doesn't matter."
Morrison has been wardrobed by designers she has worked with, such as Zac Posen, Richard Chai, and Givenchy's Riccardo Tisci, but also by those who are simply friends, such as Derek Lam. "We say, 'Listen, Bonnie, we have this bag we think would work on you.' And we send it out," says Jan Schlottmann, CEO of Derek Lam. Morrison "has a job. She's interesting. You can have a wonderful conversation with her about something that's not fashion."
Morrison treats an evening out like an anthropological adventure; she's Margaret Mead in a cocktail dress. "It's interesting the way in which people present their plumage to each other," she says.
It's possible to have a two-hour meal with her filled with nonstop conversation, to be engaged and entertained—but have no real recollection of the conversation that just happened. She's a maestro of small talk.
"A lot of people don't like small talk. I love it," Morrison says. "Small talk is more manageable."
It also keeps her distanced from a world that she loves and that seems to love her back. Perhaps that's because of the terms of the affection?
This Fashion Week, she's looking forward to seeing Lam's show. Peter Som's. Calvin Klein's. She'll work the Diesel extravaganza. And there will be parties and photographers. And her picture on all the blogs.
"It's added value," Morrison says. "I get it intellectually. But it still surprises me."
Bonnie Morrison: Fashion's Surprising New Face | Culture