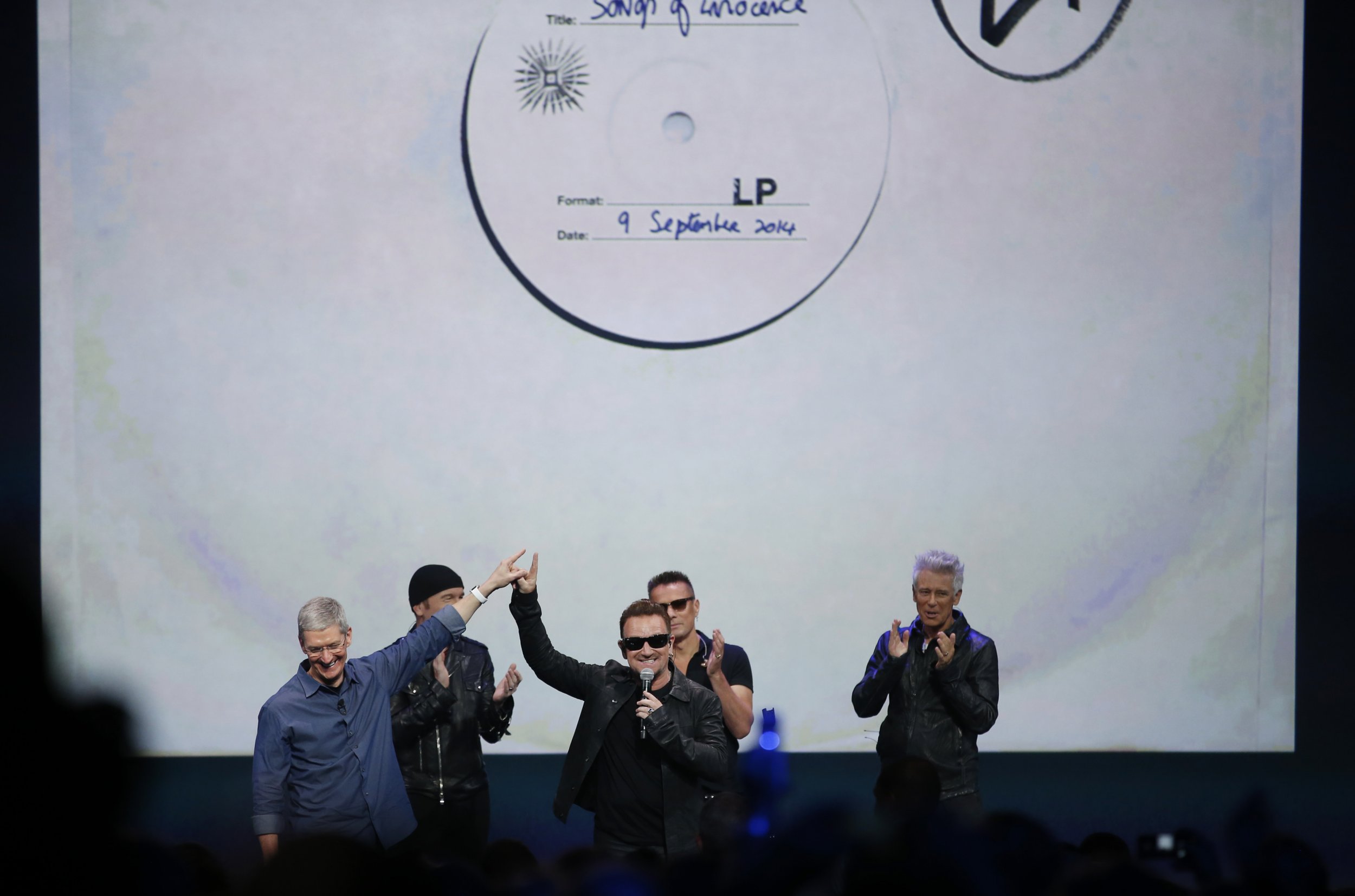 Bono is sorry that U2 planted its new album, Songs of Innocence, into your iTunes library. The band's frontman apologized for the snafu on Tuesday during a video Q&A session on Facebook, where one gutsy fan asked: "Can you please never release an album on iTunes that automatically downloads to people's playlists ever again? It's really rude."
It seems Bono was in a reflective mood; he apologized for the band's brash decision to drop the album into every iCloud account on earth. "Oops...I'm sorry about that. I had this beautiful idea," he said. "Might have gotten carried away with ourselves. Artists are prone to that thing. A drop of megalomania, a touch of generosity, a dash of self-promotion, and deep fear that these songs that we poured our life into over the last few years might not be heard. There's a lot of noise out there. I guess we got a little noisy ourselves to get through it."
It was the noise heard 'round the world, though. Last week, Billboard reported that 26 million people have downloaded the album in its entirety for free, and over 81 million have "experienced" Songs of Innocence via Bono's invisible hand. The apology seems earnest, but is Bono remorseful enough to give back the $100 million Apple paid U2 for the promotional stunt, or perhaps donate some of the funds to one of the numerous charities he reps? Apparently not: Apple and U2 are reportedly in cahoots again and are cooking up other projects, promising to "transform the way music is listened to and viewed."
If your personal tastes feel violated, you can use Apple's one-click button to exorcise Songs of Innocence from your iCloud library. We also recommend reading the album's likely namesake, William Blake's Songs of Innocence and Experience, for some genuine enlightenment. Luckily, that one won't be unknowingly downloaded onto your Kindle, but if you're so inclined, you can find it here. Or read it here for free.