Bono, the Edge and Friends Celebrate Philanthropy at Carnegie Hall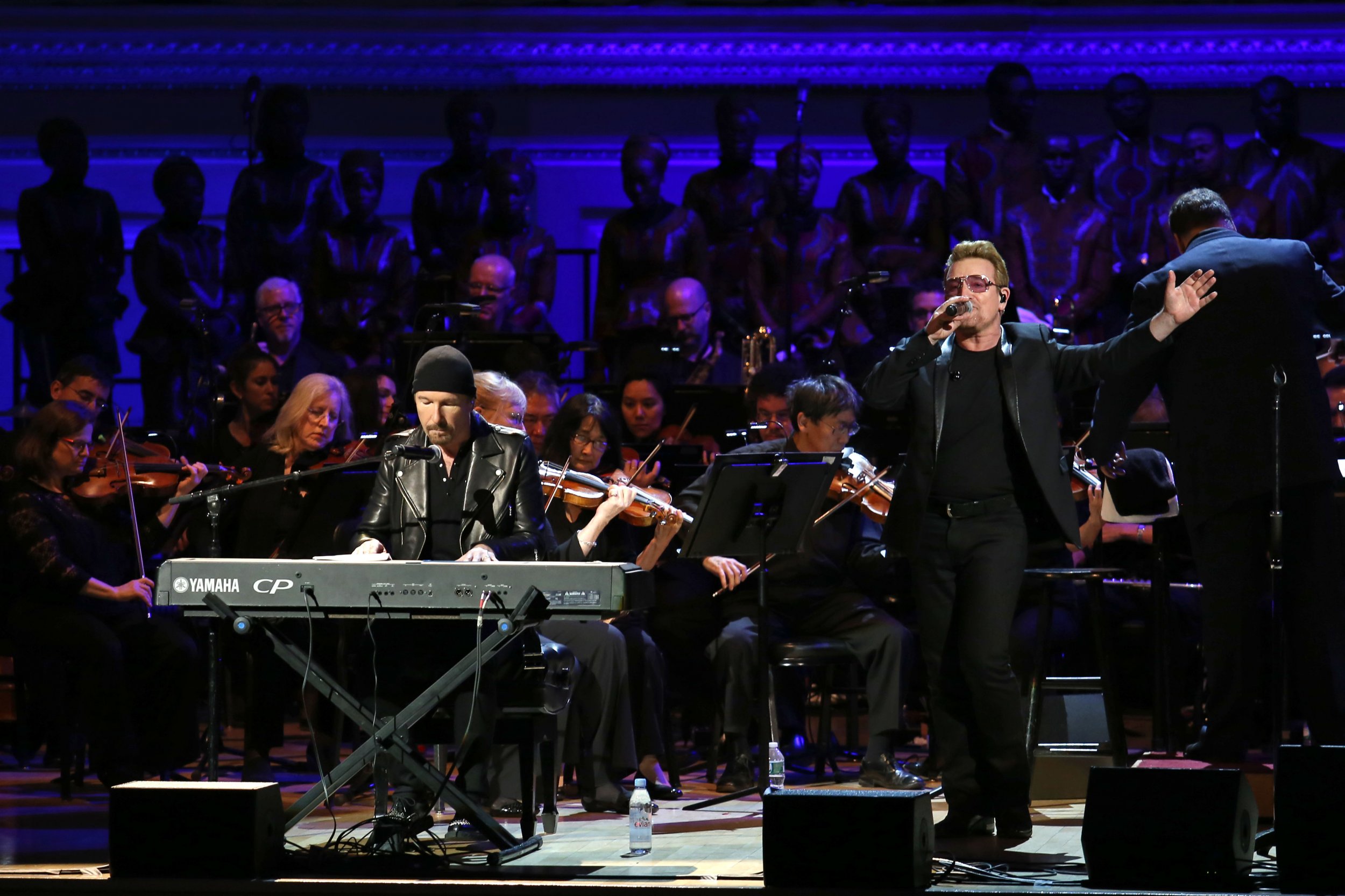 Most heads of state attend grand affairs flanked by a security detail. Bono, the archduke of the Axis of Altruism, enters accompanied only by the Edge toting a sonically lethal six-string Gibson Explorer. "Imagine having the Edge in your life," Bono told a well-heeled audience that included vice president Joe Biden, Bill and Melinda Gates and former New York City mayor Mike Bloomberg at Carnegie Hall on Tuesday evening. "He's an interesting man. I feel as if I'm still getting to know him."
The two mononymous members of U2 were headliners at a concert given on World AIDS Day to celebrate 10 years of work done by the nonprofits One and (Red) in combating two deadly epidemics: the aforementioned virus and extreme poverty. "This is not a charity concert," the 55-year-old Irish rocker informed the audience at the outset. "Justice is onstage tonight. This is a celebration. This is an instigation. This is a provocation. This is not a charity concert."
This was, with one glaring and American exception, one kick-ass show. Backed by the Orchestra of St. Luke's and a Congolese choir, artists such as British pop star Jessie J., Irish rocker Hozier, Zimbabwe-born actress Danai Gurira (Michonne on The Walking Dead) and Miley Cyrus performed. Trevor Noah, the fledgling host of The Daily Show, who was born and raised in South Africa, hosted. "It's inspiring to think that if you follow your dreams and put everything into it, in two months you can be here sharing the stage with Bono," he said.
Between sets, speakers included Sting, former president Bill Clinton, Stephen Colbert and Biden, who remarked, "I'm the only Irishman on this stage tonight with no talent."
Let's cut directly to the musical hits, and one glaring miss. Jessie J, a former schoolmate of Adele's at the BRIT School in London, wowed the attendees, which included a flock of boldface-type New York names such as John McEnroe, CBS's Charlie Rose, CNBC's Jim Cramer and model Cindy Crawford, with an alveoli-bursting cover of Prince's "Purple Rain."
Trinity College–dropout Hozier displayed his virtuosity with a trio of songs. He opened with Skip James's 1931 Delta blues classic "Illinois Blues" before segueing into his own 2014 hit "Take Me to Church." The tall Irish rocker then found himself standing beside, as he said, "more than my inspiration, my everything," Bono and the Edge, for a stirring rendition of U2's "When Love Comes to Town."
Colbert appeared as a presenter to honor, as he put it, "I want to pronounce this couple's name right...Bill and Melinda Ga-tes...I looked it up on Bing." The host of The Late Show noted that the power couple helped launch the (One) Foundation with a $1 million check before veering back to his comic comfort zone. "I mean, I was talking about this with Bono backstage," Colbert said, "and I can't impress on you enough that I'm on a first-name basis with Bono."
Gurira followed with a stirring reading from a play that she had written as a student at New York University's Tisch School, a monologue from an AIDS-infected African mother who, as Gurira put it, "has come to her reckoning." There was no more powerful moment in the evening, as at the end of the eight-minute performance Gurira was in tears and the crowd sat slack-jawed. Perhaps because Gurira was such a tough act to follow, the erstwhile Hannah Montana headed in exactly the opposite direction.
In his opening remarks, Bono had noted, "We have in this room the famous and the infamous." Cyrus, clad in a pink rhinestone jumpsuit and functioning as a wrecking ball of sorts to the evening's grandeur, proved him correct. Before sitting down at the organ to play an elegy to a dead pet, "Pablow the Blowfish," she had a crew member bring her a phone charger onstage. "My phone is dead and I wrote the lyrics on my phone," the 23 year-old explained before launching into the tune. Afterward she said, "I've never gotten through that song without crying, not once" as the audience wondered if she was serious. Or sober.
Later in the evening, when Cyrus walked onstage to take part in the closing number with Bono, the Edge and Jessie J, she was victimized by a technical glitch. As she hit centerstage to sing a verse from "One," Cyrus looked down at a prompter that was blank. "You've gotta help me," she called awkwardly across the stage to Bono. "There's nothing there."
Who in that assemblage that included a former U.S. president, a sitting vice president and a former New York City mayor (whom a few hope will run for president) is better at providing help than U2's lead singer? Through the launch of One and (Red), both of which Bono co-founded, extreme poverty worldwide has been reduced by 60 percent in just over a decade.
"I witnessed a miracle," Biden told the crowd, relating a Gaelic version of Mr. Smith Goes to Washington. "I was there when Bono walked in, met Jesse Helms for the first time and convinced Jesse Helms in one fell swoop to forgive $6 billion in third-world debt.... That's when I became a disciple of the church of Bono."
Few orators are possessed of as much charisma and passion as Bono, who reminded the crowd in this, the week of the 35th anniversary of John Lennon's murder, that you can more than get by with a little help from your friends. "The best news that no one knows is that the U.S. is saving 15 million lives through the work of the Global Aids Foundation," said the U2 frontman, noting that the AIDS virus has claimed 34 million lives. "Forty years ago, you landed a man on the moon. Since 2000, you have landed more than 15 million people back on Earth. That is a moon shot!"
And yet there remains, after all of the millions of albums sold and through almost four decades of never getting a promotion from the job he's held since he was a teenager, a beguiling humility to Bono. Before the show, he spoke of his 2014 bicycle accident in Central Park, noting that the only pain worse than shattering his arm in six places was the world learning that an "Irish rock star wears lycra."
Bono also noted that, to benefit (Red), he is auctioning off a chance for someone to go on a bike ride with him around Central Park's six-mile loop. "Second prize," he qupped, "is two bike rides."
The two-plus-hour show closed with the headliners, Bono and the Edge, demonstrating just how much robust sonic force two old pros can summon. It was only a fortnight ago that U2 was forced to cancel a show (that was to be simulcast on HBO) in Paris due to the ISIS attacks there. Now here these two were on the stage at Carnegie Hall, opening with "Every Breaking Wave" (from their latest album, Songs of Innocence) before bringing the millionaires and billionaires to their feet with "Stuck in a Moment, "Angel of Harlem" (performing it on a cold and wet December day in New York) and the anthem "I Still Haven't Found What I'm Looking For."
Before their final number, the man born Paul Hewson said of himself and guitarist Dave Evans (aka the Edge), "We became musicians because we looked around and we didn't feel like we belonged anywhere. And we weren't sure we wanted to."
As the Edge played the opening chords of "One," Bono added, "It gives us comfort that when the day comes when we cannot sing anymore, that you will keep this melody going."
Rock's ambassador of empathy was not only talking about the music.