Who Is A Boogie Wit Da Hoodie? Bronx Rapper Leads the Hip-Hop and R&B Charts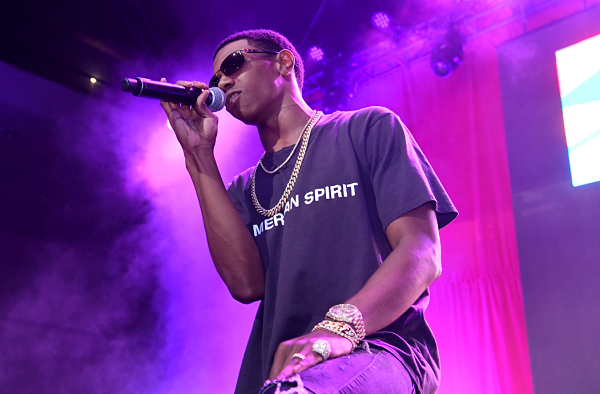 The Bronx is back.
The New York City borough, known as the birthplace of hip-hop, boasts some of the most influential rappers in history, from Melle Mel to KRS-One to Big Pun. But as hip-hop went global, the Bronx lost its authority as the epicenter of the culture—until now.
The South Bronx's A Boogie Wit da Hoodie is storming up the Billboard charts with his first studio album, The Bigger Artist, just weeks after fellow Highbridge native Cardi B hit #1 on the singles chart with "Bodack Yellow." The Bigger Artist, released Sept. 29, landed at #1 on the Top R&B/Hip-Hop Albums chart and #4 on the overall Billboard 200 for the week ending Oct. 5.
A Boogie Wit da Hoodie's rise includes mixtape attention and Soundcloud, Spotify and Apple Music success, with 130 million streams of the single "Drowning" since March. But the 21-year-old rapper tells Newsweek that his success wasn't overnight—and he's barely gotten started. The public will hear him "make music that you'd never think I would make," he says.
What is it that you want to do next?
My next move is visuals for every song on the album. After I drop that, I got a whole bunch of songs that I didn't release because I was trying to figure out the album—on top of songs that I'm still making. I'm trying to work with other artists that would sound good with my music. I don't wanna just do features with anybody.
Mumble rap is what's trending right now, but you don't go there.
I guess I never really got to a point where I decided I wanted to rap like a mumble rapper. As a New York rapper, I feel like I can't take it there anyway. That would be changing New York. My music, it needs to be heard. Sometimes the vibe is good, but I don't really care about [being played in the club]. I care to be heard.
It's been awhile since Bronx rappers have gotten this type of attention. You and Cardi B. are winning right now.
Yeah, I feel like it's a great opportunity for us right now and we need to take advantage of this. [But] it makes me proud. I'm proud of my city. I just want more to come and other artists in New York to make it as big as us.
What's the next sound you want to explore?
I would like to do more singing, but I want more of a pop feeling when I do that. I don't wanna just do it out of nowhere. [My career] gotta rise more. It's like a hill, and I gotta go straight up that hill. I can't just fly up there, you feel me?
Some people might think your success is coming out of nowhere, but you didn't just blow up.
You know why it seems like it was an overnight thing? [It's because] when I started taking [music] serious, that's when I really popped. I was making songs, putting it on SoundCloud to see how many views it got, and then on to the next one. Then I realized, that's not it. I need a strategy. I need to work, promote, push, go around and try to book shows, holla at the DJs.
Where does your stage name come from?
I used to watch [the movie] Paid in Full every day when I was like 12, 13, and then I started rapping and everybody would call me A Boogie [a character from the movie]. And then the hoodie came along because I was wearing hoodies all the time.[People] started saying A Boogie Wit Da Hoodie and it stuck. The only other rap name [I would have thought of] is Artist, and that's my real name (Artist J. Dubose). After a while, everybody will know me as Artist.
Do you feel pressure now?
Hell yeah. People expect so much out of you after you do anything. Anything I do, people expect two times more the next time around. And I'm like, 'How the fuck do I do that?' But then I end up doing it, and it's a relief.
You've got over a million followers on Instagram, the number four album in the country, have you thought about being a role model? What's your platform going forward?
That's one thing that I realize that I have to do more. I'm a role model for these kids without even trying to be, so it's like why not really try hard to be an influence? What can I do for them? How can I change their life? If I can [use my music to] get that close to them, I can do more to connect with them and help.