YouTuber Boogie2988 Sheds New Light On Criticism & SamAndTolki Reddit Feud
"What's up, ladies and gentlemen of YouTube, Boogie2988 coming at you live through the power of the internet."
Since 2006, Steven Williams has been sharing videos, vlogs, video game clips and rants on his Boogie2988 YouTube channel that's amassed more than 4.4 million subscribers. On Friday morning, Williams posted an unusual, unscheduled video titled "Boogie2988 Exposed," discussing his controversial relationship with the SamandTolki subreddit, which has become one of the main sources for criticism of the known content creator.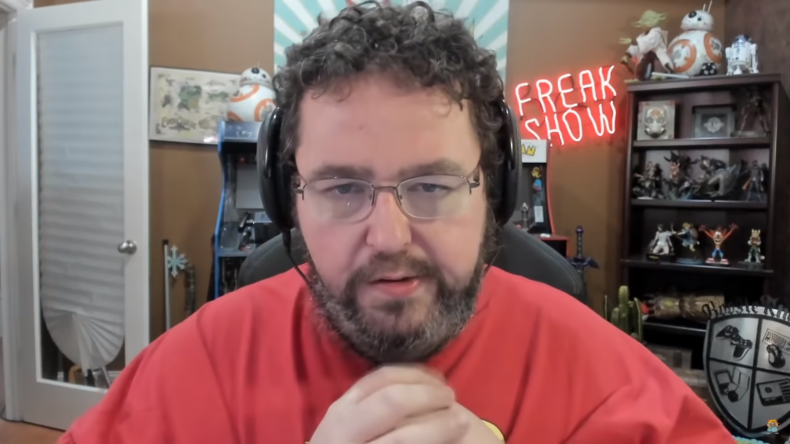 "Everyone in the world tells me not to pay any attention to it, but I didn't for the first two years, and it's still impacted my career," Williams told Newsweek Thursday night before the video was published. "I'm broadcasting to the world, and specifically broadcasting to a group of people who will look at everything I do through the most critical lens possible," he described.
Over the last two years, Williams underwent gastric bypass surgery and divorced his wife of four years. "I don't purposely feed this, and I think that's one of the biggest misconceptions. I wasn't well, when I started YouTube," he said. "But you put me through gastric bypass surgery, you put me through divorce, you put me through five years of systematic torture, I don't know who's gonna come out of that."
Originally, Williams was supposed to post a sketch and a brand deal on his channel on Friday but instead decided to post this video, criticizing the subreddit that criticizes him. Also, he claims his Twitter is "currently hacked," meaning he can't access it.
r/SamandTolki began as a subreddit dedicated to the Twitch streamers ShowVideoGames, who eventually stopped posting, allowing the community to evolve into a hub to discuss internet celebrities and drama. Over the past two years, the sub has become the main outlet for criticism and commentary about Williams and his digital footprint; flush with memes, posts and comments discussing (or critiquing) Williams' behavior.
As Reddit user Snizzlephish put it "we do present things he himself has said or done, with context and proof, to hold him accountable for his actions...We are not a hate subreddit...We just want the truth."
A megathread detailing the many controversies littering Williams' life has been upvoted more than 26,000 times and has become a main source of information for those needing evidence of Williams' misdeeds. Some criticisms are valid; like his failure to lose weight after going through a gastric bypass surgery in 2019, his 2017 VidCon feud with Anita Sarkeesian, his stance that legalization of gay marriage can "take an extra five years" to "save lives" and his penchant for crude and arguably offensive jokes.
In June of 2019, Williams mentioned he bought a $90,000 Tesla and, while explaining his thought process, asks for donations for said car. Williams now says the clip was "hyperbolic and sarcastic, where they just clipped out the jokes. In July of the same year, Williams told one of his teammates in a game of Apex Legends that if "your parents aren't together, you probably come from a broken home and you might get real (sic) angry when you start losing." Williams later described the joke as "just absurdist humor taken out of context."
The thread also points to specific instances from Williams' past, like how in 2012 he tweets that his "mother never raped him" which he said in 2017 actually happened. 'I was afraid to talk about my abuse then but after talking with a therapist and growing up, I opened up to the idea," Williams said. "The megathread that's full of misinformation and lies. I don't know why that's OK. I don't think it should be."
As the thread gained popularity, so did r/SamandTolki, which currently has over 14,000 members. There are daily posts about Williams' tweets and the inconsistencies posters find in his communications. The current iteration of the sub was created and moderated by reddit user HaberDasherA, who told Newsweek he was a "big fan of Boogie2988" and believes "Boogie has issues when dealing with people who are critical of his behavior and content."
On January 19, HaberDasherA posted a second megathread of Boogie criticism which is what prompted the YouTuber to make this new video. For the past three months, Williams had managed to avoid looking at the sub, but on Thursday one of his friends who watches out for Boogie-related drama, told him to check it out.
The constant string of controversy has done damage to Williams' online image. His videos that would regularly pull in hundreds of thousands of views now struggle to break more than 50,000, and his ad revenue is dwindling. The creator told Newsweek he recently only made $2,000 from ad sense. "All I ever wanted to do on YouTube was at least show that people can learn from their mistakes," Williams said. "And the fact that I've not only failed to do that, but if now I'm, the cause of this bulls--t the cause of these rumors, man, I don't want to be [that]. I don't."
In the "Boogie2988 Exposed" video, Williams claims that he intentionally told lies to a member of the sub in an attempt to see what information they would post. One of such lies was that he was "swatted twice in December," meaning the police showed up to his home. Williams said he had his local police perform three wellness checks on his home but none were in December.This false information led to a post on the subreddit where moderator HaberDasherA says that he went through 4,587 EMS records over the course of four days to see if the police actually did show up, which they did not. "Thanks to them, my personal information is out there so show up to my front door if needed," WIlliams says in the video.
"I gave them misinformation so they have something else to lie about," Williams said in the interview. "I care about the people that are hurting, I care about myself. I care about the people doing this, because I know some of them genuinely have 'straw manned' me in their own mind into being some sort of monster."
Reddit's content policy specifically prohibits content that "threatens, harasses, bullies or encourages others to do so. HaberdasherA believes "the subreddit follows all of reddit's guidelines and policies" and that they remove "dozens of posts and comments per week." "My goal with this strict moderation is to make it so if an internet celebrity chose to never visit the subreddit then they would also never hear about anything being discussed within the subreddit," HaberDasherA wrote. If this back and forth between cyber sleuths and content creator is any indication, that goal has clearly not been met.
Reddit did not return a request for comment by publication time.