Let the Drinks beGIN: 5 Great Cocktails Made with Gin
These tasty cocktails are refreshing, surprising and not at all stuffy.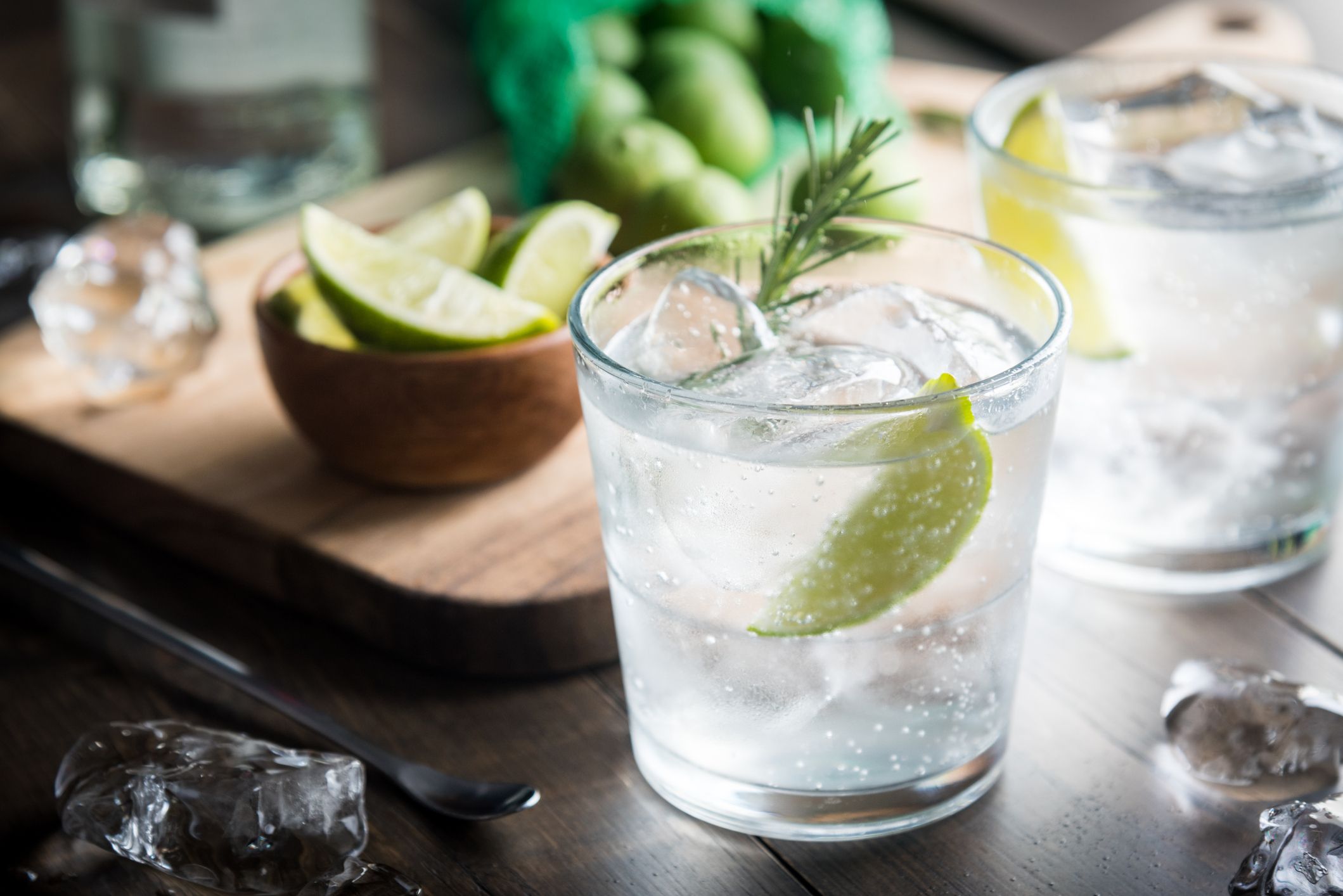 I've always been intrigued by London's curious relationship with gin. We like to think of it as a refined drop – it's hard not to fall in love with the crisp, bright spirit with its delicate juniper tone – but it once had a pretty gnarly rep.
Not so long ago, it was the British capital's official fun-juice, guzzled by cackling wooden-toothed wastrels, hawkers, street walkers, and general London lowlifes. A relaxation of licensing rules in the late 1600s created a city of moonshine-makers, and Londoners did what we do best: got horribly, impossibly drunk.
Tantalised by legendary Dutch spirit Genever, the down-at-heel sought to make their own, and with a bit of basic distillation kit, gin could be made in your own home. Unregulated gut-melters were sold across London in squalid drinking rooms, barbershops, brothels, and Mother Clap's infamous Molly House, the city's sauciest drinking venue. But what gave Londoners a twinkle in their eye and a spring in their step also wrested the city into a binge-drinking crisis.
By the time the Gin Act of 1751 came into force, an eye-popping 10 million gallons of gin is estimated to have been distilled annually in the capital, with each crossed-eyed Londoner drinking an around 14 gallons each year.
These days, Londoners might have weaned themselves from their gin addiction, but the obsession remains. In fact, gin is a key-driver in new distilleries and booze brands in the UK, US, and around the world.
It helps that contemporary gin-production has developed into an artisanal, super-creative industry, and clever drink-making from the world's best bars has also helped re-establish gin as a premium craft spirit.
Gin-makers love to play with botanicals, ticking off the spirit's essential ingredient (juniper) before adding their own. Enterprising indie brands have brought back gin's history of under-the-counter experimentations with modern equipment and fragrant organic botanicals. The UK – the world's leading gin-producing nation – now exports an impressively huge amount of the spirit to new markets that have become obsessed with artisanal versions of the spirit and thoughtfully-made mixers.
I've added more and more international craft gins to my back bar in the past few years; I've fallen for the diversity in flavour, fragrance, and texture. I'm always impressed by the creativity of the finest producers, from UK small-batch brand Conker (their Dorset Dry is smooth af) and Few's American Gin (that starts life as a white whiskey) to more established distilleries like Bruichladdich whose The Botanist gin uses ingredients foraged from Scotland's Isle of Islay.
Gin continues to have a bit of a moment and in the most surprising places: Spaniards are obsessed, Colombians are crazy for it. London's most famous export (after the Spice Girls, obviously) has come a long way from the darkest back streets and the dodgiest drink spots; it's never lost its spark.
The Big Book of Gin by Dan Jones is available for purchase here.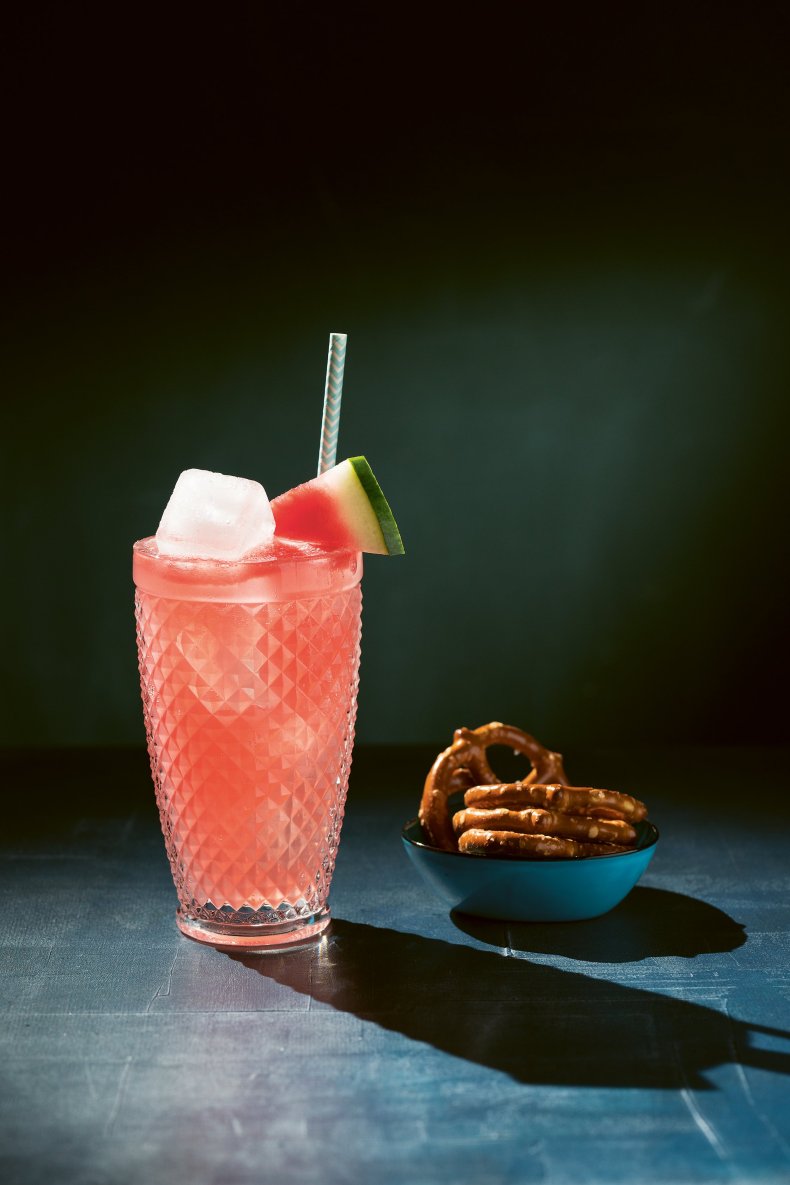 Title: WATERMELON GIN & TONIC
Intro: A classic cocktail transformed with fresh watermelon, elderflower tonic, mint, and a dry premium gin. Serve this at summer back yard BBQs and watch as the adults take over the kids' trampoline. Powerful stuff.
Glass Type: Highball
Ingredients and amounts:
60ml (2 oz.) gin
60ml (2 oz.) watermelon juice
dash of fresh lemon juice
chilled premium elderflower tonic water to top
small wedge of watermelon and sprig of mint to garnish
Method: Shake the gin, freshly squeezed watermelon juice, and lemon juice over ice; strain into a highball filled with ice and top with chilled premium tonic water. Garnish with a small slice of watermelon and mint.
Tip: Super size it into a punch with chunks of watermelon and slices of citrus.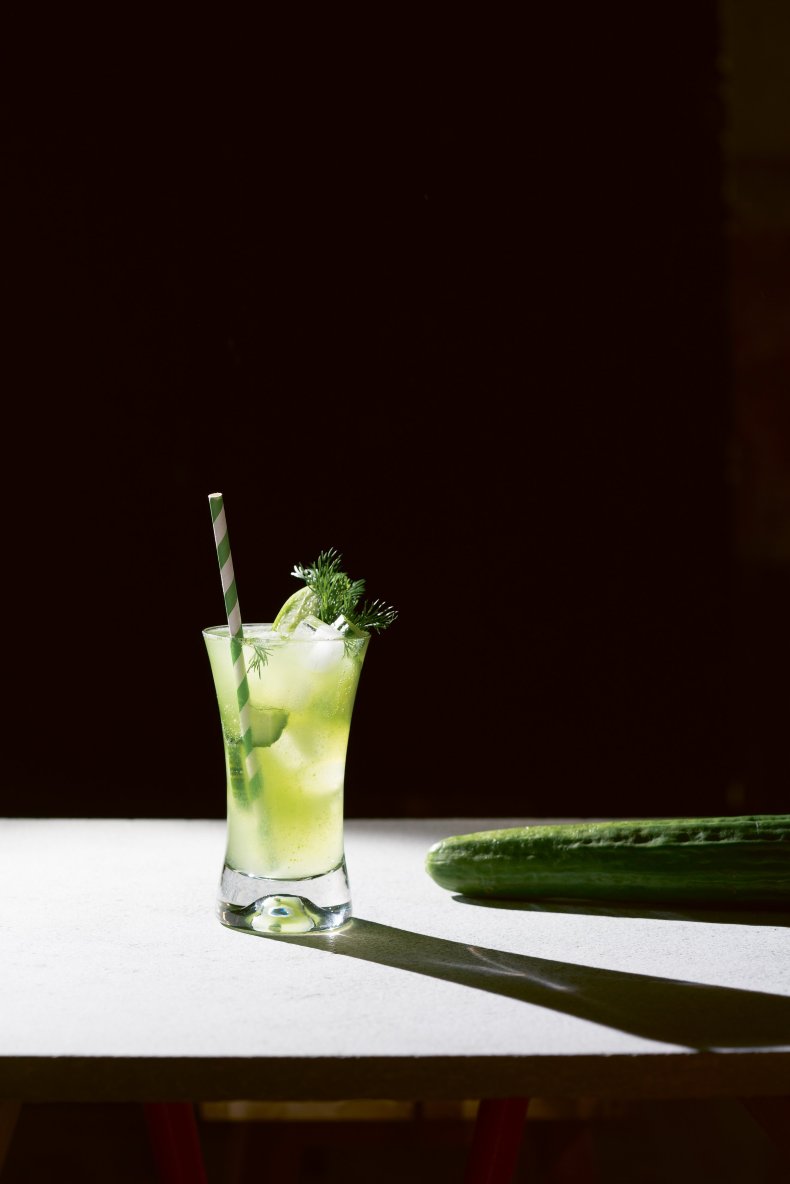 Title: SMASHED CUCUMBER
Intro: Cucumber and gin is a perfect combination, and the dill adds a sweet, if not slightly savoury edge. Swap the dill for fennel tops or celery leaves if you want, but never mess with the cucumber.
Glass Type: Highball
Ingredients and amounts:
60ml (2 oz.) dry gin
30 ml (1 oz.) cucumber juice
15ml (½ oz.) lime juice, freshly squeezed
dash of simple syrup
soda water to top
sprig of fresh dill, cucumber chunks and a spear to garnish
Method: Gently muddle a handful of cucumber chunks and dill with lime juice and simple syrup. Add gin, cucumber juice and ice, top with chilled soda water and garnish with a cucumber spear.
Tip: Add a sprig of fresh mint if you like your herb extra pungent.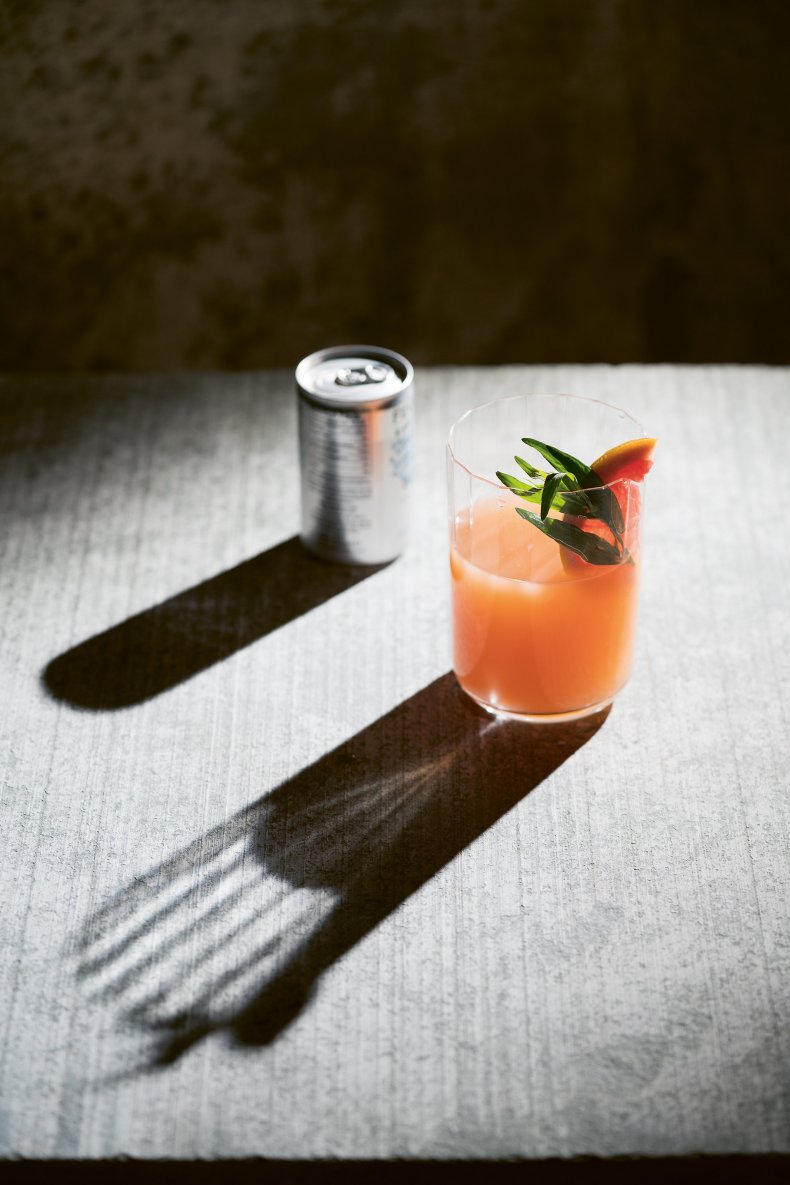 Title: GRAPEFRUIT & TARRAGON COLLINS
Intro: The classic Gin Collins reworked with the soft anise flavour of fresh tarragon and the sharp tang of grapefruit. The grapefruit lends a soft pink tone and the tarragon adds a herby, licorice aroma.
Glass Type: highball
Ingredients and amounts:
60ml (2 oz.) gin
60ml (2 oz.) pink or ruby grapefruit juice
Tsp of brown sugar
3-4 blades of fresh tarragon
chilled tonic water, to top
Method: Muddle the fresh tarragon and sugar in a shaker; add a handful of ice cubes, the gin, grapefruit juice, shake and strain into a highball full of ice. Top with chilled tonic water. Add a few blades of tarragon and grapefruit peel to garnish.
Tip: Make sure your grapefruit juice is freshly squeezed.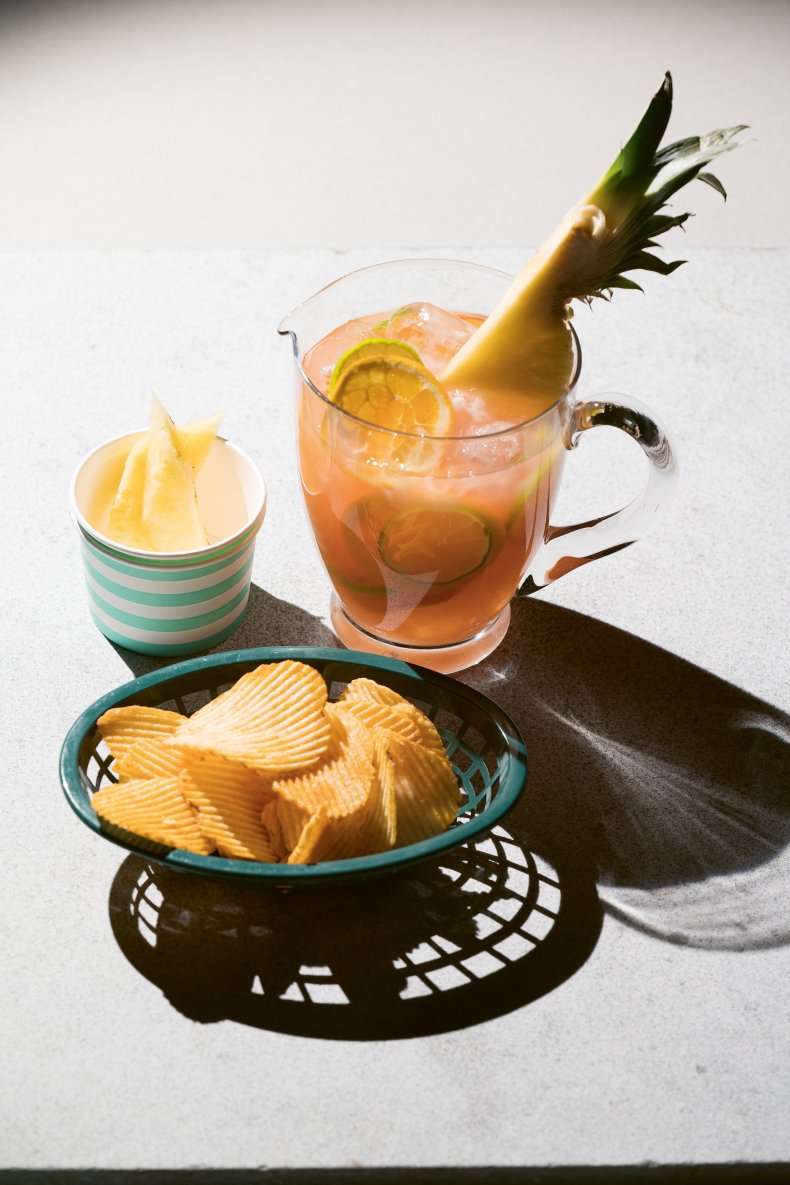 Title: THE SNOOP (aka Gin & Juice)
Intro: Back in 1993, Snoop Dogg rapped about Gin & Juice on his debut album Doggystyle, and the drink formerly associated with grandmothers everywhere suddenly had its own gangsta swagger. It's potent, and the cinnamon adds a little fire; make sure the citrus juices are freshly squeezed.
Glass Type: Pitcher and paper cups
Ingredients and amounts:
750ml (25 oz.) gin
350ml (12 oz.) cranberry juice
350ml (12 oz.) pineapple juice
350ml (12 oz.) fresh orange juice
175ml (6 oz.) fresh lime juice
175ml (6 oz.) cinnamon syrup
Pineapple, orange and lime slices
Method: Add lemon juice, cinnamon syrup, and fruit to the pitcher and stir well. Add the remaining wet ingredients over large ice cubes. Serve with citrus slices to garnish.
Tip: Go heavy on the citrus – you want it sharp enough to knock your dentures out.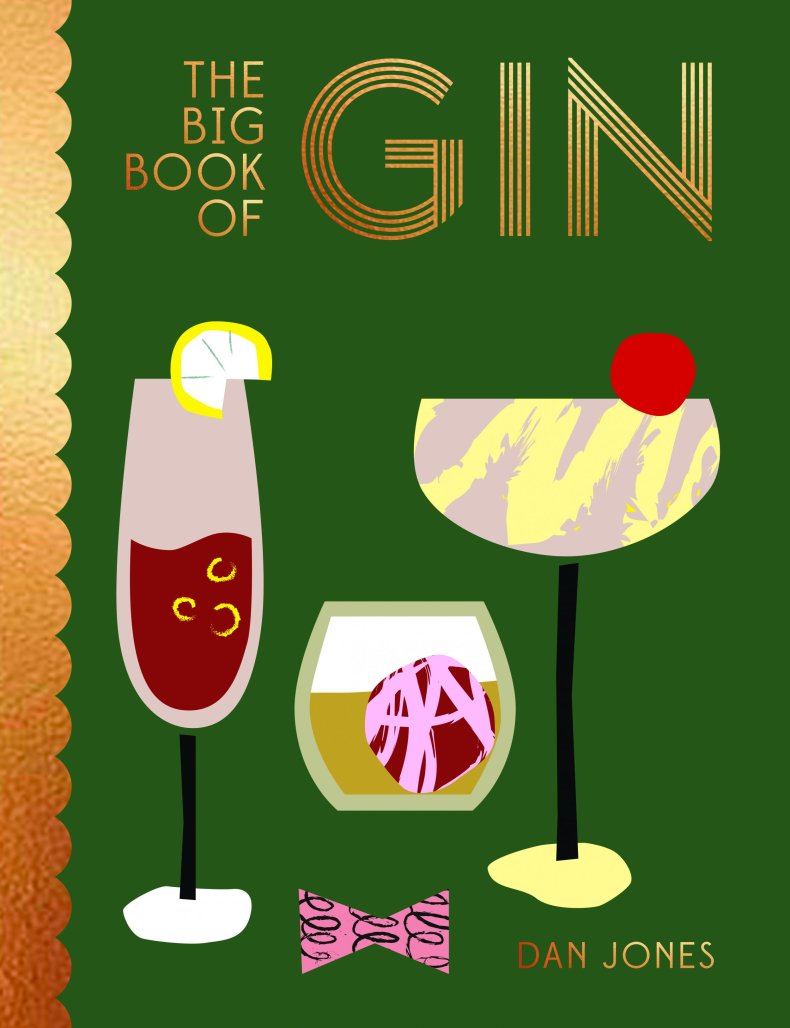 Dan Jones is a journalist, editor, and style consultant based in London. Formerly shopping editor at i-D, Time Out's Shopping & Style editor, and most recently Senior Men's Editor at ASOS, he is currently working with brands such as Topman and Swatch, and publishers including Condé Nast. He is also the author of books on Tequila, Rum, and Gin in the Shake, Muddle, Stir cocktail book series, as well as Man Made: The Art of Male Grooming (all published by Hardie Grant).