Book Trump Signed for 'Best Mayor NYC Ever Had' Rudy Giuliani Sells for $54K at Auction
A book that former President Donald Trump signed in 2000 for his ex-lawyer Rudy Giuliani, then the Republican mayor of New York City, has sold at auction for $54,143.
The autographed copy of The America We Deserve, a book that Trump co-authored while he was pondering an early presidential run, was sold on Wednesday by the Boston-based firm RR Auction. Before it was sold, the book's value was estimated at $8,000 or more. The book includes Trump's personalized dedication to Giuliani written above the signature and dated "January 2000," the same month that the book was released.
"To Rudy—the best mayor N.Y.C. has ever had!" Trump wrote. "I promise never to run against you—Donald"
The auction house said the book was in "very fine condition" and described it as a "remarkable New York City association, long pre-dating their controversial White House years." The identity of the buyer was not disclosed.
Although the book at least initially belonged to Giuliani, it is unclear whether he put the book up for auction or if it had changed hands before it was offered. Giuliani has recently been busy raising funds, likely to cover fees incurred amid a slew of legal troubles related to his attempts to reverse the outcome of the 2020 presidential election in Trump's favor.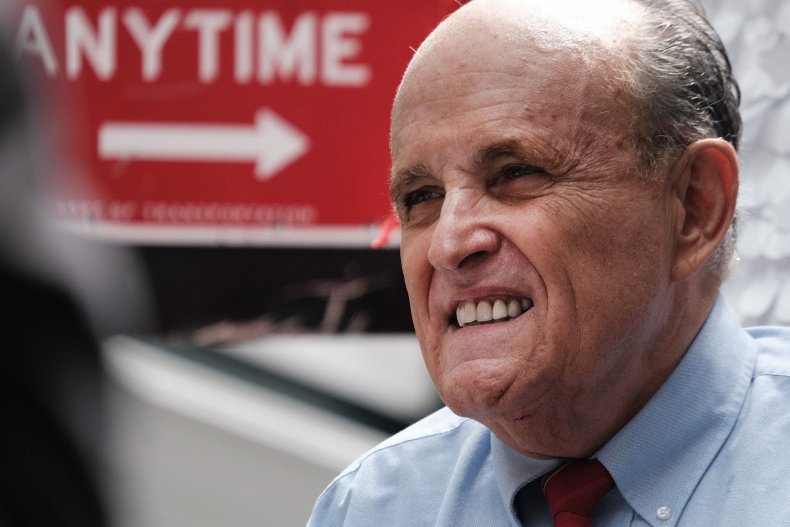 Newsweek reached out to Trump's office for comment.
Over the summer, Giuliani joined the celebrity video messaging marketplace Cameo, where he sells short, personalized recordings to admirers for $325 per message or $2,275 "for business" messages. Giuliani also sells a $14.99 monthly "VIP" Fan Club membership that promises to offer access to "the inner circle for exclusive convos."
After Trump lost to Joe Biden in the November 2020 presidential election, Giuliani was heavily involved in failed legal efforts to overturn the results. He continued to promote Trump's false claims that the election was "stolen" from him well after Biden's victory was confirmed.
Giuliani's legal woes have included billion-dollar defamation lawsuits from voting machine companies Dominion Voting Systems and Smartmatic. His post-election activities also led to his law licenses in New York and Washington, D.C. being suspended over the summer.
While being deposed in a suit from Dominion executive Eric Coomer, Giuliani admitted that Trump had never paid him for his legal services following the election, testifying that he had worked to overturn the results because "the president ordered me to do it."
Although Giuliani's Trump book has been sold, RR Auction also lists a non-personalized signed copy of Trump's The Art of the Deal, with a minimum starting bid of $200. As of Thursday evening, there we no bids on the book.