Booker Mocks Biden for Coming Out Against Legalizing Weed: 'I Thought You Might Have Been High When You Said It'
New Jersey Senator Cory Booker seemed amazed at tonight's Democratic debate at Joe Biden's statement concerning his reluctance to legalize marijuana, wondering aloud if Biden had been "high when [he] said it."
Congresswoman Ilhan Omar tweeted Booker's comment just minutes after he said it.
"I have a lot of respect for the vice president," Booker said. "He swore me into my office. He's a hero. This week I hear him literally say that 'I don't think we should legalize marijuana.' I thought you might have been high when you said it."
"Marijuana in our country is already legal for privileged people," Booker continued, "and the war on drugs has been a war on black and brown people."
Booker also said that more African Americans were under "criminal supervision in America since the slaves in 1850."
"Do not roll up into communities and not talk directly to issues that are going to relate to the liberation of children because there are people in Congress right now who admit to smoking marijuana, while our kids are in jail right now for those drug crimes," Booker said. "These are the kinds of issues that mean a lot to our community."
Booker said Democrats lost the last election in Wisconsin because of a "diminution of the African American vote." He also said the Democratic presidential nominee needed to inspire African American voters to go to the polls.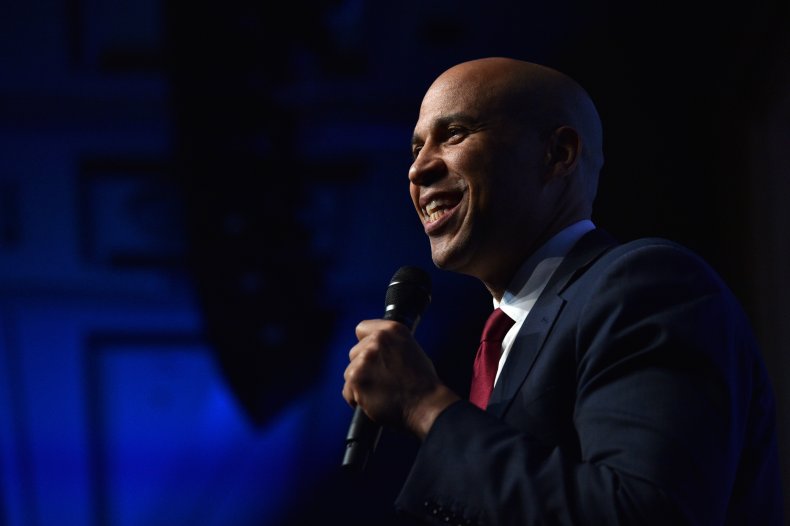 Biden responded by saying he believes marijuana should be decriminalized.
"Anyone who has a record should be let out of jail, their records expunged and completely zeroed out," Biden said but emphasized the need for more research.
In response, Biden said he was picked to be Obama's vice president because of his "longstanding relationship with the black community."
Biden also described himself as part of the Obama coalition.
"I come out of the black community in terms of my support," Biden continued. "You'll notice I have more people supporting me in the black community because they know me. They know who I am."
Biden also claimed he was supported by the "only African American woman that had been elected to the United States Senate."
"That's not true," Booker interrupted.
Biden's comment also elicited laughter from candidate Senator Kamala Harris, who became the second African American woman elected to the U.S. Senate in 2016. Harris shared the debate stage with both Biden and Booker.
"I said, 'the first,'" Biden said in an attempt to correct his mistake. "I said, 'the first African American elected.'"