Boosie Badazz Concert Shooting: Video Shows Violence Erupt at Rapper's Event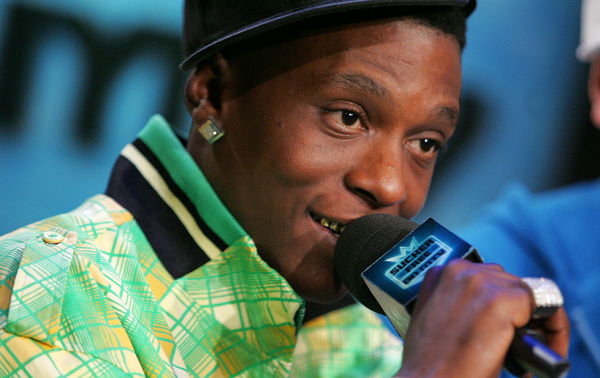 It was complete chaos in Gardena, California, after a man opened fire during rapper Boosie Badazz's concert on Friday. And a drone video captured the very moment the madness erupted, TMZ reported.
The aerial footage shows a man wearing a blue jacket standing outside, raising a gun in the air and shooting into the crowd. The gunman fires a few rounds before running off, hiding among the frantic crowd.
Once the shooter flees, more shots can be heard. But there appear to be a number of other people running away with weapons in their hands, making it unclear if someone was firing at the original shooter.
The shooter's motive is unclear, but he appeared to be firing toward a specific area. Authorities have yet to make any arrests in connection with the shooting, and so far they have not identified any suspects.
Two people were shot during the violent incident, but their injuries are not life-threatening. Others in the crowd were also injured during the violent scene.
Following the shooting, the Louisiana rapper took to his Instagram, writing, "They say Cali crazy n sometimes… they was fighting the whole night… they showed me nothing but love tho."
This isn't the first time violence has erupted at a Boosie concert. The 34-year-old Bad Azz rapper's April concert at Virginia Motorsports Park, in North Dinwiddle, Virginia, was shut down before it began after audience members began firing shots early in the night. A month earlier, a brawl broke out at Boosie's Decatur, Illinois, concert, causing him to end the show prematurely.
So far, Boosie—formerly known as Lil Boosie—seems to be unfazed by the violence that has occurred at his concerts.
"Decatur, Illinois, I ain't get to finish my concert. I ain't get past my third song. They started fighting. I even tried to wait a couple minutes until they finished fighting, but they fought for like 20 minutes straight. Then they fought again. I think I gotta do certain songs at the end of my concerts," Boosie said in an Instagram video posted after the concert. "But hopefully they'll be bringing me back. I'ma be making that money, they gone be bringing me back to Decatur, Illinois. It's lit out there."