Booster Shot Rollouts May Need More Planning in States With COVID Spikes, Low Vaccinations
As hospital systems and health care workers prepare to begin offering booster shots for the COVID-19 vaccines as early as next month, states that have been overwhelmed by hospitalization spikes and hindered by low vaccination rates may require more planning on the allocation of resources.
The most recent coronavirus wave of the highly contagious Delta variant has hit states like Louisiana, Mississippi and Florida the hardest.
At its hospital near New Orleans, Ochsner Health System has had to shut down elective procedures and reorganize physicians and nurses to care for an influx of COVID-19 patients. Across Louisiana, hospitals are at least 70 percent full in all but one region, and of those being admitted, unvaccinated patients account for 91 percent of the state's hospitalizations, data from the state's health department shows.
Louisiana ranks among the top 10 states with the lowest vaccination rates. According to data from the Mayo Clinic, 47.2 percent of Louisiana's population has received at least one dose of the vaccine. By comparison, 60 percent of the nation has received at least one dose.
While Ochsner has begun to see an uptick in vaccinations—largely due to the Delta variant and new mandates requiring proof of vaccination—hospital officials may be required to look closer at how to go about administering boosters now that the federal government has approved offering third doses of the Pfizer and Moderna vaccines in the coming weeks.
"When our health care workforce is already stretched thin, how do we then balance these priorities to make sure we're getting to where we need to?" Dr. Katherine Baumgarten, Ochsner's medical director of infection control and prevention, told Newsweek.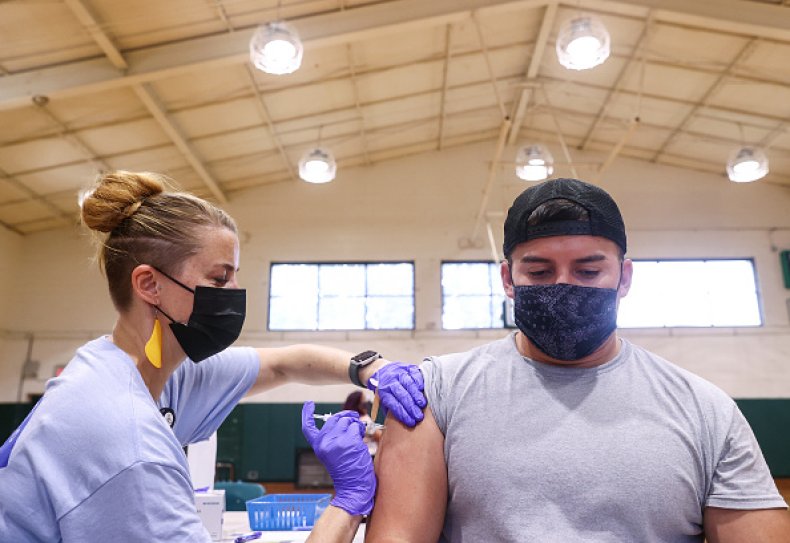 Because of the surge in COVID-19 hospitalizations, Ochsner has been forced to redeploy some staffers, who are typically in clinical care or perform elective surgeries, to COVID wards to take care of infected patients, while assigning other health care workers to run vaccine drives.
"Of course, we want to make sure we get vaccines, but we also have to be cognizant of how we're staffing these particular areas," Baumgarten said. "It's just a balance of making sure we have the right staff in the right places at the right time."
Although booster shots may present yet another obstacle for hospital staffing, the infectious disease expert says Ochsner is eager to begin administering third doses—as long as that doesn't affect efforts to get first shots into arms.
"We're excited to get third shots to people that need them, and we still are not going to let up on trying to get those that have not gotten any vaccine to get vaccinated," she said. "We're still working nonstop around the clock, trying to make the vaccines easily available."
Last Tuesday, in a partnership with the New Orleans Saints, the hospital system's mobile unit was able to give out 2,000 vaccines in one day—a feat Baumgarten called "rewarding and hopeful."
"I do think most of [the recent vaccinations] have been due to the Delta variant and seeing people that have not gotten vaccinated become more ill and end up in the hospital," she explained.
"There is that element of fear, and I think that as our cases in the community rise, more and more people notice somebody that has COVID. Once it becomes more of a personal issue rather than theoretical...that's part of what's driving people to get vaccinated," she added.
Baumgarten said people have also become persuaded by growing data indicating the vaccines are safe and effective. She said she anticipates even more people wanting to be inoculated once the shots are fully approved by the Food and Drug Administration.
According to federal health officials, the U.S. Department of Human and Health Services will be prepared to offer booster shots for mRNA vaccines beginning September 20 at approximately 80,000 locations across the country.
The officials said that while plans to administer third shots are being finalized, the federal government will remain focused on increasing the nation's vaccination rate.
"Nearly all the cases of severe disease, hospitalization and death continue to occur among those not yet vaccinated at all," the officials said on Wednesday. "We will continue to ramp up efforts to increase vaccinations here at home and to ensure people have accurate information about vaccines from trusted sources."