Oregon Wildfires Map, Update As Bootleg Fire Spreads to Over 350,000 Acres
Thousands of people have been forced to evacuate their homes as the Bootleg Fire in Oregon surpassed more than 350,000 acres destroyed on Monday, as 80 wildfires continue to burn across several U.S. states.
The Bootleg Fire, which has been burning in Oregon since July 6 and is closing in on the California border, has so far destroyed 364,113 acres in the state while only being 30 percent contained, according to the federal InciWeb wildfire tracking site.
The blaze is burning at a fast pace, as the fire passed the 300,000-acre mark on Monday before being recorded at more than 350,000 acres destroyed by around 2:00 a.m. on Tuesday morning.
At least 2,250 firefighters are attempting to tackle the blaze, which is already one of the biggest in Oregon's history, while officials are also trying to control the seven other fires currently burning in the state that have so far destroyed more than 400,000 acres combined.
The Bootleg Fire has caused more than 2,000 residents of Oregon to evacuate their homes, as at least 160 residences and buildings have been destroyed in the two weeks since the blaze began.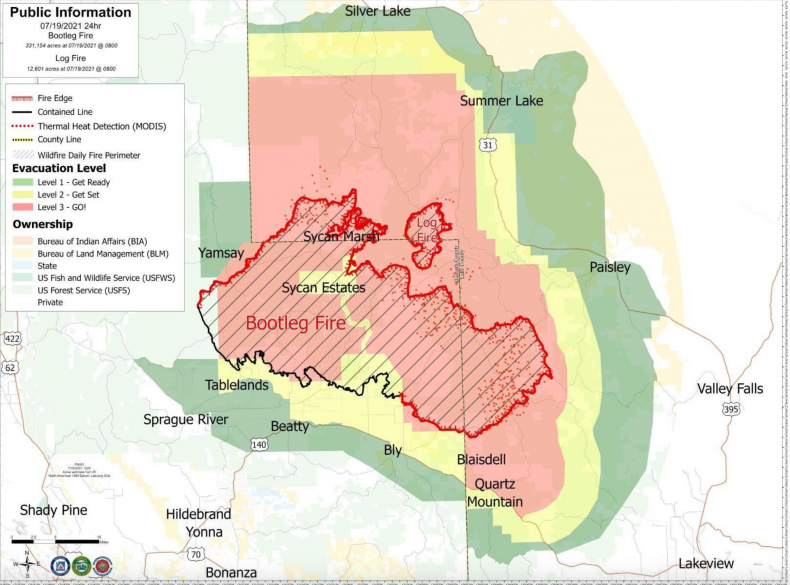 Evacuation centers have been created in several cities affected by the fire, including Redmond and Klamath Falls, according to the BBC.
The fire has so far burned more than 562 square miles, which is just around 10 square miles smaller than the city of Delhi in India or Houston in Texas, but bigger than the city of Los Angeles, California.
The temperature across the U.S. West Coast in expected to stay higher than normal for this time of year over the next week, which is likely to cause additional problems for firefighters tackling the blazes.
In an address to U.S. media on Sunday, the operations section chief with the Oregon Department of Forestry, John Flannigan, said that officials are struggling to contain the fire, as the "weather's really against us. It's going to be hot, it's going to be dry and air's going to be unstable which helps the heat raise faster, which brings in more air.
"All things that are negative for firefighters and positive for fire. So it's going to be a real battle today."
Incident commander Joe Hessel reiterated Flannigan's comments to CNN, saying: "We are running firefighting operations through the day and all through the night."
"This fire is a real challenge, and we are looking at sustained battle for the foreseeable future," he added.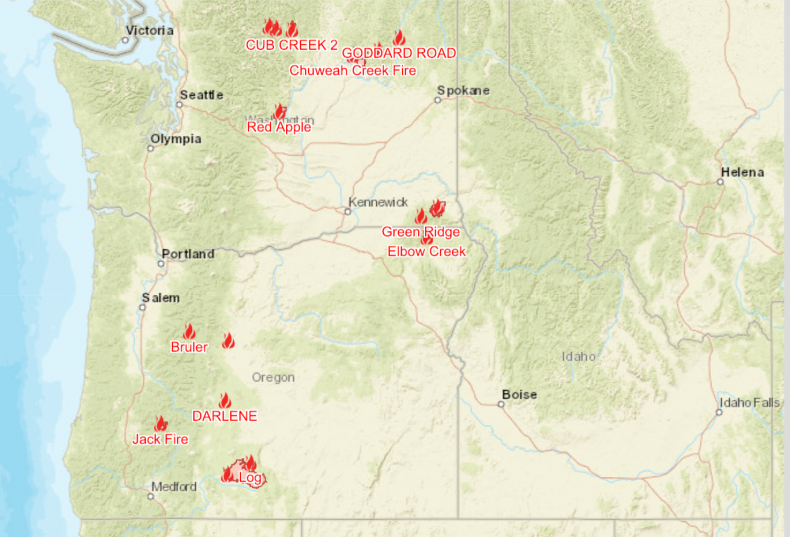 Fire spokesperson Katy O'Hara warned CNN that the officials are far off from containing the fire, explaining that "the scope and scale of the Bootleg Fire will require a season-ending weather event such as a significant storm that is either widespread wetting rain or snow, which in southern Oregon typically occurs in the late fall."
More than 19,600 wildland firefighters and support officials are currently tackling the 80 large wildfires burning across at least 14 states in the U.S. that have been exacerbated by a summer heatwave and drought, according to the National Interagency Fire Center.
Although the Bootleg Fire is causing devastation in Oregon, a majority of the fires that have burned in the last two weeks have been located in Idaho and Montana, with the former currently battling 17 blazes and the latter still tackling 18 wildfires.
Across the United States, more acres have burned this year compared to this point in 2019 and 2020. The country recorded 35,086 fires with 2,537,744 acres affected from January 1 to July 19, 2021, according to the National Interagency Fire Center.
That compares to 29,008 fires and 1,809,976 acres for this period in 2020, and 23,592 fires and 2,377,965 acres in 2019.