'Borat 2': Daughter of Holocaust Survivor Says Her Mother Was 'Duped' But Baron Cohen's Lawyers Say Otherwise
Sacha Baron Cohen isn't just receiving criticism from conservatives or the people of Kazakhstan for his latest Amazon Prime Video feature, Borat Subsequent Moviefilm—he's is also facing a lawsuit over the film.
An Atlanta woman named Michelle Dim St. Pierre filed a lawsuit against Cohen, Oak Spring Production—the production studio behind Borat 2—and Amazon Prime Video for tricking her mother into an interview and using her likeness without her consent in the film, according to a report by WSB-TV 2 in Georgia on Monday.
St. Pierre claimed Cohen and crew "duped" her mother—87-year-old Holocaust survivor Judith Dim Evans—into thinking she was being interviewed for a Holocaust documentary, not Cohen's controversial satire. In the lawsuit filed in early October, St. Pierre alleged Cohen and Borat 2 producers coaxed Evans into an interview "under false pretenses with the intent of appropriating her likeness."
"My mother is a person that would never be participating in this and would never play the game if she would know what it was about. She was an incredible woman and very intelligent," St. Pierre told WSB-TV 2. "But this is bigger than my mom. I do think I'm fighting here not only for my mom, but for the entire Jewish community, particularly the Holocaust survivors."
According to St. Pierre, her mother would have never agreed to be interviewed had she known the true reasons behind Cohen's request. "First of all, the fact that he's Jewish doesn't give him any rights to do what he's doing," St. Pierre said.
St. Pierre added: "She would fight. She would fight him. She would fight the action that she took."
Although Evans' name is signed on a release form agreeing to the interview, St. Pierre believes that the signature listed on the document is fake. "I can tell you one thing, that the signature on this release form is not my mother's signature," St. Pierre claimed.
St. Pierre is requesting the scene including her mother is removed from the film.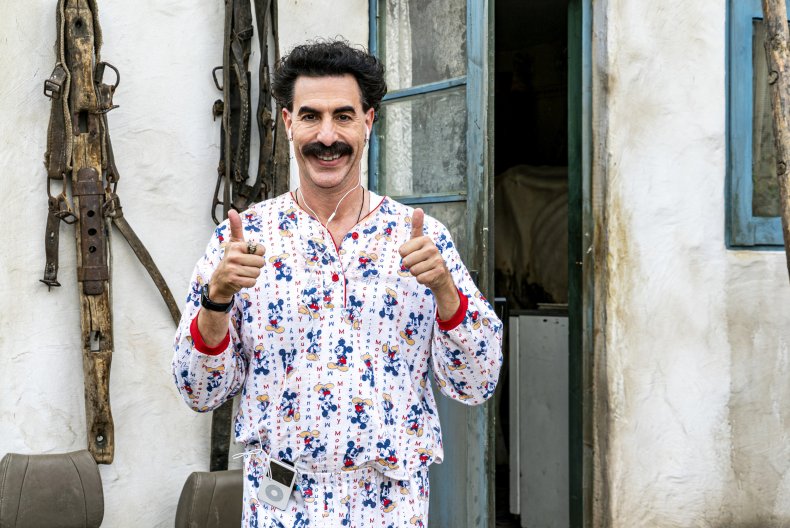 A Fulton County Georgia Judge Kevin Farmer dismissed St. Pierre's lawsuit in a court hearing on October 21, noting some defects in the plaintiff's case, according to attorney Russell Smith, who represented Amazon in the matter.
"The lawsuit was dismissed, unconditionally. The lawsuit is over. Sacha Baron Cohen was deeply grateful for the opportunity to work with Judith Dim Evans, whose compassion and courage as a Holocaust survivor has touched the hearts of millions of people who have seen the film. Judith's life is a powerful rebuke to those who deny the Holocaust, and with this film and his activism, Sacha Baron Cohen will continue his advocacy to combat Holocaust denial around the world," Smith said in a statement to Newsweek on Monday.
While the movie is facing a lawsuit in Georgia, across the globe in Kazakhstan, more than 110,000 people have signed a petition requesting Borat 2 be canceled from the streaming platform due to its racist and xenophobic satirical nature.
Although Sacha Baron Cohen hails from the U.K., the fictional caricature Borat, who mocks various racist and nationalist stereotypes, is from Kazakhstan.
This article was updated to include comment from Amazon's legal representative.