'Borat 2': How Kazakhstan Has Reacted to the Character
Per Borat 2, Kazakhstan is a country where women are not allowed to drive, are kept in "wife cages," and where the most famous celebrity is Jonny the Monkey, a simian TV host and porn star.
Of course, the Kazakhstan of the two Borat films is nothing like the real country. The language that we hear the character speak is usually Hebrew rather than Kazakh, for example. Borat is not a real Kazakhstani name, and the character's home town as seen in the first film is actually Glod, a small village in Romania.
Generally speaking, reactions to Borat in the real Kazakhstan have been one of two options: Either offense that this character is painting the country in such a bad light, or pleasure that the country is having its profile raised by being mentioned in such a hilarious film.
Writing for BBC Culture in 2016, for example, one-time public relations manager for the British Council in Kazakhstan Yerlan Askarbekov said: "Frankly, I found it... very funny. Of course, I realized that this was a satire of British attitudes toward the rest of the world, poking fun at the UK's isolationism."
They later added, "a number of my colleagues from throughout the Kazakh media world, including top executives, confessed to me that they also watched Borat on Da Ali G Show, and saw the character as a PR opportunity. We wanted Baron Cohen to make the show in the real Kazakhstan. We were in agreement that we Kazakhs should be grateful for any promotion he gave our country."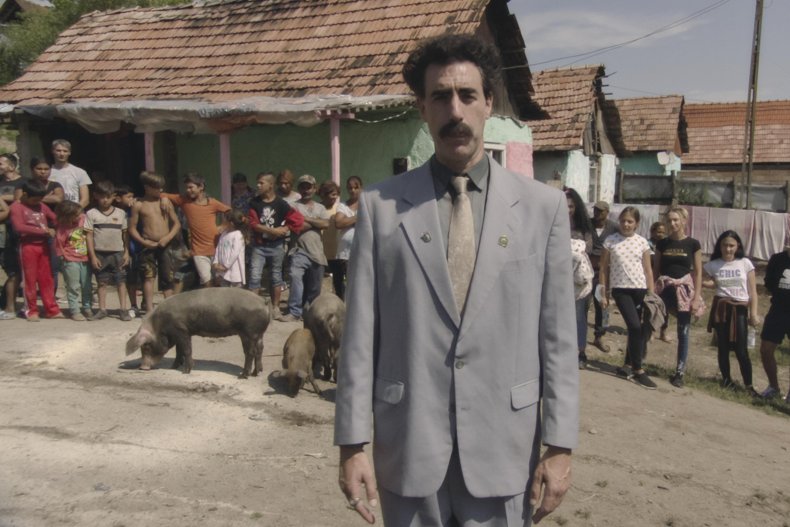 Not everyone in the country, however, was so pleased with the film. The Kazakhstani government, in fact, placed ads in American newspapers timed with the visit of President Nursultan Nazabayev that disputed some of the claims in Borat, saying that the country is a place of religious tolerance and equal rights for women rather than the anti-semitic misogynist country painted in the film. Kazakh government spokesperson Roman Vassilenko also found himself in the weird position of officially denying that Kazakhstanis drank fermented horse urine.
After the character appeared at the MTV Europe awards in 2007, meanwhile, Vassilenko released a statement reading, "Mr. Cohen could not have been more wrong when he chose Kazakhstan as a home country for his mythical, misogynist and anti-Semitic reporter. I am offended and the people of Kazakhstan are offended by the choice."
Of course, this led Borat actor Sacha Baron Cohen to hit back as the character, saying: "There is a man named Roman Vassilenko who is claiming to be press secretary of Kazakhstan. Please do not listen him. He is Uzbek imposter.
"If there is one more item of Uzbek propaganda claiming that we do not drink fermented horse urine, give death penalty for baking bagels, or export over 300 tons of pubis every year, then we will be left with no alternative but to commence bombardments of their cities with our catapults."
Though at one point DVD sales of Borat were banned in the country, and Baron Cohen's website was blocked. However, over the years, opinions about the character's impact softened. In 2012, for example, foreign minister Yerzhan Kazykhanov said: "With the release of this film, the number of visas issued by Kazakhstan grew tenfold. I am grateful to Borat for helping attract tourists to Kazakhstan."
Tensions frayed again, however, in the lead-up to the release of Borat 2. Part of the promotional campaign saw the setting up of a fake Kazakhstan government account, tweeting profanity-filled digs at Uzbekistan and tweets like: "We are unable to currently follow debate because of poor WiFi signal despite recent govermment [sic] purchase of broadband account. Please inform us of developments!" This led to Kazakhstanis tweeting #CancelBorat.
As ever, opinions are split about the film. Some still see the depiction as racist, while others see the portrayal as Kazakhstan as central to the point of the Borat character who, by playing to people's worst impulses about ignorant foreigners, makes the people he is interviewing put their guard down, leading to their worst selves emerging.
Borat 2 is streaming now on Amazon Prime Video.