'Borat 2': Has Mike Pence Spoken Out About CPAC Scene?
Borat 2 (or Borat Subsequent Moviefilm) includes a scene where Sacha Baron Cohen, playing Borat dressed as Donald Trump, interrupts Vice President Mike Pence's speech at the Conservative Political Action Conference—a moment that really happened back in February 2020.
However, whereas other people who featured in Borat 2 like Rudy Giuliani and babysitter Jeanise Jones has spoken out about their appearances in the Amazon Prime Video movie, Pence has not spoken publicly about his interaction with Baron Cohen.
Even when Baron Cohen tried to interrupt Pence's CPAC speech, the Vice President did not issue a reaction. Partly this was because, despite what we saw in Subsequent Moviefilm, Pence's speech was not actually interrupted per se.
Though videos from the day see that Baron Cohen really did heckle Pence while dressed as Trump, he was not able to shout loud enough to actually stop Pence's speech. While in the movie, Pence stops talking while security took Baron Cohen away, it seems that in real life the audience began chanting "USA, USA" to drown out the interruption, and Pence did not pause in his speech.
In the aftermath of the release of Borat 2, Rudi Giuliani called Cohen a "stone-cold liar," while Trump called the actor a "creep" and a "phony guy" when asked about the movie. Pence, in contrast, has not publicly commented on the film.
Newsweek has reached out to a press representative for the Vice President.
This has not stopped the Borat team, however, from poking fun at the Veep. After news broke that a number of close aides around Pence had tested positive for the coronavirus, the person behind the official Borat Twitter account wrote: "Very clever Head of Viroos task force Mikael Pence. Now the viroos have fallen into the trap he create with his five friends- the more this viroos attack, the more Pence staff standing by to catch it! Victory!" [sic]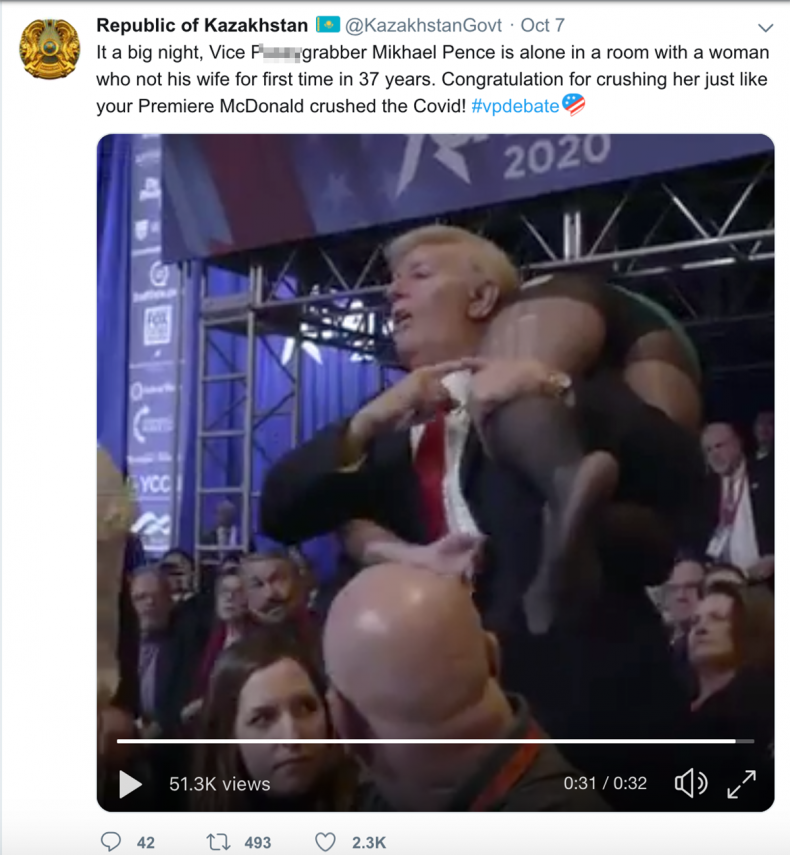 Before the release of Borat 2, the movie's team also took aim at the Vice President from the fake Republic of Kazakhstan Government account they set up. On October 7, on the day of the Vice Presidential debate, this account tweeted: "It a big night, Vice P****grabber Mikhael Pence is alone in a room with a woman who not his wife for first time in 37 years. Congratulation for crushing her just like your Premiere McDonald crushed the Covid!" [sic]
This account has since been suspended for breaking Twitter's rules, likely the social media's rule against impersonating "individuals, groups, or organizations in a manner that is intended to or does mislead, confuse, or deceive others."
Borat 2 is streaming now on Amazon Prime Video.