'Borat 2': What Maria Bakalova Has Said About Rudy Giuliani Scene
Borat 2 (or as it is officially called, Borat Subsequent Moviefilm) came to Amazon Prime Video last week, and quickly became the movie everyone was talking about after it appeared to show former New York Mayor Rudy Giuliani flirting with actor Maria Bakalova before putting his hands in his pants.
In the scene towards the end of the film, Bakalova is playing Tutar, the daughter of Borat (played by Sacha Baron Cohen) interviewing the Trump ally. After the interview, the two head into a different hotel room, where whatever was going to happen was interrupted by Baron Cohen as Borat, dressed in lingerie.
Giuliani reacted to the scene on Twitter, saying that what viewers were seeing was him tucking his shirt in after removing recording equipment.
Though Bakalova has not given many interviews after appearing in the show, she was interviewed alongside Baron Cohen on Good Morning America, where she spoke about filming the scene.
She said to Baron Cohen in the interview: "I want to thank you. I was sure you were going to save me from everything."
Asked by the interviewer if this implied that she felt unsafe with Giuliani, Bakalova responded: "No, that's what I'm saying. I always felt safe with our team, with our crew, with Sacha in my corner...I never felt that I'd be in danger...that's why I'm lucky, because I had them."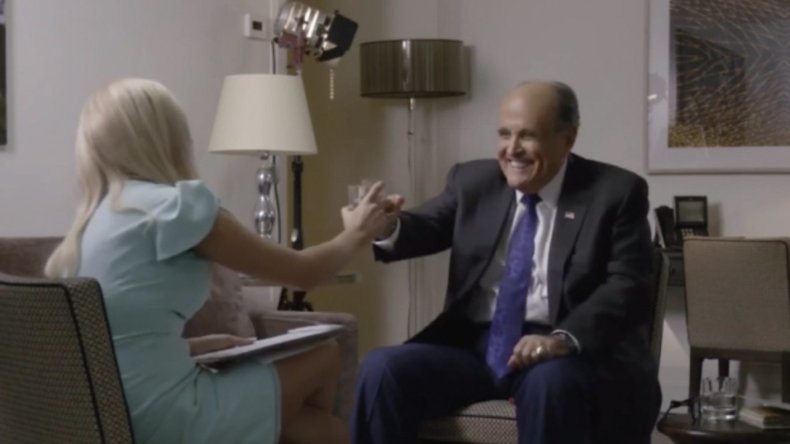 Unfortunately, the interviewer does not ask the follow-up question that many would be asking themselves at home—how would she have felt in that moment had Baron Cohen and the crew not been there to stop the situation when they did.
Giuliani's full Twitter statement read as follows: "The Borat video is a complete fabrication. I was tucking in my shirt after taking off the recording equipment," Mr Giuliani said. At no time before, during, or after the interview was I ever inappropriate. If Sacha Baron Cohen implies otherwise he is a stone-cold liar."
In the same GMA interview, Cohen responds directly to this tweet: "If the President's lawyer found what he did there appropriate behaviour, then heaven knows what he's done with other female journalists in hotel rooms."
The encounter with Giuliani was not the only member of the Trump team Bakalova was able to get close to. After the film released, Cohen tweeted additional footage on the Borat account, which shows Bakalova meters away from the President, shaking hands with Donald Trump Jr. and walking on The White House lawn.
Newsweek has reached out for comment to a representative for Bakalova.
Borat Subsequent Moviefilm is streaming now on Amazon Prime Video.