'Borat 2'—Everything We Know About Sacha Baron Cohen's Secret Sequel
My sequel! Borat is getting a second installment with the Sacha Baron Cohen film reportedly due to take aim at the likes of Donald Trump and the late Jeffrey Epstein.
The follow up to the 2006 hit—Borat: Cultural Learnings of America for Make Benefit Glorious Nation of Kazakhstan—was reportedly shot during the coronavirus pandemic this year.
The sequel is said to be titled Borat: Gift of Pornographic Monkey to Vice Premiere Mikhael Pence to Make Benefit Recently Diminished Nation of Kazakhstan. The title has been submitted to the Writers Guild America but there is a chance it could change.
The original Borat film was directed by Larry Charles and went on to gross over a quarter of a billion dollars at the worldwide box office in 2006. The sequel was announced back in 2007 by Fox. It is unclear what studio is now backing the film since Disney's acquisition of Fox.
Film website Collider first reported on news of the follow-up to the mockumentary and shared a YouTube clip of a scene from the movie apparently being shot in Los Angeles in August of this year.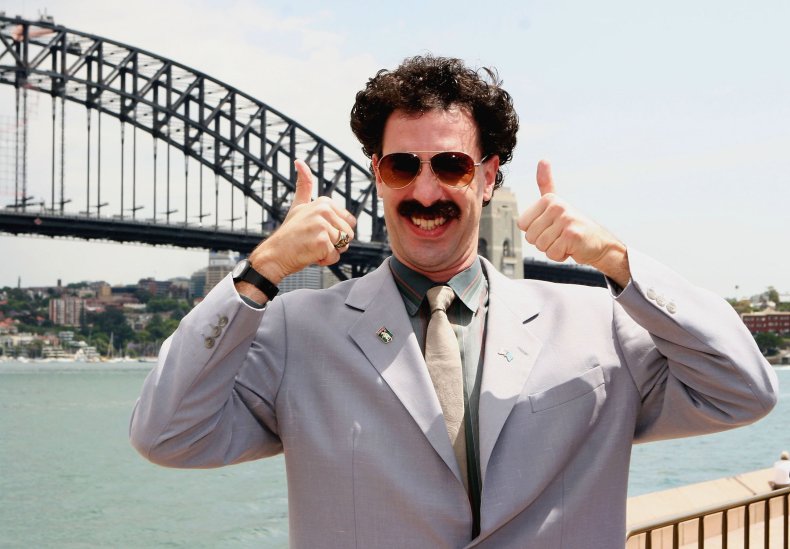 Details of a release date are yet to be announced but reports of Baron Cohen filming have been circulating which suggests that the project is now gone into post-production.
Back in July, Rudy Giuliani had reported Baron Cohen to the police following an interview in which he apparently entered his office wearing a pink bikini—could this be part of the plot? It seems likely.
"This person comes in yelling and screaming, and I thought this must be a scam or a shake-down, so I reported it to the police," Giuliani told Page Six.
Baron Cohen's fame however, has meant that spoofing unsuspecting people in Borat character is no longer an option, with Collider reporting that the actor had to resort to going undercover somewhat.
Film Stage has also shared some more plot details with the film apparently focusing on the COVID pandemic, and Donald Trump's relationship with the late Jeffrey Epstein.
The publication speculates that one of the celebrity cameos "could potentially derail a political career"—so a certain degree of controversy is to be expected.
Baron Cohen was spotted at a far-right rally in June where he was seen encouraging a large crowd to sing along to a country-and-western-style jungle that included the lyrics: "Obama, what we gotta do, inject him with the Wuhan flu."
Borat: Gift of Pornographic Monkey to Vice Premiere Mikhael Pence to Make Benefit Recently Diminished Nation of Kazakhstan has no release date yet.