A YouTuber hit the content jackpot this week when he was paid a visit from the world's most famous fictional Kazakh journalist.
Borat (Sacha Baron Cohen) himself quite literally crashed into the home of YouTuber David Dobrik Los Angeles home to promote the highly anticipated new sequel—Borat Subsequent Moviefilm: Delivery of Prodigious Bribe to American Regime for Make Benefit Once Glorious Nation of Kazakhstan, to give it its full title.
Dobrik and Borat is not a crossover anyone saw coming and the chaotic video has already been viewed more than 3 million times.
Borat visited the Vlog Squad founder for a day full of fish out of water stunts with Baron Cohen delivering impeccable improvisation as he flounders around Dobrik's home, beginning by smashing into the open door of what the YouTuber says is a $150,000 Tesla car.
"You buy a cheap car, what do you expect?" Baron Cohen rants in character.
Incredulous he points to the Tesla and asks: "This expensive car?" Before gesturing to his truck and declaring that that is in fact the expensive car.
Once he finds out how much the Tesla costs, Borat says: "It's worth more than whole of Kazakhstan!"
In six minutes of comedy gold, Borat destroys the car and a collectible vintage gumball machine in Dobrik's home—or as Borat calls him: "David Dubrovnik."
"No problem it will take me a minute," Borat insists as gumballs roll everywhere. "Very nice gumballs. Now it is better because you do not need the 25c for the machine. So really you own me a lot of money."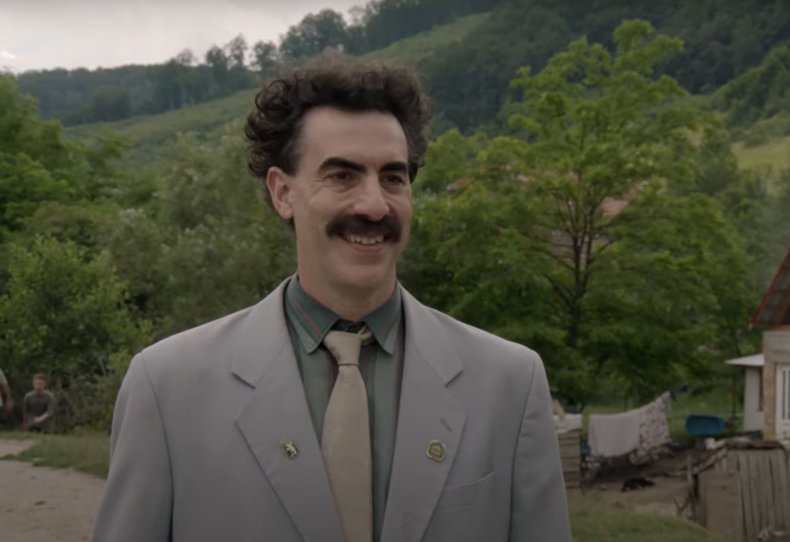 In a ride in Borat's famous truck, he complains that women are driving, is introduced to Minnie Mouse ("No, it is big") and walks across busy roads with reckless abandon.
The world will be able to tune into the satire on Amazon Prime Video tomorrow (October 23) with the release coming with less than two weeks till the U.S. election.
Baron Cohen's biting attack on Trump's America sees him skewer MAGA supporters and ridicule bigotry.
In what is perhaps the most chilling moment in the film, Trump ally Rudi Giuliani appears to seduce an actress playing a young female reporter, and is seen putting his hands into his pants. However, Giuliani maintains that he was simply tucking in his shirt.
As Newsweek's review of Borat 2 put it: "Why does anyone still allow themselves to be interviewed by anyone who looks remotely like Sacha Baron Cohen when he is world-famous for making people look like morons on national television and film?"
Borat 2 is released on Friday, October 23 on Amazon Prime Video.