'Borat 2' Release Date: How to Watch the Movie Online
Borat 2 (or, as it is technically called, Borat Subsequent Moviefilm: Delivery of Prodigious Bribe to American Regime for Make Benefit Once Glorious Nation of Kazakhstan) is not even available to stream yet, and yet it has already become one of the most-talked about films of the year for a scene in which Rudy Giuliani is put in a compromising position.
Soon, however, viewers will be able to watch the film online for themselves. Borat 2 is set to be an Amazon Prime Video exclusive, meaning that the streaming service is the only place to watch the film online for free.
The release date for the Sacha Baron Cohen movie is Friday, October 23, when the movie is expected to be released at midnight PDT. While a number of films have skipped cinemas during the coronavirus pandemic and have been released on website like Amazon at a premium price, Borat 2 will be part of the regular Prime Video catalog.
This means that viewers who already have Amazon Prime and/or Amazon Prime Video will be able to watch the controversial movie at no extra cost when it gets added to the catalogue of October 23.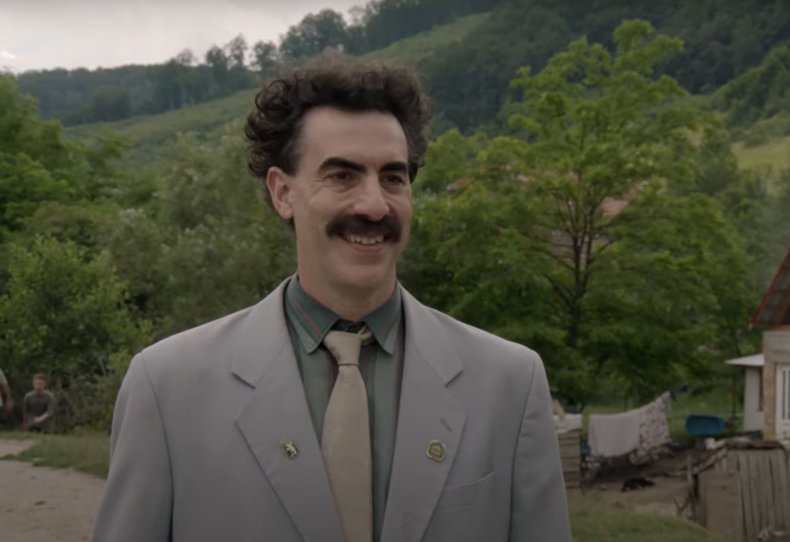 New subscribers to Amazon Prime Video, however, will also be able to watch Borat 2 for free. The service offers a 30-day free trial, where viewers can watch not only Borat 2 but the rest of Amazon's catalog, including originals like Jack Ryan, The Boys and Hanna as well as their extensive list of movies ready for Halloween.
After this month-long free trial, viewers will be charged either $12.99 a month (or $119 a year) for full Prime membership, which includes free delivery on Amazon products. However, viewers can also choose to pay for just Amazon Prime Video on its own, which costs $8.99 a month.
As for what Prime Video subscribers can expect from the Borat sequel, the movie sees the Kazakhstani reporter (Sacha Baron Cohen) heading back to America on a special mission to deliver a gift to Mike Pence as a bribe to curry favor with President Donald Trump.
Pence himself features in the film, with the trailer showing Cohen dressed as Donald Trump interrupting the Vice President's speech at the Conservative Political Action Conference earlier in 2020. Also featuring is Rudy Giuliani, who has already come under fire for possible inappropriate conduct to the woman playing Borat's daughter, as he is seen putting his hands in his pants.
However, Giuliani has said that he was simply tucking in his shirt. The one-time Mayor of New York responded, tweeting: "The Borat video is a complete fabrication. I was tucking in my shirt after taking off the recording equipment. At no time before, during, or after the interview was I ever inappropriate. If Sacha Baron Cohen implies otherwise he is a stone-cold liar."
Borat 2 is released on Friday, October 23 on Amazon Prime Video.